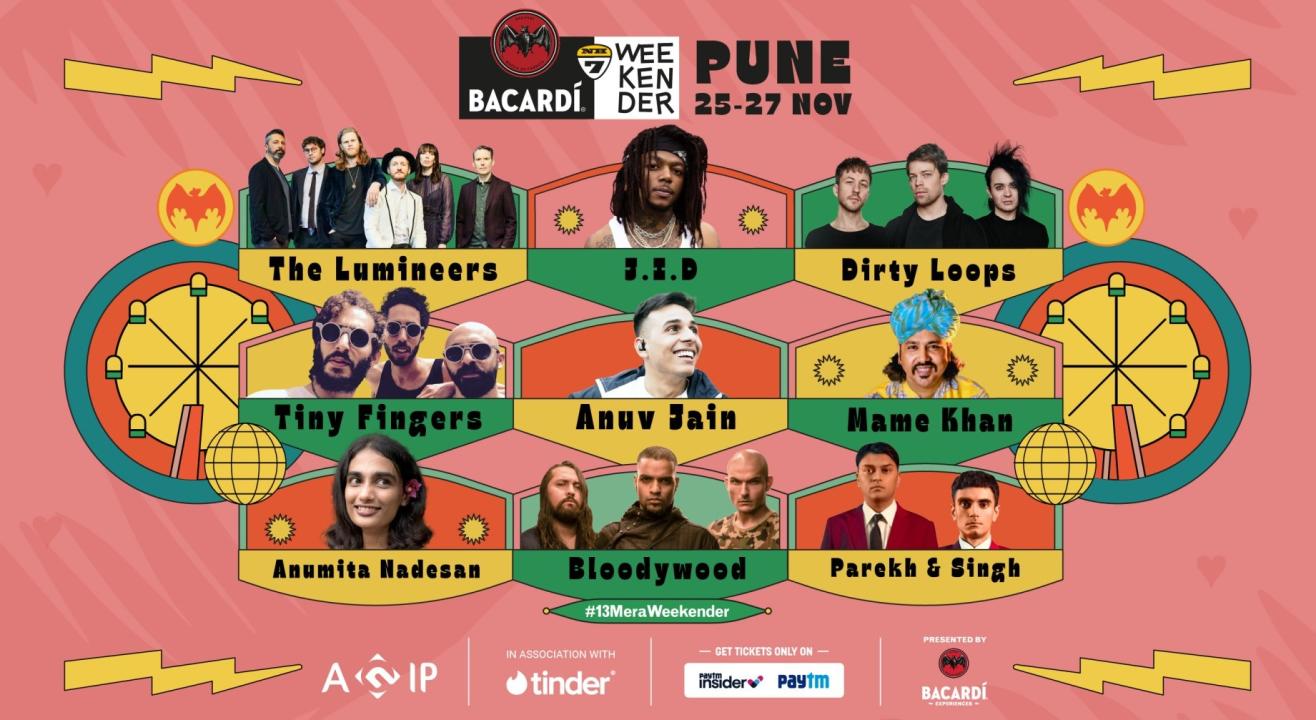 Bacardi NH7 Weekender 2022, Pune
November 25 - 27 | Gates Open : 3PM
Step out and enjoy this event
Event Guide
Live Performance
Enjoy a unique experience
Invite your friends
and enjoy a shared experience
Bacardi NH7 Weekender 2022, Pune
November 25 - 27 | Gates Open : 3PM
Step out and enjoy this event
Event Guide
Live Performance
Enjoy a unique experience
Invite your friends
and enjoy a shared experience
Event Guide
Live Performance
Enjoy a unique experience
Invite your friends
and enjoy a shared experience
It's that time of the year.
The time to feel the wind in your hair, the BACARDÍ mugs by your hip.
The time to struggle picking among your favourite artists because they're all playing across five stages.
The time to do your hair and throw on your favourite fits.
The time to say "I Was There".
The time when, just like that, you realize it's been 13 years.
With the bustling city of Pune dotting the backdrop of the festival, the 13th edition of BACARDÍ NH7 Weekender is pulling out all the stops: coolest stages, stellar Indie & International artists, incredible FnB line-up, and the festival vibe set across the big, bright Ferris wheel.
So, save the date, set your clocks, and bring your entire tribe because it's going to be one for the books.
It's time for the Happiest Music Festival.
It's time to celebrate
#13MeraWeekender
BACARDÍ NH7 Weekender 2022, Pune
Do I have to be fully vaccinated (2 doses) to attend the festival?
Yes, you need to be fully vaccinated to attend the festival. By purchasing the ticket, you are declaring that you have taken both vaccine shots at least 14 days prior to the festival date.

Do you have medical assistance on the ground?
Yes, there will be on-ground medical professionals as well as an ambulance on standby.

Is the festival wheelchair accessible?
Yes, the festival is wheelchair accessible. Please reach out to us at nh7help@nodwin.com in advance so we can assist you with any questions.

Do I have to bring a printout of my festival ticket?
BACARDÍ NH7 Weekender always strives to be as green as we can be, so the folks at the box office are happy to see your ticket on your mobile phone. Be warned that there is a limited mobile network at the venue, so remember to save the ticket on your phone. You can also show the SMS sent by Paytm Insider at the time of ticket purchase.

What is the age limit to attend the event?
Children up to ten years of age can enter the festival for free. Children under age 16, will need to be accompanied by an adult guardian at all times. We would also recommend children use hearing protection so that they can groove to the music no matter where you take them.

Can I transfer my ticket to someone else?
Sorry, but you won't be able to transfer your tickets. So plan ahead and you'll be fine.

Can I cancel my ticket?
Sorry, no backsies here. We will not be able to cancel/refund tickets.

When will I receive my wristband?
With every ticket, all attendees will need to collect their wristbands for the festival. You can collect your wristband at the box office before you enter the festival. Please take very good care of your wristband because you will not be permitted inside the venue without one.

What kind of ID do I need?
To enter BACARDÍ NH7 Weekender, you must present identification. So please carry a valid, government-issued ID, such as a passport, Aadhar Card, PAN Card, or driver's license. Letters from your grandma claiming how old you are won't do, sorry :( Oh and btw, you will need to present your vaccination certificate (both doses) at entry. So keep those handy too!

What if I lose my band mid-event and need to get out for a bit, can I re-enter?
Wristbands that are lost or misplaced before or during the festival will not be replaced. You will not be allowed to re-enter the festival without your wristband so we would suggest you keep your wristband on for all festival days, come what may; sleep, showers, after-parties, and everything that comes in between - the wristband must be protected!

Is alcohol available at the event?
Yup, but you'll only be served alcohol if you're above the legal drinking age! (It's probably one of the few perks of growing older). And if you do drink, be good ok? Handle thy liquor well, so that everyone can have a fantastic time!

Can I smoke? Can I get high?
BACARDÍ NH7 Weekender is a drug-free festival. Anyone found at the festival with any illegal substances will be removed immediately.

Can I bring my alcohol and make it a BYOB gig?
Discovering new FnB at the festival is a vibe. Come, enjoy it. Outside food and drinks are not allowed inside the venue; food and beverages will be available for sale. If you have special dietary needs on account of a medical condition, please write to us at nh7help@nodwin.in.

What all can I bring with me to the BACARDÍ NH7 Weekender then?
Your friends and family, good vibes, and everything in between. Things that aren't allowed are: Illegal substances, drugs, and related paraphernalia, cigarettes (although you can buy a sealed packet inside the venue), large chains or spiked jewellery, weapons of any kind - including pocket knives, pepper spray, guns, fireworks, or any explosives. The only burns you're allowed to diss is through your wit. Outside food or beverages (including alcohol), professional photo, video or audio equipment (No detachable lenses, tripods, big zooms or commercial-use rigs)

Will you confiscate my bag at the entry?
No, your bag will not be confiscated at the entry; however, we will need to check the elements in your bag to ensure none of the above-mentioned things are present.

What time does the event start and end each day?
We wish the party never had to end! But we've only got a restricted few hours so we intend to make the most of 'em. Entry to the festival begins at 3 PM*, and the festival ends at 10 PM (but in our heads, the BACARDÍ NH7 Weekender state of mind never stops). *Indicative timings only, Subject to change basis final plans.

Is parking available at the festival?
Yes. However, space is limited, so come in early to avoid the hassle. Bonus: we have amazing artists playing early sets, so why miss out?

Does the venue have ATMs?
Yes! Having said that, card payments are also accepted at all our stalls. However, we encourage cash & digital wallet transactions at the stalls and coupon payments at the bar. To skip the queues, buy your coupons now on Paytm Insider!

Are doggos allowed?
Yes. Cattos also. We're a pet-friendly festival, so the more the merrier! But do make sure they're habituated to loud noises and crowds in public spaces. We want them to have just as much fun as you!

Is there an official hashtag?
Yes! Just like no celebration is complete without one, we have an official hashtag too. Use #BACARDÍNH7 and #13MeraWeekender on Twitter, Instagram, and Facebook, and you might just get a shoutout from us!

How many stages are there?
This year we're going big! 'Think 5 stages, 40+ artists & 3 days of non-stop happy!

What will I get to see at BACARDÍ NH7 Weekender?
There's Metal, Country Pop, Indie, and acoustic sets for others. There's electronic rhythm and blues, chillwave, future soul, rap, and every other genre whose names we couldn't invent when we had to publish this, all making their way to the festival.

There's so much music here! Where do I begin?
Wherever you fancy. Whether you prefer checking out artists on the internet beforehand or discovering bands you love at the festival. . Make it your experience :)
Mahalakshmi Lawns
Nagar Road, Near Kharadi Bypass, Kharadi Octroi Naka, opp. Lohagaon, Pune International Airport Area, Lohegaon, Pune, Maharashtra 411047, India
GET DIRECTIONS
Bacardi NH7 Weekender 2022, Pune
November 25 - 27 | Gates Open : 3PM
Step out and enjoy this event
Event Guide
Live Performance
Enjoy a unique experience
Invite your friends
and enjoy a shared experience