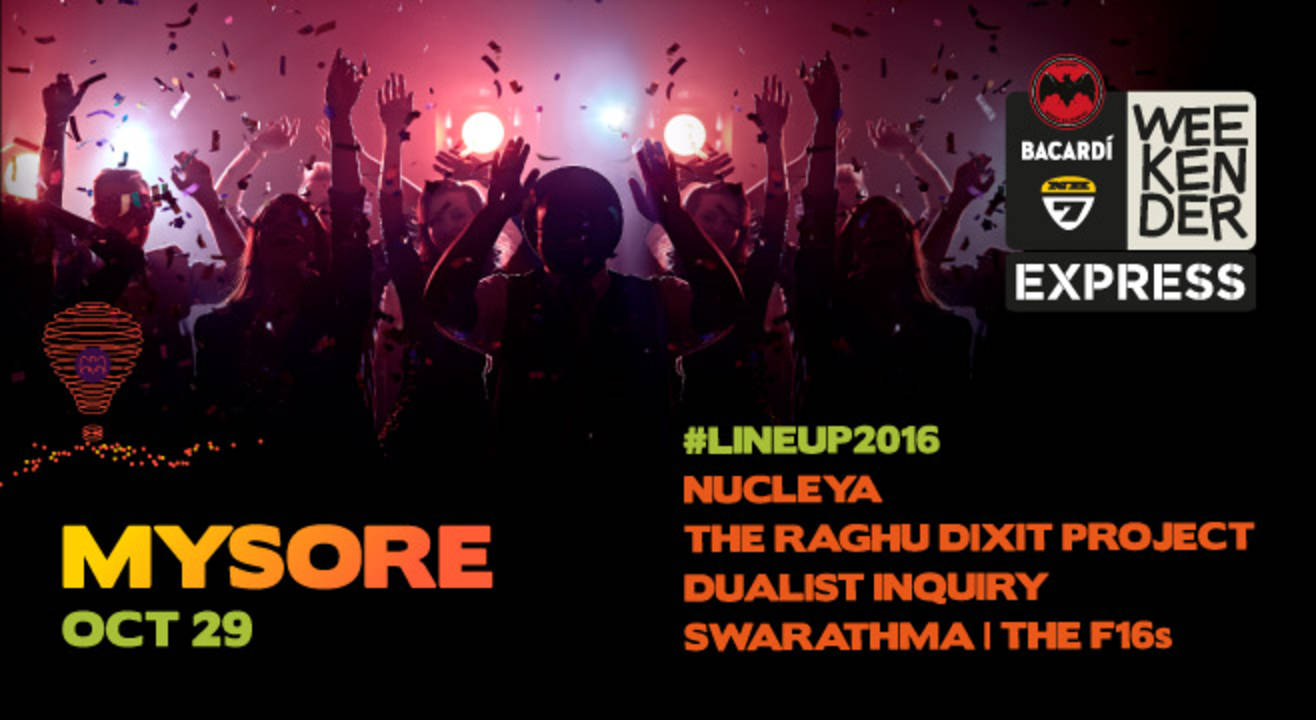 Bacardi NH7 Weekender Express, Mysore
October 29 | 5PM
Amphitheatre, Silent Shores Resort & Spa, Mysore
About
As the Bacardi NH7 Weekender gears up for its seventh edition, it's bringing its unique vibe, happiness and of course, the music across India with Bacardi NH7 Weekender Express. There's nothing that should stop you from coming and checking out some of the top music acts in the country as you get a taste of what the Happiest Music Festival is all about.
Venue
Amphitheatre, Silent Shores Resort & Spa, Mysore
85-87, BEML Road, Off Hunsur Road, Hootagalli, Hootagalli, Mysuru, Karnataka 570018
Terms & Conditions
This is a single entry event. Once you exit the concert area, you will not be permitted to enter again.
This entry ticket admits two.
Please keep your ticket with you at all times.
If you are under the age of 16, you need to be accompanied by an adult guardian at all times.
Rights of admission reserved, even to valid ticket holders.
Entry will not be permitted in the absence of a valid Government Issued photo ID. In case of credit card/debit card purchases, you must bring the credit card/debit card used to book the tickets.
No alcohol will be served to patrons under legal drinking age (LDA). Alcohol will only be served on display of a valid Government Issued ID proof. If you intend on drinking, we recommend you use public transport or assign a designated driver to drive you to and from the venue. If you are underage, please don't drink or we will be forced to ask you to leave the venue.
Artist programming and lineup is subject to change during the concert.
This ticket permits entry to the concert grounds only. Any pre or after-parties may have other ticketing requirements and may be sold separately.
Security procedures, including frisking, remain the right of the management.
Handheld personal communication devices will be permitted unless otherwise advised. As a condition of entry to the venue, you agree that the creation, storage or use of any data or any such recordings for any form of public advertisement, display, commercial gain or for any other purpose (except for your own enjoyment) is not permitted without prior written permission from OML Entertainment Pvt Ltd.
No tickets for the event shall be used by any person for re-sale, advertising, promotional or commercial purposes, including but not limited to prizes, competition, contests or sweepstakes without obtaining written consent of OML Entertainment Pvt Ltd.
Please do not carry dangerous or potentially hazardous objects including but not limited to weapons, knives, guns, fireworks, lazer devices and bottles to the venue. We may have to eject these things, (with or without you) from the venue.
The sponsors/bands/organisers/management are not responsible for, including but not limited to, any injury or damage that may occur during or at the concert. Any claims that may arise due to gross negligence would be settled exclusively in the courts in Mumbai.
This concert uses amplified sound. Earplugs and hearing protection at live concerts to reduce the risk of hearing damage is recommended, especially for children.
Strobe lighting at this event may trigger epileptic fits. Those with a history of epilepsy or any health condition that would be of concern must take adequate precautions.
Consumption and possession of narcotics is strictly prohibited and those found possessing or consuming narcotics at the event will be immediately handed over to anti-narcotics police.
Carrying of liquids, alcohol, cigarettes and banned substances including outside food and beverages will not be permitted in the venue.
No liability or claims that may arise due to the consumption or intake of any food or drink or any other consumption will be entertained by the management.
Parking near or at the concert premises is at the risk of the vehicle owner.
You shall not use or display within the venue any sponsorship, promotional or marketing materials unless authorised by written confirmation from OML Entertainment Pvt Ltd.
The holder of this ticket grants organisers the right to use, in perpetuity, all or any part of the recording of any video or still footage made of the holder's appearance on any channel or magazine for broadcast in any and all media globally and for advertising, publicity and promotions relating hereto without any further approval of yours.
Areas at the concert are built to capacity. Management reserves the right to hold entry to certain areas within the concert to ensure a safe experience.
The management reserves the exclusive right without refund or other recourse, to refuse admission to anyone who is found to be in breach of these terms and conditions including, if necessary, ejecting the holder/s of the ticket from the venue after they have entered the ground.