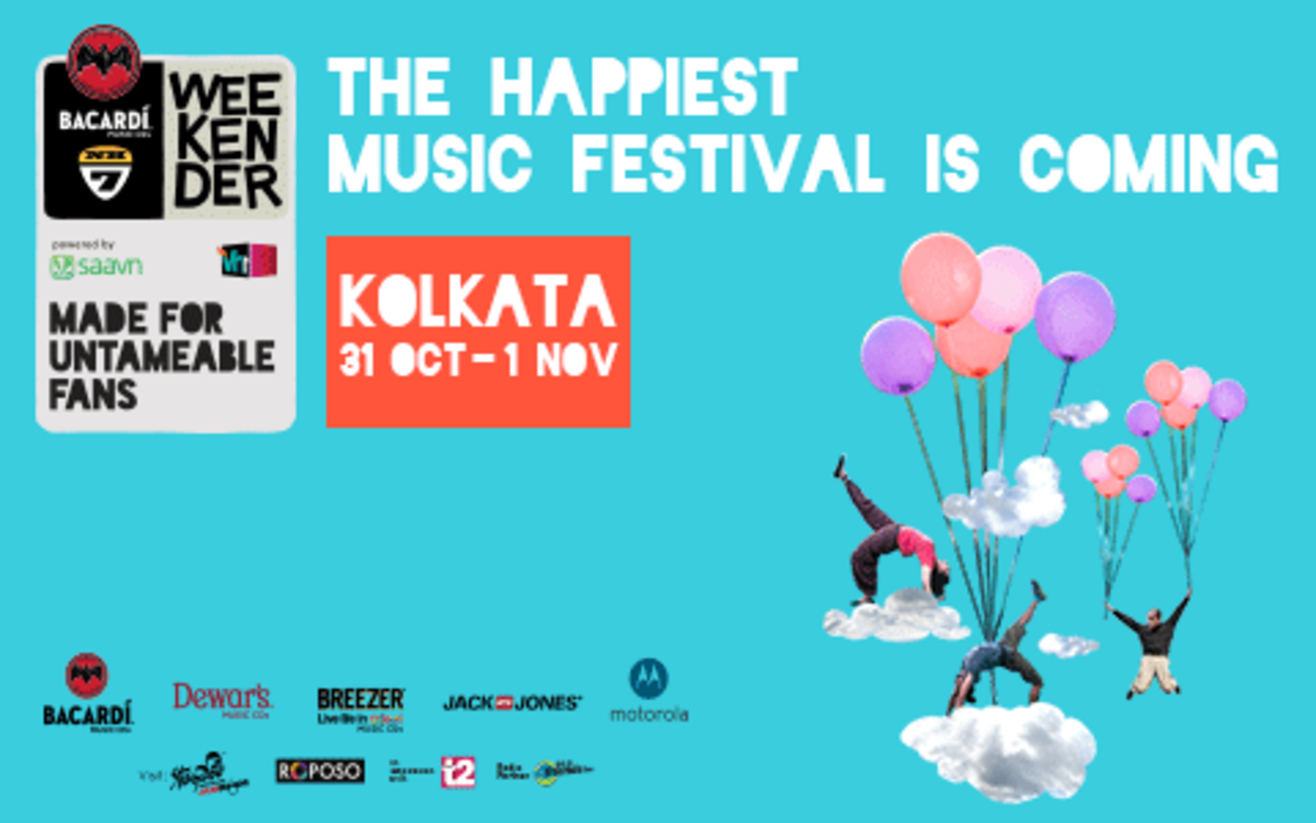 Bacardi NH7 Weekender, Kolkata
October 31- November 1 | 2PM
Aquatica, New Town - Kolkata
About
For five years in a row, Bacardi NH7 Weekender has been helping fans check must-see artists off their bucket lists and creating moments that they'll cherish like worn-out vinyls.
With top-notch headliners, unparalleled production values and that inimitable festival vibe, the festival has grown into an inclusive experience that's as much about the people as it's about the music.
Buy tickets at offline outlets
Chicago pizza, New Alipore
Chicago pizza, City Centre, Salt lake
Mocha, Park Circus
The Tea Trove, Bhawanipore
The Tea Trove, Deshapriya Park
The Tea Trove, Eco Park
Chaskaa Café, Elgin Road
Shawarma Nation, Lords, near South City
Shawarma Nation, Sarat Bose Road
Lizard's Skin Fashion Studio, Prince Anwar Shah road
Lizard's Skin Fashion Studio, Bhawanipore
Lizard's Skin Fashion Studio, Avani Mall
Tuhi's Tattoo Studio, Salt lake Swimming pool
Cafe Mezzuna, Forum
4/1 Camac Street, Camac Street
1658 Bar N Kitchen, Sudder Street
Aqua Java, Elgin Road
Aqua Java, Salt Lake
Aqua Java, Lowdon Street
Aqua Java, Wood Street
Aqua Java, Mani Square
Aqua Java, New Alipore
Bakstage, Sector 5
Aqua Java, Girish Park
Aqua Java, Lake town
Aqua Java, Phool bagan
The Caravan, Lord Sinha Road
Palazzo, New Alipore
Singh Bros, Topsia
Forever Yogurt, Alipore
The Pool Board Cafe, Vivekananda Park
Bakstage, Sector 5
Calcutta INK Tattoo Studio, Golpark
Hakuna Matata, Park Street
Venue
Aquatica, New Town - Kolkata
Near Rajarhat Township, Kochpukur, Hathgachchia P.O., Kolkata, West Bengal 700156
Terms & Conditions
Wristbands for the designated dates will be issued at the box office during the festival once you show your e-ticket along with a valid photo ID. These allow you to access all the stages. Please keep your wristband on for all days through sleep, showers and drunken shenanigans. In case wristbands are taken off or misplaced, a replacement wristband will not be issued.
No refund on a purchased ticket and F&B coupons is possible, even in case of any rescheduling.
Children up to ten years of age can walk into the festival for free.
If you are under the age of 16, you need to be accompanied by an adult guardian at all times. Sorry guys.
Rights of admission reserved, even to valid ticket holders.
Do not, we repeat for dramatic effect, do not buy tickets from anyone except us or one of our authorised ticket outlets. We only issue wristbands at the box office and they are put on you by our staff. If anyone offers to sell you a wristband outside of the festival gates, you can be certain it is counterfeit.
Ticket's can be transferred online though the Transfer Ticket feature available on Insider.in through your profile and maybe attach the link for that (https://blog.insider.in/transfer-ticket-say-no-to-paperwork/) to explain to them how to be able to attend the festival with tickets that haven't been bought under their card/name.
In case the card used to purchase the ticket is not yours, we accept physical photocopies of the card used for purchase signed by the original card holder.
No alcohol will be served to patrons under legal drinking age (LDA). Alcohol will only be served on display of a valid Government Issued ID proof. If you intend on drinking, being mildly buzzed, bouncing till you can't feel your legs or passing out at any of our stages, we recommend you use public transport or assign a designated driver to drive you to and from the festival grounds. If you are underage, please don't drink or we will be forced to ask you to leave the festival. Be cool, guys.
Artist programming and line-up is subject to change during the festival.
This ticket permits entry to the festival grounds only. Any pre or after parties may have other ticketing requirements and may be sold separately.
Security procedures, including frisking, remain the right of the management.
Handheld personal communication devices will be permitted unless otherwise advised. As a condition of entry to the venue, you agree that the creation, storage or use of any data or any such recordings for any form of public advertisement, display, commercial gain or for any other purpose (except for your own enjoyment) is not permitted without prior written permission from OML Entertainment Pvt Ltd.
No tickets for the event shall be used by any person for re-sale, advertising, promotional or commercial purposes, including but not limited to prizes, competition, contests or sweepstakes without obtaining written consent of OML Entertainment Pvt Ltd.
Please do not carry dangerous or potentially hazardous objects including but not limited to weapons, knives, guns, fireworks, lazer devices and bottles to the venue. We may have to eject these things, (with or without you) from the venue.
The sponsors/bands/organisers/management are not responsible for, including but not limited to, any injury or damage that may occur during or at the festival. Any claims that may arise due to gross negligence would be settled exclusively in the courts in Mumbai.
This festival uses amplified sound, as we are, you know, a kickass music festival. Earplugs for hearing protection at live concerts reduce the risk of hearing damage, hence are recommended, especially for children.
Strobe lighting at this event may trigger epileptic fits. Those with a history of epilepsy or any health condition that would be of concern must take adequate precautions.
Consumption and possession of narcotics is strictly prohibited and those found possessing or consuming narcotics at the event will be immediately handed over to anti-narcotics police.
Carrying of liquids, alcohol, cigarettes and banned substances including outside food and beverages will not be permitted in the festival. We already have great food, beverages, cigarettes and buckets at the venue, guys.
No liability or claims that may arise due to the consumption or intake of any food or drink or any other consumption will be entertained by the management.
Parking near or at the festival premises is at the risk of the vehicle owner.
You shall not use or display within the venue any sponsorship, promotional or marketing materials unless authorised by written confirmation from OML Entertainment Pvt Ltd.
The holder of this ticket grants organisers the right to use, in perpetuity, all or any part of the recording of any video or still footage made of the holder's appearance on any channel or magazine for broadcast in any and all media globally and for advertising, publicity and promotions relating hereto without any further approval of yours.
Areas at the festival are built to capacity. Management reserves the right to hold entry to certain areas within the festival to ensure a safe festival experience.
The management reserves the exclusive right without refund or other recourse, to refuse admission to anyone who is found to be in breach of these terms and conditions including, if necessary, ejecting the holder/s of the ticket from the venue after they have entered the ground.
We encourage you to be cool and have a great time at the happiest music festival.