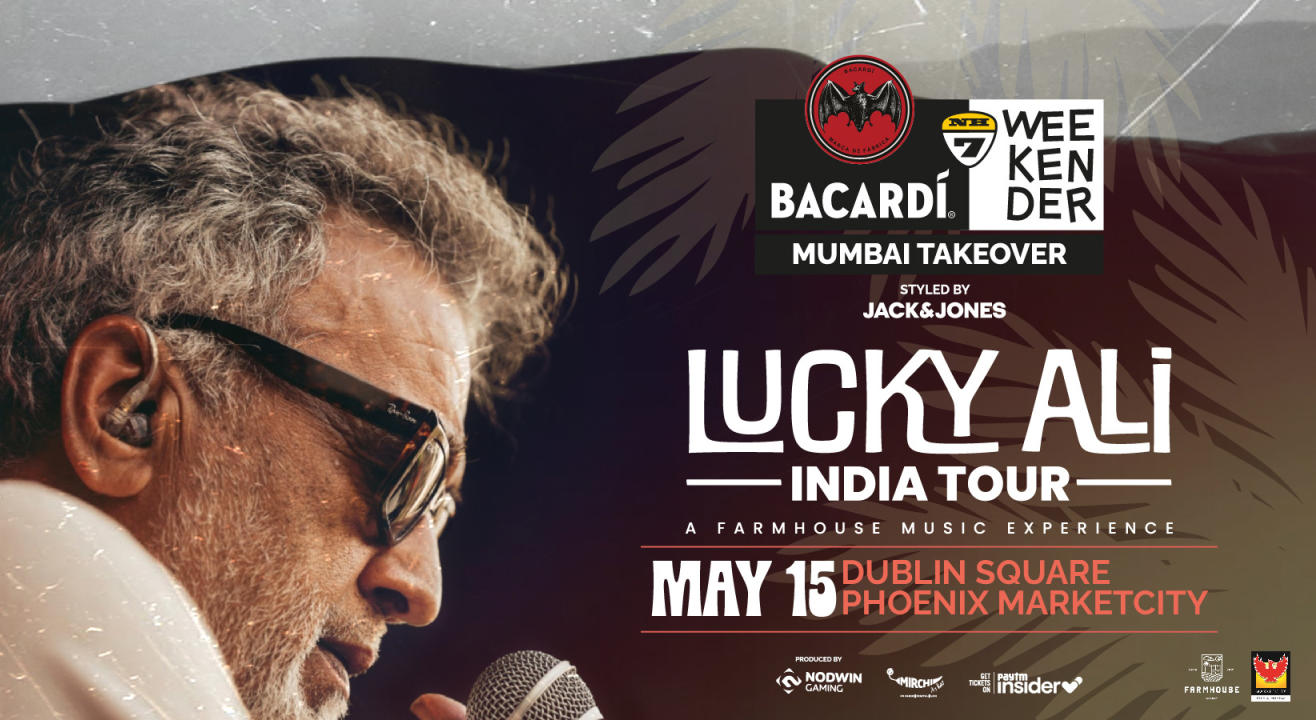 BACARDÍ NH7 Weekender @ Mumbai 2022
May 15 | Gates Open : 6:30PM
Dublin Square, Phoenix Marketcity, Mumbai
Step out and enjoy this event
Event Guide
Live Performance
Enjoy a unique experience
Invite your friends
and enjoy a shared experience
BACARDÍ NH7 Weekender @ Mumbai 2022
May 15 | Gates Open : 6:30PM
Dublin Square, Phoenix Marketcity, Mumbai
Step out and enjoy this event
Event Guide
Live Performance
Enjoy a unique experience
Invite your friends
and enjoy a shared experience
Event Guide
Live Performance
Enjoy a unique experience
Invite your friends
and enjoy a shared experience
We had a blast in Pune at Bacardí NH7 Weekender this year; from the music, to the food, ferris wheel and all!
And we're not done yet! We bring you a slice of the Happiest Music to Aamchi Mumbai in a limited capacity, with music, food, art, dance and a lot of feisty cocktails. So call your friends, throw on your favourite festival outfit and get ready to #DoWhatMakesYouHappyAgain at DUBLIN SQUARE, PHOENIX MARKETCITY, MUMBAI with LUCKY ALI.
They say less is more, so this time around we have a limited number of tickets available, to ensure your safety and still give you the best experience ever. And remember, if you want to make it to the event, fully vaccinated means double the happiness. Let's have a safe and happy festival!
Don't forget your Weekender Warrior checklist:
Only fully vaccinated ticket holders will be allowed into the venue. Keep that handy to swift through the queue.
If you have only received one dose of your vaccination, you will be required to produce an RTPCR report
Weekender Warriors wear their masks
Thermal scanning is mandatory
Frequent sanitisation and social distancing is encouraged
And please keep in mind that some event details could potentially change, based on the final permissions signed off by the official authorities. If the event is cancelled for any reason, you will receive a full refund.
Get ready for a magical weekend of music, masti and magic.
Covid Protocols
We want to create the happiest and safest environment for our fans. So we have some strict Covid protocols in place.
It is compulsory to show a certificate of a minimum of single dose vaccination on entry.
If your temperature is found to be above normal levels, you will be denied entry into the festival.
The entire venue is sanitised before and after the event for your safety.
Make sure you sanitize your hands before entry.
Members without masks will not be given entry.
Make sure to keep your masks on in public areas.
There are designated spaces where you can take off your masks.
We have an on-ground rapid antigen test available for emergencies.
We have also created safety pods for our members.
At F&B counters social distancing markers are placed for your benefit.
So let's be safe, but still, have lots of fun and be happy again! It's high time.
FAQs
Do I have to be fully vaccinated (2 doses) to attend?
As per government regulations we are only allowing fully vaccinated fans (2 doses) or minimum single dose of vaccination to attend.
Can I attend the event if I am not vaccinated but I have a negative RT-PCR report?
As per government regulations we are only allowing fully vaccinated fans (2 doses) or minimum single dose of vaccination to attend.
What if I got vaccinated outside India? Can I still attend the event?
Those who have taken their vaccines in countries other than India can attend the event but will be required to show proof of vaccination at the verification desk.
What happens if I don't get through the thermal scanning checkpoint?
If the thermal scanner shows your temperature is higher than 98.6 F, we would have no choice but to deny you entry.
Can I attend the show at the venue without buying a ticket on Insider.in?
Audiences who have bought a ticket for the show at the venue will be allowed entry but you can choose to purchase the tickets at the venue through with the help of our Insider.in team at the entrance. However, do expect a higher ticket price at the venue, we encourage you to purchase your tickets online.
Yes. You can if you've bought the ticket on the ground as well. Please meet the Insider.in representative at the entry point who will help you issue the ticket.
Do I have to bring a printout of my ticket?
BACARDÍ NH7 Weekender always strives to be as green as we can be, so the folks at the venue are happy to see your ticket on your mobile phone. Be warned that there may be limited mobile network at the venue, so remember to save the ticket on your phone. You can also show the SMS sent by Insider. at the time of ticket purchase.
How many people can I bring along with me to the event?
Each ticket will allow entry to only 1 person.
Is there an age limit to attend the event?
The age limit for the event is 18+. We will need to check your government approved ID proof to be able to allow you insider the venue. Anyone under the age of 8, they need to be accompanied by a guardian and would need to sign a waiver at the venue
Can I transfer my ticket to someone else?
No, you cannot transfer your tickets to someone else.
Can I cancel my ticket?
Sorry, no backsies here. We will not be able to cancel/refund tickets.
What kind of ID do I need?
To enter a BACARDÍ NH7 Weekender show, you must present identification. So please carry a valid, government-issued ID, such as a passport, Aadhar card, PAN Card, or driver's license. Letters from your grandma claiming how old you are won't do, sorry :(
Oh, and btw, you will need to present your vaccination certificate at entry. So keep that handy too!
Is alcohol available inside the venue?
Yes, there will be some yummy cocktails and a variety of spirits and beverages served at the venues.
You will however only be served alcohol if you're above the legal drinking age! (It's probably one of the few perks of growing older). And if you do drink, be good ok? Handle thy liquor well, so that everyone can have a fantastic time!
Can I bring my alcohol and make it a BYOB gig?
Outside food and drinks are not allowed inside the venue; food and beverages will be available for sale as served by the venue.
Is there an official hashtag?
Yes! Just like no wedding is complete without one, we have an official hashtag too. Use #BACARDÍNH7 and #DoWhatMakesYouHappyAgain on Twitter, Instagram, and Facebook, and you might just get a shoutout from us!
I have a query that has not been addressed in the FAQs. Who can I contact to help me with this?
You can send us an email at nh7help@nodwin.com and someone from our team will respond to you as soon as they can.
Dublin Square, Phoenix Marketcity
Lal Bahadur Shastri Marg, Kurla West, Patelwadi.Kurla, Kamani, Ashok Nagar, Kurla, Mumbai, Maharashtra 400013, India
GET DIRECTIONS
BACARDÍ NH7 Weekender @ Mumbai 2022
May 15 | Gates Open : 6:30PM
Dublin Square, Phoenix Marketcity, Mumbai
Step out and enjoy this event
Event Guide
Live Performance
Enjoy a unique experience
Invite your friends
and enjoy a shared experience