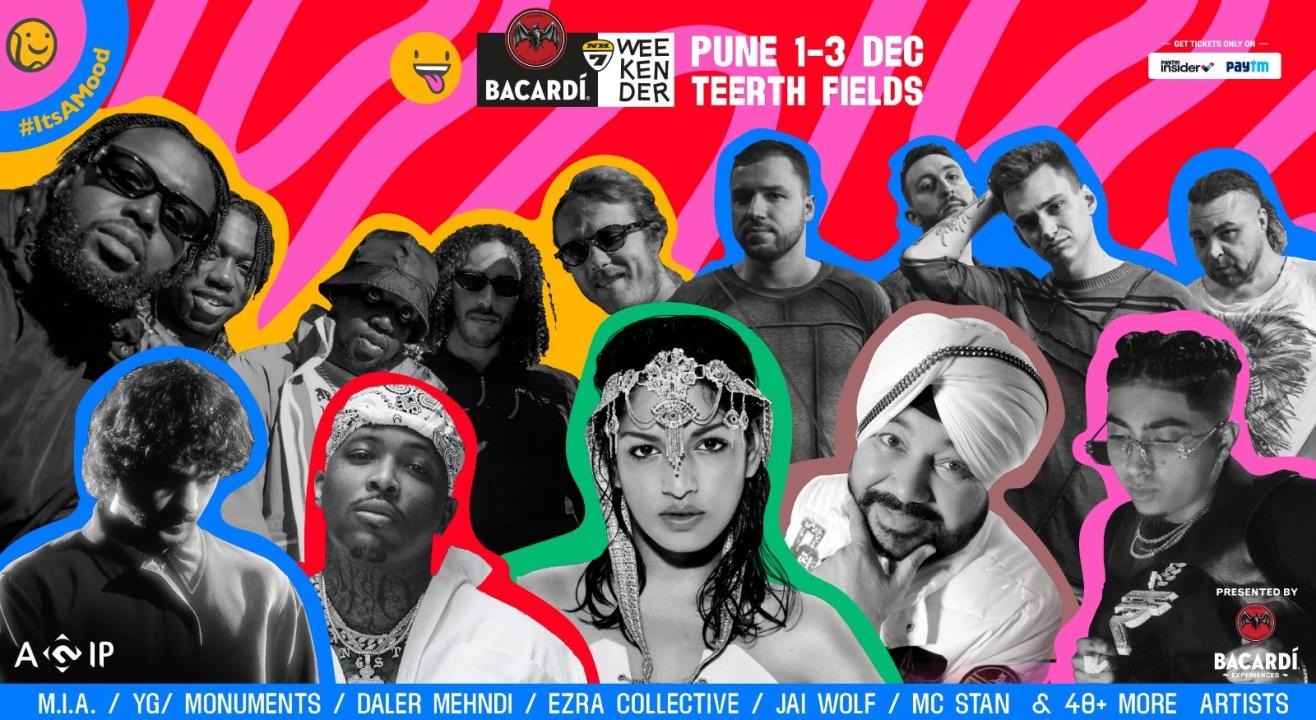 BACARDÍ NH7 Weekender 2023, Pune
December 1 - 3 | Gates Open: 3PM
Event Guide
Live Performance
Enjoy a unique experience
Invite your friends
and enjoy a shared experience
BACARDÍ NH7 Weekender 2023, Pune
December 1 - 3 | Gates Open: 3PM
Event Guide
Live Performance
Enjoy a unique experience
Invite your friends
and enjoy a shared experience
Event Guide
Live Performance
Enjoy a unique experience
Invite your friends
and enjoy a shared experience
Alexa cue Weekender State of Mind
14 years. 100s of artists taking you places. 1000s of rides around the ferris wheel. 10000s of cocktails in the iconic mug. A weekender fam of 100000s. Countless magical moments. 1 epic mood-BACARDÍ NH7 Weekender.
The happiest music festival is here! Join us among the lush green lawns of Pune from 1st-3rd December!
With 45+ stellar international & Indian artists across 4 stages that'll blow your mind including M.I.A, YG, Daler Mehndi, Monuments, Euphoria 25, MC Stan and more, you're going to want to say #IWasThere.
Witness your favourites & your soon-to-be favourite artists live, across genres ranging from Metal to Rock to Hip-Hop to Funk to Punjabi to Electronic to Pop and more (Whew!)
Grab your weekender buddies (fur buddies included) & experience a weekend with - cocktails, food & artists that match every mood.
See you at the 14th edition of BACARDÍ NH7 Weekender.
#ItsAMood
Official Ticketing Partner: Live Fiesta
Contact - 9833070733 / 9619272554 / 9821261553
Do I have to be fully vaccinated (2 doses) to attend the festival?
Yes, you need to be fully vaccinated to attend the festival. By purchasing the ticket, you are declaring that you have taken both vaccine shots at least 14 days prior to the festival date.

Do you have medical assistance on the ground?
Yes, there will be on-ground medical professionals as well as an ambulance on standby.

Is the festival wheelchair accessible?
Since the venue is new, there is only limited wheelchair access this time around so please plan accordingly. We recommend bringing along a friend who can help you around the venue. However, please be advised that this venue has rough terrain.

Do I have to bring a printout of my festival ticket?
Printout of ticket is NOT necessary. As long as the folks at box office/entry point can see and validate your ticket on your mobile phone, you will be allowed to enter. There may be limited mobile network at the venue, so remember to save the ticket on your phone. You can also show the SMS sent by Paytm Insider at the time of ticket purchase.

What is the age limit to attend the event?
This festival is open to people of all ages but children aged 10 years and above need a ticket to enter. All children under the age of 18, will need to be accompanied by an adult guardian at all times. Both the child and the guardian must have the same category of ticket. We would also recommend children use hearing protection so that they can groove to the music no matter where you take them.

Can I transfer my ticket to someone else?
Sorry, but you won't be able to transfer your tickets. So plan ahead and you'll be fine.

Can I cancel my ticket?
Sorry, no backsies here. We will not be able to cancel/refund tickets.

What kind of ID do I need?
To enter BACARDÍ NH7 Weekender, you must present identification. So please carry a valid, government-issued ID, such as a passport, Aadhar Card, PAN Card, or driver's license. Letters from your grandma claiming how old you are won't do, sorry :(

Is re-entry allowed?
No, re-entry is not allowed on the same day.

Is alcohol available at the event?
Yup, but you'll only be served alcohol if you're above the legal drinking age! (It's probably one of the few perks of growing older). And if you do drink, be good ok? Handle thy liquor well, so that everyone can have a fantastic time!

Can I smoke? Can I get high?
BACARDÍ NH7 Weekender is a drug-free festival. Anyone found at the festival with any illegal substances will be removed immediately.

Can I bring my alcohol and make it a BYOB gig?
Discovering new FnB at the festival is a mood. Come, enjoy it.
BACARDÍ NH7 Weekender 2023, Pune
Teerth Fields
Teerth Fields, Teerth Town Rd, Near Vibgyor High School, Sus, Pune, Maharashtra 411021
GET DIRECTIONS
BACARDÍ NH7 Weekender 2023, Pune
December 1 - 3 | Gates Open: 3PM
Event Guide
Live Performance
Enjoy a unique experience
Invite your friends
and enjoy a shared experience