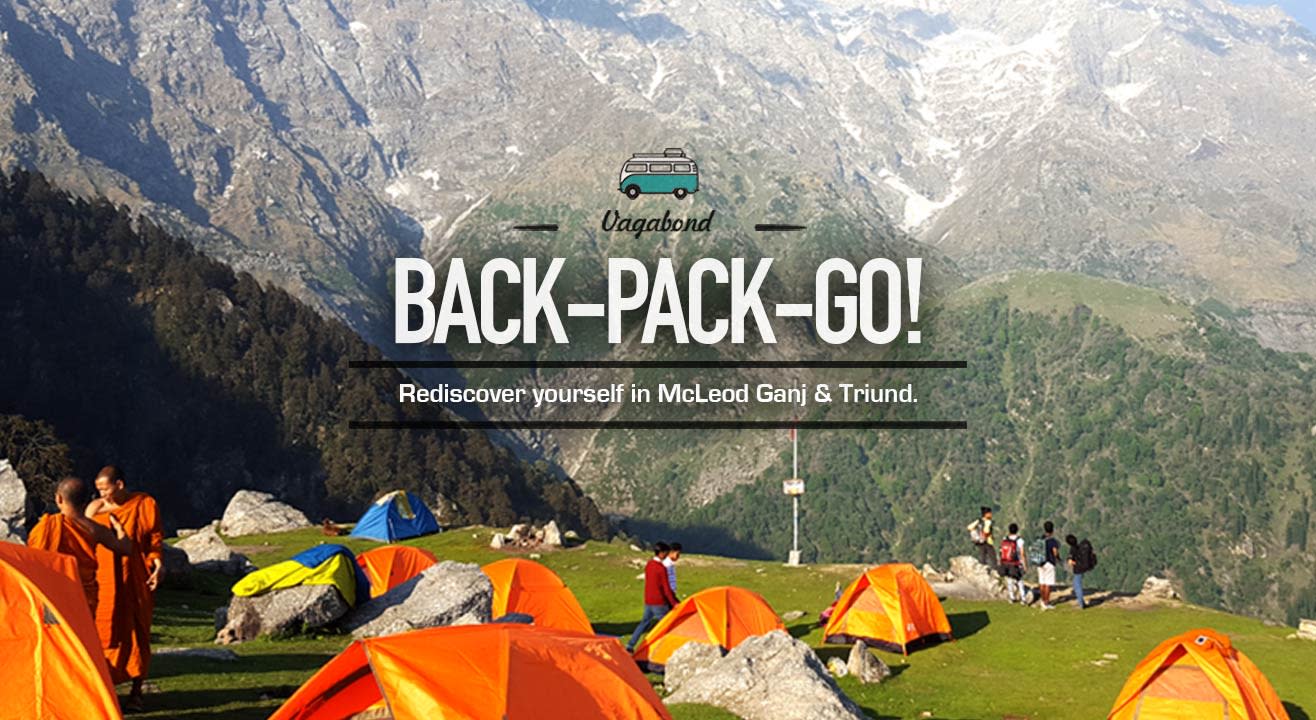 Trek
Back-Pack-Go! McleodGanj, Himachal Pradesh
November 11 - 19 | 5:30PM
About
Vagabond welcomes you to their 9 day trip to McLeodGanj, Back-Pack-Go!


With the hopes of leaving the city version of you behind, Vagabond has decided to take you to the hills. The hills will always greet you with her arms wide open, provided you respect her. They won't be the tour operator, you won't be the tourist; the aim is to create a unique and personal experience that you will forever cherish. Come with old friends, make some new ones, write a story, climb a mountain, jump into a river, dance, sing and fall in love. Do everything you've always wanted to. You are asked to break free from everything that has held you back in the city. Rediscover yourself and live that life you always wished of!
Day 1
Since everybody will have their own stuff to sort out before they disappear for more than a week, meet directly at Delhi; 05:30 PM at Majnu Ka Tila bus stop to be precise. (Vagabond can help you with travel assistance from Mumbai-Delhi-Mumbai) From here, board a direct bus to McLeod Ganj and say goodbye to the furnace which is the rest of the country.
Day 2
Reach McLeod Ganj early in the morning. The home-stay type hotels are located in Dharamkot, a picturesque hill town which is just a 10 minute cab ride away, with spectacular views of the entire valley. After breakfast at McLeod Ganj, head to H.H. Dalai Lama Temple, Namgyal Monastery and the Tibet Museum. Also, a visit to the 'St. John's in the Wilderness' Church and then sample some local cuisine for dinner.
Day 3
A good night's rest and a heavy breakfast later, head to Naddi, a tiny, peaceful village nestled amongst the pine covered mountains and vibrant yellow mustard fields. Begin your first hike toward the pristine Naddi River where you'll spend your day lazing next to the river and exploring the valley. Dinner will be back at McLeod Ganj, post which you'll be free to explore the night-life of the town.
Day 4
Aaah! The big day! Trek to Triund, one of the highest snow-capped peaks of the Dhauladhar mountain range. After an early breakfast, head to the Galudev Temple. Make your way to Triund, which is 2875 meters above sea level. It's a day long hike but the serene mountainous landscape, rare wildlife and a trail dotted with magical little cafés with breathtaking views will keep you going. At night, camp in tents facing the majestic snow-clad mountain range.
Day 5
After experiencing an unforgettable sunrise, have breakfast and trek right up to the snow line. Be warned, everyone takes their snowball fights very seriously. Small icy streams and glacial waterfalls are a common sight on this trail. Another night of camping, music and good food is what lies ahead of you this day.
Day 6
After breakfast, say goodbye to Triund and start your descent, reaching the hotel in Dharamkot by afternoon. The day is yours to rest those muscles you never knew you had. In the evening, stroll around the quiet hillside of Dharamkot before you meet everyone for dinner later. You can check out some of the popular cafes in the area which have live acts, music, jam sessions and workshops happening every other night.
Day 7
Post breakfast, head to Shiva Café which is a good 45 min hike. Stop by the holy Bhagsunag waterfall on the way and then head back in the evening for dinner. The evening can be spent shopping or wandering around the lanes of the McLeod market.
Day 8
After breakfast and check out, make your final shopping calls at McLeodGanj. Post lunch, head to Delhi by a semi-sleeper AC bus.
Day 9
Reach Majnu Ka Tila bus stop early morning. Trip ends. Say goodbye to the hills and hello to nostalgia for the next few months.

Bus fares to and from Delhi and McleodGanj for semi-sleeper AC buses.
Accommodation in cosy, rustic and comfortable hotels with decent amenities on a double or triple sharing basis.
Accommodation in good quality tents and sleeping bags while camping.
Two meals a day i.e. breakfast and dinner.
All activities as per itinerary.
Visits to places as per itinerary.
Expenses incurred by individuals over and above provisions by Vagabond.
Any expenses of personal nature.
Visit to any place not listed in the itinerary.
Vagabond is an event management company. But, they more than just 'manage' events; they design experiences and would love to design an event especially for you. They also do off-beat corporate getaways and training programmes.
McLeod Ganj (also spelt McLeodGanj or Mcleodganj) is a suburb of Dharamshala in Kangra district of Himachal Pradesh, India. It is known as "Little Lhasa" or "Dhasa" (a short form of Dharamshala used mainly by Tibetans) because of its large population of Tibetans.
In case of cancellations 1 month prior to the trip, Rs 2,000 will be deducted.
In case of cancellations 15 days prior to the trip, Rs 6,000 will be deducted.
In case of cancellations 1 week prior to the trip, Rs 10,000 will be deducted.
In case of cancellations within 1 week of the trip, Rs 12,000 will be deducted.
In case of cancellations on the day of departure, no refund shall be admissible