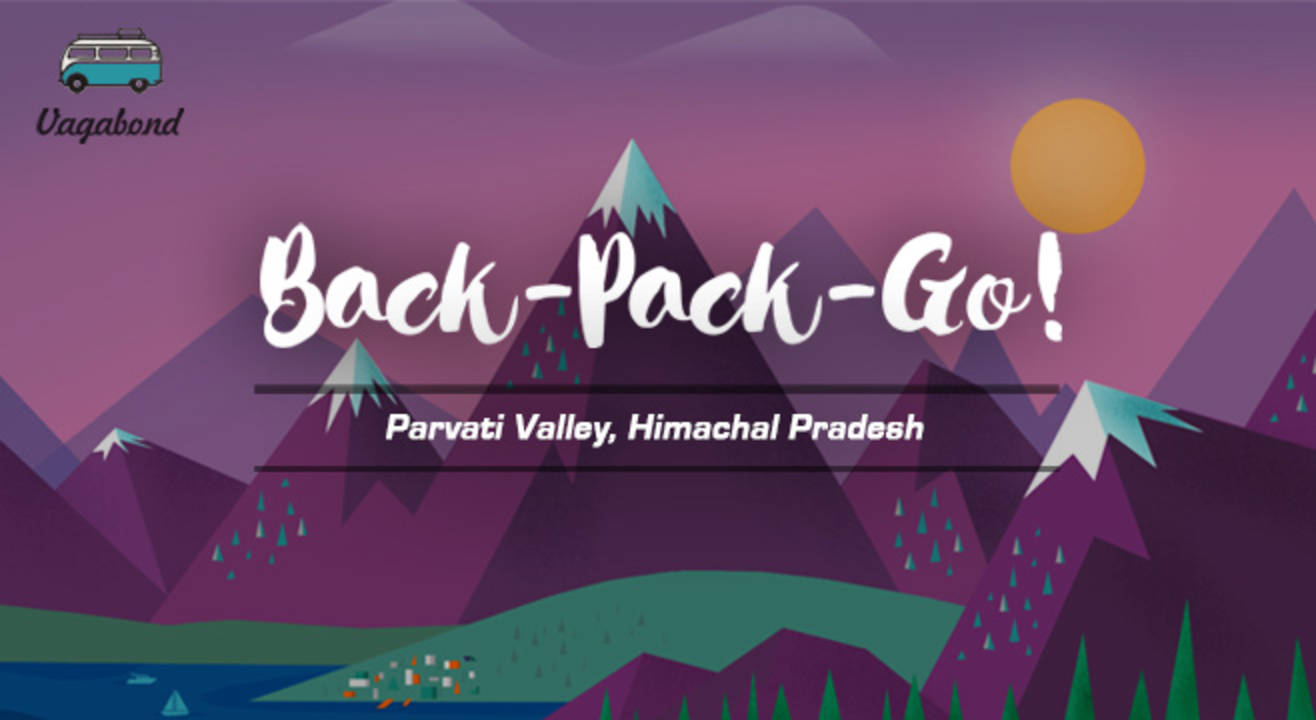 Back-Pack-Go - Parvati Valley
November 6 - 14 | 6 PM
Kashimiri Gate
About
The mountains have always been a great getaway for many travellers. But how often do you travel to the mountains, climb it, and sit in a natural hot water spring with a view of the glorious snow capped Himalayas? How often do you live in a local village in the middle of the mountains, sipping on your tea while staring at the snow fall slowly on your window pane? We know your answer. This trip is gonna have it all. Don't think twice and pack those bags. We're going to the hills.
Day 1: November 6
Our journey begins in the capital. Assemble at the Kashmere Gate bus stop at 6 PM. We board our bus to Bhuntar. Goodbye traffic, goodbye families, and probably (hopefully), goodbye cellphone reception for a week.
Day 2: November 7
We will reach Bhuntar early next morning from where we shall commute to the picturesque Pulga, a hilltop village nestled in the arms of a range of snow capped mountains. Settle into our home stay. We'll take the rest of the day to explore the beautiful woodside hamlet.
Day 3: November 8
We are going into the misty mountainside forest! Nothing we say can describe the pristine untouched pinewood wonderland. If the moment suggests, a campfire will sort the scene. A visit to the neighbouring villages of Kalga and Tosh is part of our agenda. We'll dine in one of the little cafés in the village.
Day 4: November 9
Today's the big day! We trek to the glorious hot springs of Kheerganga. We will be crossing tiny streams, cafes and grazing lands of sheep. The trek will test you. We should get there before sunset. After being assigned our rooms, we can take a dip in the natural hot springs. Mind you, the switch in temperature can make you feel dizzy. But the experience of lazing in a pool of hot water while staring at the Himalayas is quite surreal. Stay the night on the top of the world.
Day 5: November 10
Explore the global village at Kheerganga. Meet people from all over the globe. Chill at the cafés, go beyond the hot springs and if we're lucky, witness live music scenes. We stay another night at the summit. A night filled with music, ghost stories and stargazing.
Day 6: November 11
After breakfast we trek down from Kheer Ganga and make our way back to Pulga where we pick up our luggage from. We head to the bustle of Kasol by evening. Check into our hotel rooms. Trust us, you're gonna need some rest. Dinner in K-Town.
Day 7: November 12
In Kasol everything can be explored on foot. Chalal; a small village across the river and Manikaran; yet another hot spring(say whaaat?) in a gurudwara are the nearby attractions. Kasol is also a great place for getting a tattoo and yoga classes. The Parvati river runs right across Kasol. If you have the patience, we can go down to the river and do some fishing. We'll find a nice cafe and have dinner together.
Day 8: November 13
This is our last day in Himachal. You will have the day at leisure. Go shopping for those jholas, harem pants and jewellery that you've always wanted to from Himachal. We board our bus for Bhuntar in the afternoon. Take an overnight bus back to New Delhi. Make the most of this night since we might not be seeing each other again. (aww damn)
Day 9: November 14
Reach Delhi early in the morning. Say buh-bye to your new friends and return to everyday life in the city.
Bus fares to and from Delhi and Bhuntar for semi-sleeper buses
Accommodation in cosy, rustic and comfortable homestays with decent amenities on a double or triple sharing basis.
Internal transport in Parvati Valley
Two meals a day i.e. breakfast and dinner
All activities as per itinerary
Visits to places as per itinerary
The group will be accompanied by an experienced guide and tour co-ordinators as well.
A well-equipped first-aid kit and experienced operator will be available
Expenses incurred by individuals over and above provisions by Vagabond
Any expenses of personal nature
Visit to any place not listed in the itinerary
In case of cancellations on or before 13th October 2016, Rs 2,000 will be deducted
In case of cancellations on or after 14th Octpber 2016 and on or before 24th Oct 2016, Rs 8,000 will be deducted
In case of cancellations on or after 25th Oct 2016 and on or before 5th October 2016, Rs 12,000 will be deducted
In case of cancellations on the day of departure, no refund shall be admissable
Terms & Conditions
The right of the admission is reserved with the organizer.
48 – 24 Hours prior to your event date, the organizer shall send you a mail with complete details of point of contact, things to carry, directions etc
The organizer does not take the responsibility for the loss or theft of any personal belongings or any injury that the ticket holder may accrue at the event.
Smoking and drinking is strictly prohibited.
Any inappropriate behaviour by any of the participants shall lead to eviction from the event.
We recommend that you arrive at least 10 minutes prior to the starting time.
Let us know about any allergies that you may have.
Please call on +91 98197 65950 (Shannon) in case of any queries.