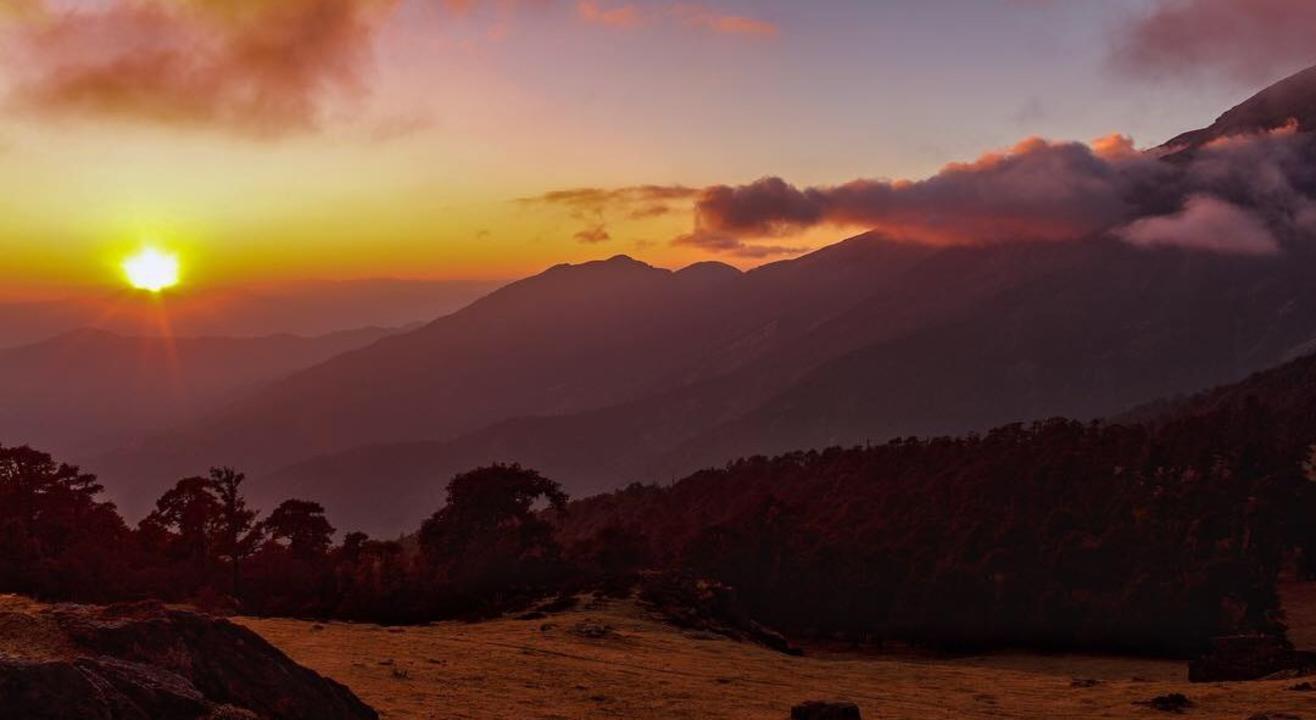 Backpacking to Rishikesh Auli Kanatal | Justwravel
Invite your friends
and enjoy a shared experience
Invite your friends
and enjoy a shared experience
About the Event
Description
Uttarakhand is one of those northern states of India whose glory and beauty cannot be described into words. A state Lord Shiva chose to be his home, and gods gave the blessings to be home of the origin of River Ganga, the holiest of all. Uttarakhand, as the name suggests was previously a northern part of another state (Uttar Pradesh) and now has its boundaries with China (Tibet), Nepal, Uttarakhand and Himachal.
This year, pack your bags nad see the side of
Uttarakhand that you'd have never seen or heard of, The Wraveler Side! Covering some of the most beautiful and famous destinations accessible by road, this backpacking trip to Uttarakhand is going to be a treat for the shutterbug in you.
Day 1 : Overnight travel from Delhi to Rishikesh via Haridwar
Approximately 230 kms away from Delhi, Rishikesh is our first pit stop and will be the kick off point of an incredible adventure! The overnight journey would be around 5-6 hours long and you'll reach Rishikesh in the morning the next day, crossing Haridwar on the way which is a famous tourist spot for its artistic feels and is also a humble city, famous being one of the holiest in our country.
2
Day 2 : Rishikesh Local sightseeing. Rafting. Camp stay. Night stay
Today, after breakfast, we'll headout for the sightseeing, covering the very beautiful and exquisite Beetle's Ashram, Laxman and Ram Jhula among others and post the sightseeing, we'll be doing the rafting that is actually one of the most famous adventure sports in the city of Rishikesh. The white water rafting, although looks fun, but is actually quiet hard to do and sometimes, the adrenaline rush is just too extreme and you cannot contain the excitement!
We'll head for the gangaaarti around sunset along with thousands of other devotees who come from afar to be part of this incredible moment.
We'll head towards our camps post that.
3
Day 3 : Rishikesh to Joshimath. Night stay
This is going to be a long day with a drive of around 300+ kilometers and 10-12 hours of the bus journey. This route goes beside the famous prayags of Uttarakhand such as:
Vishnuprayag, Nandaprayag, Karnaprayag Rudraprayag and Devprayag in the descending order of the flow sequence. These are the 'PanchPrayags' of the state of Uttarakhand that connotes the five sacred Garhwal Himalaya confluences.
Situated in the beautiful district of Chamoli is the town of Joshimath that serves as the winter seat of Lord Badri, who is brought to this town in idol form by the followers from the Badrinath Temple to the Vasudeva Temple.
4
Day 4 : Joshimath to Auli
Auli is 16 kilometers from Joshimath and can be called the capital of Winter Sports in India following the recent developments where athletes from all over the world have made their way to this scenic place in Winters to participate in the Annual Winter games held at Auli.
Auli is a Himalayan Ski Resort, surrounded by coniferous and oak forests, overlooked by the Nanda Devi and Nar Parvat mountains. The town of Joshimath and Auli are connected by long cable car links. The Badrinath Temple, Valley of Flowers National Park and the wildlife such as snow leopards and red foxes all lie North of Auli.
Post a brief sightseeing of Auli, we'll come back to Joshimath.
5
Day 5 : Joshimath to Kanatal. Night stay at Kanatal
This long journey of arpund 300 kilometers will take us back through the PanchPrayag route and we'll be going through the Chamba district of Uttarakhand, crossing Tehri and Dhanaulti to reach this small place called Kanatal that many people drive by without knowing what they are missing out on. For this reason, Kanatal is less crowded than your regular Hill Station and gives you the peace that one needs when in mountains. The journey is going to be of around 10-11 hours so we'll be starting early in the morning and reach by sunset.
Kanatal is famous as being a very beautiful Swiss Camping spot and so, it is going to be a great experience for those who haven't camped before.
6
Day 6 : Kanatal Day activities. Start from Kanatal by evening
Kanatal is also famous as an adventure activity hub for people from all around. Activities such as Ziplining, Burma Bridge, Sky Bridge among others are on the to-do list for the tourists who come to Kanatal. Post our breakfast,we'll be doing all the activities already planned for our wravelers.
Once we're done with the activities, we'regoing to rest for a while before leaving for Delhi in evening.
7
Day 7 : Return to Delhi early morning
We'll return to Delhi early morning and end the tour!
Inclusions
Transport by Tempo Traveller
Stay on double/ triple sharing basis
Meals as per Plan 10 meals ( Day 2 Breakfast + Dinner , Day 3 Breakfast + Dinner , Day 4 Breakfast + Dinner , Day 5 Breakfast + Dinner , Day 6 Breakfast + Lunch
Sightseeing as per Itinerary
Adventure Activities - Burma Bridge, Zipline at Kanatal , Rock climbing in Rishikesh
Trip Lead - Delhi to Delhi


Exclusions
Anything apart from Inclusions
Things To Pack
Down Jacket /Main Jacket
Thermals (Upper & Lower)
Clothes
Socks
Undergarments
Gloves
Slippers
Running Shoes/ Outdoor Shoes
Hats/Caps
Daypack
Medicines (Diamox – to reduce chances of AMS)
First Aid Kit
Documents – ID (Driver's License, AADHAR Card, Voter ID :: Passport and Visa copy for Foreign Nationals)
Sun Glasses
Torch
Water Bottle
Power bank
Mobile Charger / Travel Charger
Raincoat
Hand Sanitizer
Toiletries
Cold Cream
Lip Guard
Sunscreen Lotion