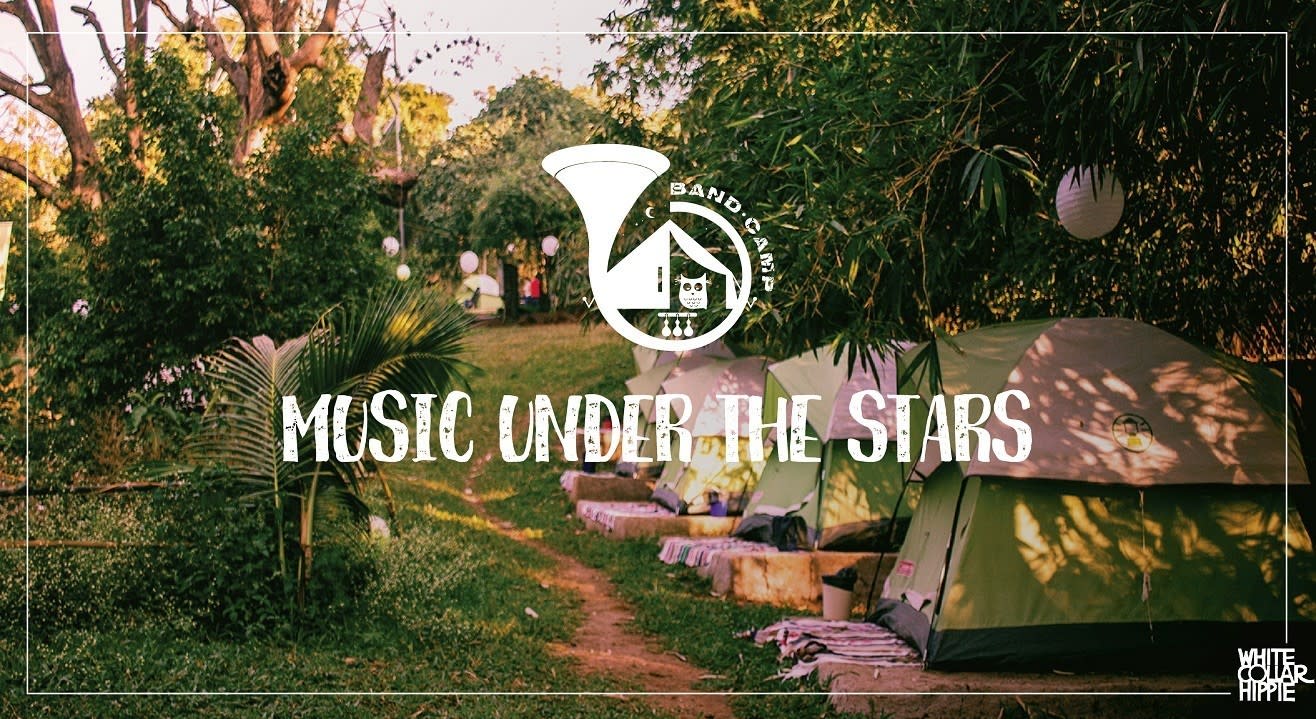 Camping
BandCamp- Music Under The Stars
About
BandCamp Season 3 is ON!
Music Nights at BandCamp is a great alternative to the city's hustle on a Saturday night. Experience great live music in the middle of nature. There is a naturally sculpted amphitheatre at the campsite that serves as the perfect spot to lay back and count stars while listening to the bands play your favourite tunes. The music ranges from indie and blues to rock and pop.
There will also be bonfires, a barbecue, long walks, and some great food! The campsite has huge grounds with hammocks, books and games to ensure that there is something for everyone.
A stone's throw away from the city (clock says 60 mins!), BANDCAMP is located off Gorai beach. The layout is such that you can enjoy nature and have your privacy even though it's a bustling campsite. Expect tents, sleeping bags and camping goodies, unwind in the main area or walk around the fishing village down to the sea anytime.

Since Uttan is a coastal town (home to the Koli community), meals are freshly made by locals. Sundown brings with it a pre-gig BBQ and beer that sets the mood for the rest of the evening.

BandCamp is best suited for groups, solo campers, corporates, couples and pets. Basically, everybody! You can even attend our Movie Nights or weekend workshops on Capoiera, Photography, Fitness, Poetry and so on.
Stay

1 spacious tent for two.
Foam Mattress
1 Sleeping bag per person
1 Solar lamp per tent
White Collar Hippie Goodie bag

Meals

Evening- tea, coffee
A super Barbeque and Dinner [ Veg, Non Veg & Jain Options ]
Everything edible on the breakfast table
Chips, biscuits and other munchies all day

Other Things

Band performance and/ or Movie screening.
Clean and well-functional loos and showers.
House full of Board games books etc for entertainment.
Beautiful walks, conversations and memories.
Bonfire,which you can also help us build.
White Collar Hippie's curated stash of music and if it's not a weekend, then a live band.
Alcohol and aerated drinks
Any purchase/ extra cost you incur
Travel to the campsite and back
Any extra meals
Boat ride/ swimming pool charges
Train: Take a Train to Bhayander and then a rick to U-Tan sea resort. The campsite is right behind the resort *Cheapest option*

Take a cab: A cab from anywhere in Bombay will typically cost you Rs 1000 and will get you right to our campsite. Best options- Meru, Uber, Ola
Stay is at the White Collar Hippie campsite. We recommend you carry the following:

Personal toiletries
Personal Medicines
A shawl or a jacket to keep you warm (full sleeves to ward away the mosquitoes!)
A bed sheet if required.
Any Munchies or snacks you might want to nibble on
A camper attitude
Banat started learning the harmonium at the age of five with "Kirtan" being amongst the other semi-classical musical education she was imbibed with at that tender age. Her involuntary harmonium lessons as a child, stirred her interest but it was her first encounter with rock music, that pushed her to take up the guitar a few years later. Having grown up in a traditional Punjabi household, recent chain of circumstances pushed her to go back to her roots and rediscover her art. A shift from her usual music style, as she embraced her culture she carved another alcove of experience which has intensified her range as an artist. She believes in singularity, often writing about her nuanced life choices and prefers to express herself by making music.

She is recently released her first single "Moon", which she penned a few years ago, which is about grappling with trust issues in an already caged environment that a young individual with profuse need for independence goes through. Having composed a number of songs in the past 2-3 years, she has found that the central theme of most of her compositions is freedom and the struggles of living in a closed society.

Although having ventured out only recently, she has performed at several art spaces, lifestyle events, slams, charity events and is a regular at performance venues like The Hive, Pitaara and Tuning Fork. Her favourite artists are Jeff Buckley, Yann Tiersen, Black Sabbath and Heart, drawing heavy inspiration from their style of lyrical and musical expression."
They are a collective of likeminded artists with Individuality and distinct musicality. Our genres include Soul, Blues, RnB, Pop, Rock, Bollywood & Fusion. With expression and Intent spread over various genres and mediums of music, they find themrselves in their content creation phase showcasing their own interpretation of classic and current music.
Venue
U-Tan Sea Resort, Mumbai
CHOWK DONGRI VIA UTTAN, Bhayandar West, Near Pali Beach Resort, Dongri, Uttan, Mumbai, Maharashtra 401106