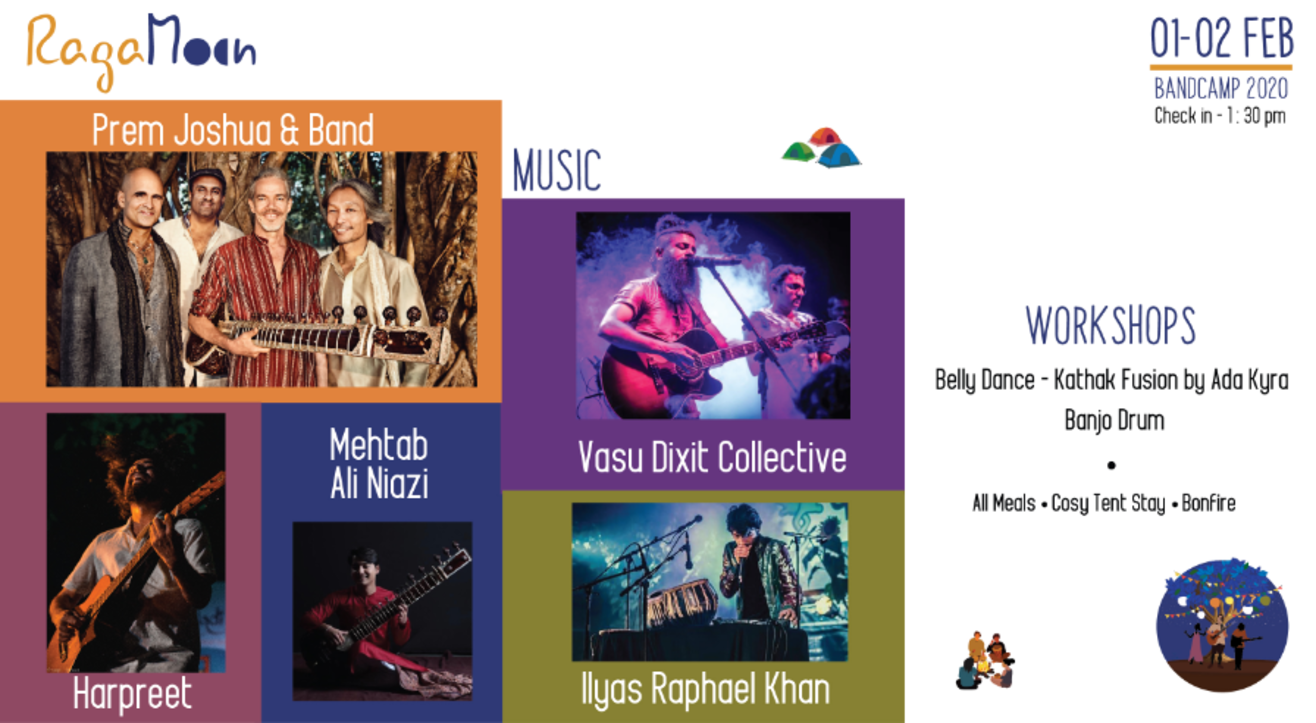 February 1 - February 2 | 1PM - 1PM
BandCamp, White Collar Hippie Camping Ground, Mumbai
Invite your friends
and enjoy a shared experience
February 1 - February 2 | 1PM - 1PM
BandCamp, White Collar Hippie Camping Ground, Mumbai
Invite your friends
and enjoy a shared experience
Invite your friends
and enjoy a shared experience


RagaMoon is a boutique festival and an experience that celebrates music. It is an initiative where music, art and nature all come together to create an almost magical experience. RagaMoon hosts musicians that will connect to your soul. It also has workshops in dance and music. The festival presents a stellar line up featuring bands and musicians from India and across the world performing on our uniquely designed stage located at a campsite on a hilltop, surrounded by the sea next to a fishing village, sited just 45 min away from Borivali, Mumbai.
Ragamoon is an overnight festival that lets you experience the community feel of like minded people, offering you a wholesome experience of camping amongst the trees where you can unwind on the hammocks, catch the sunset or take a walk near the beach.


Band 1: Harpreet Singh
He is a Singer-Songwriter and a popular name on the indian music festival circuit. His graceful compositions combined with a pleasing personality and stage presence will touch a chord.
Band 2:Vasu Dixit Collective
Vasu dixit is the lead Singer of Swarathma and the leading light of the folk-rock genre in India.
Band 3:Prem Joshua and Band
Prem Joshua and Band are pioneers of cross over sounds.Their soul searching music is a dexterous blend of sounds and instruments that draws the listener into an emotionally rewarding journey.
Band 4: Mehtab Ali Niazi
He is one of the finest sitar players on the Indian music scene and belongs to the famous Bhendi Bazar Moradabad Gharana. He has an outstanding ability and quality of music which leave his listeners captivated.
Band 5: Ilyas Raphael Khan
Ilyas Raphaël Khan creator for "Tablaboxing" which mixes traditional tablas and human beat box. He takes us with freshness and virtuosity in a world of varied and innovative sounds.
Inclusions
Stay
Spacious tent on twin sharing basis
Foam mattress
1 sleeping bag &1 pillow per person
1 solar lamp per tent
White Collar Hippie Goodie bag
Meals
Evening: tea, coffee
A super barbeque (veg, non-veg & Jain options)
Elaborate dinner (veg, non-veg & Jain options)
Hearty breakfast
Chips, biscuits and other munchies all-day
Other Things
Band performance and/or movie screening.
Clean and well-functional loos and showers.
House full of board games, books, etc for entertainment.
Beautiful walks, conversations and memories.
Bonfire, which you can also help build.
White Collar Hippie's curated stash of music
Exclusions
Travel to the campsite and back
Alcohol and aerated drinks purchased at the bar. (Outside alcohol not allowed)
Any purchase/extra cost you incur
Any extra meals
Boat ride/swimming pool charges
Things to carry
Personal toiletries and medicines
A shawl or a jacket to keep you warm (full sleeves to ward away the mosquitoes!)
A bed sheet if required
Any munchies or snacks you might want to nibble on
A camper attitude
How to get there
Car
You can drive down to the campsite and put the location as: Bandcamp by White Collar Hippie.
Cab
A cab from anywhere in Mumbai will typically cost you ₹ 400-1000 and will get you right to the campsite. Best options: Uber, Ola, Meru. Drop Location: U-Tan Sea Resort.
Train
Take a train to Bhayander, get out on the west side and then a rickshaw (₹ 180) to U-Tan Sea Resort, Chowk, Uttan. Or stake a sharing rickshaw to Uttan Market (₹ 25 per seat) and then another rickshaw to U-Tan Sea Resort (₹ 10 per seat). The campsite is right behind the resort. You can take the Bus No. 1, which will be your cheapest option.
Ferry
From Borivali, take a ferry from Gorai Creek which will get you to Gorai Village. Hire a rickshaw directly to the resort or take a bus to Uttan and thereafter, Bus No. 1 to the resort.
Cancellation Policy
5 days or more prior – 100% of the ticket price to be refunded
2 - 4 days prior - 50% of the ticket price to be refunded
Less than 2 days prior - NIL
Please write a mail at bandcamp@whitecollarhippie.com
BandCamp, White Collar Hippie Camping Ground
Dongri, Uttan, Mira Bhayandar, Maharashtra 401106
GET DIRECTIONS
February 1 - February 2 | 1PM - 1PM
BandCamp, White Collar Hippie Camping Ground, Mumbai
Invite your friends
and enjoy a shared experience