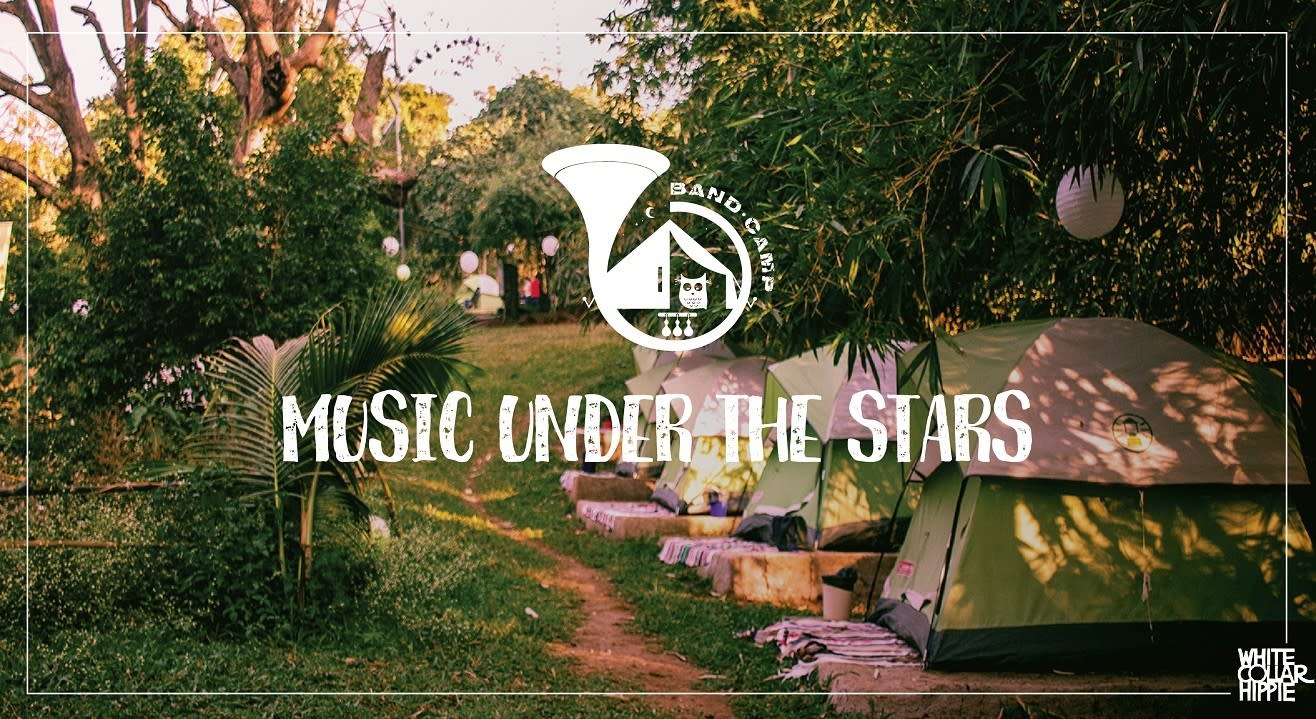 BandCamp- Music Under The Stars
U-Tan Sea Resort, Mumbai, Mumbai
Step out and enjoy this event
Invite your friends
and enjoy a shared experience
BandCamp- Music Under The Stars
U-Tan Sea Resort, Mumbai, Mumbai
Step out and enjoy this event
Invite your friends
and enjoy a shared experience
Invite your friends
and enjoy a shared experience
Music Nights at BandCamp are a way to escape the hustle of the city on a Saturday night and experience great live music amidst nature. A naturally sculpted amphitheatre at the campsite serves as the perfect spot to lay back and count stars while listening to the bands play your favourite tunes. The music ranges from indie, blues, to rock and pop.
There will also be bonfires, a barbeque, long walks, and some great food! The campsite has huge grounds and there will be hammocks, books, and games to ensure that there is something for everyone.
Band this Saturday: Kanchan Daniel and the Beards
Stay
1 spacious tent for two.
Foam Mattress
1 Sleeping bag per person
1 Solar lamp per tent
White Collar Hippie Goodie bag

Meals
Evening- tea, coffee
A super Barbeque and Dinner [ Veg, Non Veg & Jain Options ]
Everything edible on the breakfast table
Chips, biscuits and other munchies all day

Other Things
Band performance and/ or Movie screening.
Clean and well-functional loos and showers.
House full of Board games books etc for entertainment.
Beautiful walks, conversations and memories.
Bonfire,which you can also help us build.
White Collar Hippie's curated stash of music and if it's not a weekend, then a live band.
Alcohol and aerated drinks
Any purchase/ extra cost you incur
Travel to the campsite and back
Any extra meals
Boat ride/ Swimming pool charges

Kanchan Daniel and the Beards
Kanchan Daniel and the Beards is Bombay blues band is among the more recognized bands in the city.It is strongly focused into modern blue rock with powerful vocals crisp guitar/Piano solo rolls, drum rolls. The band also groves with foot stamping .And base lines to revive and intoxicate with the feel of lost blues.Their songs are known for the addictive hip shaking melodies and the stage shows for the you enthusiasm and vibrant energy. The band sets its Mark in the audience is the rawness and range in the lead vocalist of Kanchan Daniel. Her deep, throaty, husky voice shows wide range and definition, emerging from a great deal of spontaneity and true passion for the blues. Her voice is described as & violence that rips across the smooth serenade" by the fans The band has released many singles with their debut single & The Road" released in May&14 was applauded by the fans.
Quirky Perky- Kanchan Daniel And The Beards
Flying Shoe is an indie folk / pop project from Pune/Mumbai, India. Formed by singer/songwriter Omkar Potdar, with his simple melodies and lyrics inspired by people and events around him. Omkar has been an independent musician for more than half a decade. After touring Europe with his band Studmuffin as a bass guitarist, he decided to start his solo endeavor with Flying Shoe.
Flying Shoe // Paperboats
U-Tan Sea Resort, Mumbai
CHOWK DONGRI VIA UTTAN, Bhayandar West, Near Pali Beach Resort, Dongri, Uttan, Mumbai, Maharashtra 401106
GET DIRECTIONS
BandCamp- Music Under The Stars
U-Tan Sea Resort, Mumbai, Mumbai
Step out and enjoy this event
Invite your friends
and enjoy a shared experience