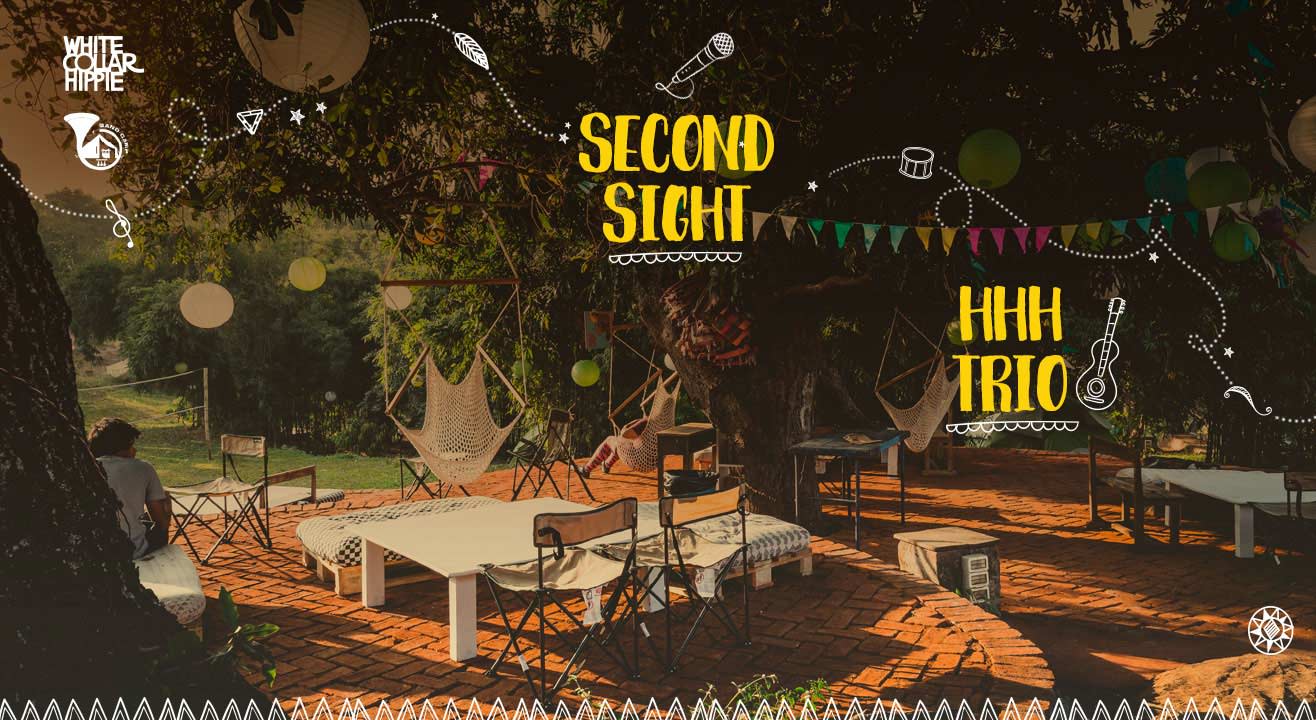 Camping
BandCamp: Music Under The Stars
November 18 - 19 | 4PM - 12PM
About
Music Nights at BandCamp is their own little way of taking you out of the city hustle on a Saturday night and experience great live music in the middle of nature. There is a naturally sculpted amphi-theatre at the campsite that serves as the perfect spot to lay back and count stars while listening to the bands play your favourite tunes. The music ranges from indie, blues, to rock and pop.


There will also be bonfires, a barbeque, long walks, and some great food! The campsite has huge grounds and BandCamp have added hammocks, books, and games to ensure that there is something for everyone!
A stone's throw away from the city, BandCamp is located off Gorai beach. The layout is such that you can enjoy nature and have your privacy even though it's a bustling campsite.
Second Sight is an acoustic duo which was formed late last year, when Anusha and Pushkar met at Swarnabhoomi Academy of Music (SAM), and instantly connected personally and musically in their spontaneous jam sessions. It's an interesting amalgamation - Anusha with her background in soul, jazz, a cappella and choral music, and Indian classical; and Pushkar deriving his inspiration from music ranging from electronica to blues and progressive rock.
In the short span since they started performing, they've played at various places in India, such as Tuning Fork, TARQ Gallery (through Sofar Sounds Mumbai) and Bluepot in Mumbai, Kaasha ki Aasha in Pondicherry, and Inko Centre in Chennai (through Sofar Sounds Chennai). Furthermore, Second Sight looks to incorporate other forms of art, such as poetry and dance, in their music, to make their performance a multifaceted experience. Check more of his work out, here
HHH Trio is a newly formed pop/surf/Rock band with 3 members- Hitesh Kumar, Hansel Dias and Hardik Mehta. Hitesh is an upcoming singer-songwriter from Mumbai who attributes his musical skills & songwriter influences to artists such as John Mayer, Jason Mraz and Jack Johnson. His songs are a perfect blend of soulful melodies and life based lyrics. Hansel is the bassist who's well known in the indie circuit with his performances with bands like my kind of blue, Aankh micholi and SS collective. Hardik is the drummer/percussionist and a student of the well renowned True School of Music who plays for my kind of blue and SS collective.As a trio they put on highly energetic performances on stage with their groovy pop music.
Stay
1 spacious tent for two
Foam mattress
1 sleeping bag per person
1 solar lamp per tent
White Collar Hippie Goodie bag
Meals
Evening: tea, coffee
A super barbeque (Veg, non-veg & Jain options)
Elaborate dinner (Veg, Non Veg & Jain Options)
Hearty breakfast
Chips, biscuits and other munchies all day
Other Things
Band performance and/or movie screening.
Clean and well-functional loos and showers.
House full of board games books etc for entertainment.
Beautiful walks, conversations and memories.
Bonfire, which you can also help build.
White Collar Hippie's curated stash of music
Exclusions:
Travel to the campsite and back
Alcohol and aerated drinks purchased at the bar. (Outside alcohol not allowed)
Any purchase/ extra cost you incur
Any extra meals
Boat ride/ swimming pool charges
Personal toiletries
Personal medicines
A shawl or a jacket to keep you warm (full sleeves to ward away the mosquitoes!)
A bed sheet if required
Any munchies or snacks you might want to nibble on
A camper attitude

Cab
A cab from anywhere in Mumbai will typically cost you INR 400-1000 and will get you right to the campsite. Best options: Uber, Ola, Meru. Drop Location: U-Tan Sea Resort.
Train
Take a Train to Bhayander, get out on the west Side and then a rickshaw (INR 180) to U-Tan Sea Resort, Chowk, Uttan. Or stake a sharing rickshaw to Uttan Market (INR 25 per seat) and then another rickshaw to U-Tan Sea Resort (INR 10 per seat). The campsite is right behind the resort. You can take the Bus No. 1, which will be your cheapest option.
Ferry
From Borivali, take a ferry from Gorai Creek which will get you to Gorai Village. Hire a rickshaw directly to the resort or take a bus to Uttan and thereafter, Bus No. 1 to the resort.

7 calendar days or more prior to the departure of the tour – 100 % of the ticket price
5 calendar days prior to the departure of the tour - 75% of the ticket price
2 calendar days prior to the departure of the tour - NIL
Please write us a mail at bandcamp@whitecollarhippie.com Or help@insider.in

Venue
BandCamp
CHOWK DONGRI VIA UTTAN, Bhayandar West, Near Pali Beach Resort, Dongri, Uttan, Mumbai, Maharashtra 401106