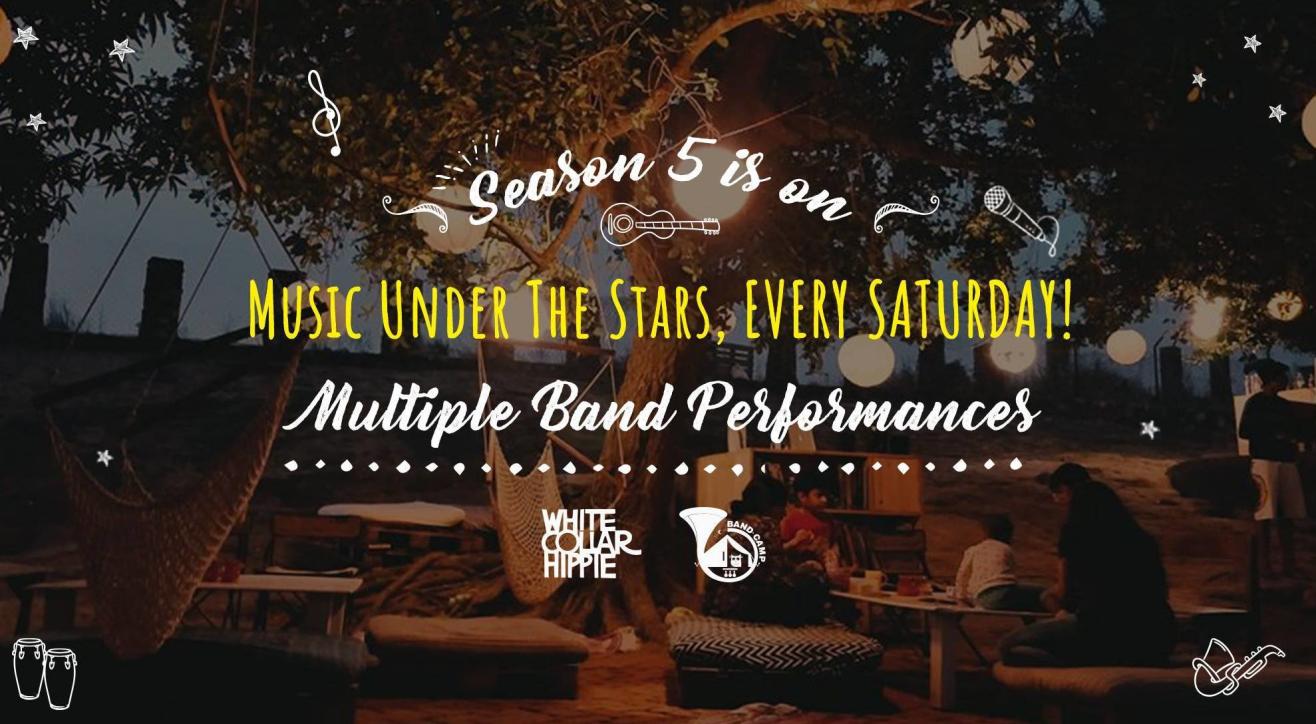 BandCamp: Music Under the Stars
BandCamp, White Collar Hippie Camping Ground
Invite your friends
and enjoy a shared experience
Invite your friends
and enjoy a shared experience
About the Event
BandCamp Season 5 is on! Now enjoy the camping experience every weekend until April' 19!
Music Under The Stars is BandCamp's own little way of taking you out of the city hustle on a Saturday night and making you experience great live music in the middle of nature. There is a naturally sculpted amphitheatre at the campsite that's perfect to lay back on and count stars, while listening to bands play your favourite tunes. The music ranges from indie, blues, funk, RnB, jazz to rock and pop!
There will also be bonfires, a sundown barbeque, a village sunset walk, and some great food! The campsite has large grounds and they've added hammocks, books, and games to ensure that there is something for everyone.


About the site

A stone's throw away from the city, BandCamp is located off Gorai Beach. Its layout lets you enjoy nature and also have your privacy even though it's a bustling campsite. Expect tents, sleeping bags and camping goodies, unwind in the main area, or walk around the fishing village down to the sea anytime. Since Uttan is a coastal town (home to the Koli community), meals are freshly made by locals.
BandCamp is best suited for groups, solo campers, families, corporates, couples and pets. Basically, everybody! You can even attend their Movie Nights on Fridays, or weekend workshops on capoiera, photography, fitness, poetry and so on.
Ramil Ganjoo is a music composer and an independent singer, songwriter. He has worked in several television commercials and short films.
Abhinab is a singer & songwriter from Delhi now in Mumbai. He is a guitar player and self taught musician. He started learning the six string at 14 by listening to some cassettes of Bryan Adams songs. Then with time, he felt like explaining himself through his words and melodies. Now at 25, he is still finding his ways to spread his music as mush as possible.
Stay
1 spacious tent to be shared by two campers
Foam mattress
1 sleeping bag per person
1 solar lamp per tent
White Collar Hippie Goodie bag
Meals
Evening: tea, coffee
A super barbeque (veg, non-veg & Jain options)
Elaborate dinner (veg, non-veg & Jain options)
Hearty breakfast
Chips, biscuits and other munchies all day
Other Things
Band performance and/or movie screening.
Clean and well-functional loos and showers.
House full of board games, books, etc for entertainment.
Beautiful walks, conversations and memories.
Bonfire, which you can also help build.
White Collar Hippie's curated stash of music
Travel to the campsite and back
Alcohol and aerated drinks purchased at the bar. (Outside alcohol not allowed)
Any purchase/extra cost you incur
Any extra meals
Boat ride/swimming pool charges
Personal toiletries and medicines
A shawl or a jacket to keep you warm (full sleeves to ward away the mosquitoes!)
A bed sheet if required
Any munchies or snacks you might want to nibble on
A camper attitude

Car
You can drive down to the campsite and put the location on GPS : https://goo.gl/maps/AJb95AoQQC82

Cab
A cab from anywhere in Mumbai will typically cost you ₹ 400-1000 and will get you right to the campsite. Best options: Uber, Ola, Meru. Drop Location: U-Tan Sea Resort.

Train
Take a train to Bhayander, get out on the west side and then a rickshaw (₹ 180) to U-Tan Sea Resort, Chowk, Uttan. Or stake a sharing rickshaw to Uttan Market (₹ 25 per seat) and then another rickshaw to U-Tan Sea Resort (₹ 10 per seat). The campsite is right behind the resort. You can take the Bus No. 1, which will be your cheapest option.

Ferry
From Borivali, take a ferry from Gorai Creek which will get you to Gorai Village. Hire a rickshaw directly to the resort or take a bus to Uttan and thereafter, Bus No. 1 to the resort.

5 days or more prior – 100% of the ticket price to be refunded
2 days prior - 50% of the ticket price to be refunded
Less than 2 days prior - NIL
Please write a mail at bandcamp@whitecollarhippie.com or help@insider.in

BandCamp, White Collar Hippie Camping Ground
Dongri, Uttan, Mira Bhayandar, Maharashtra 401106
GET DIRECTIONS