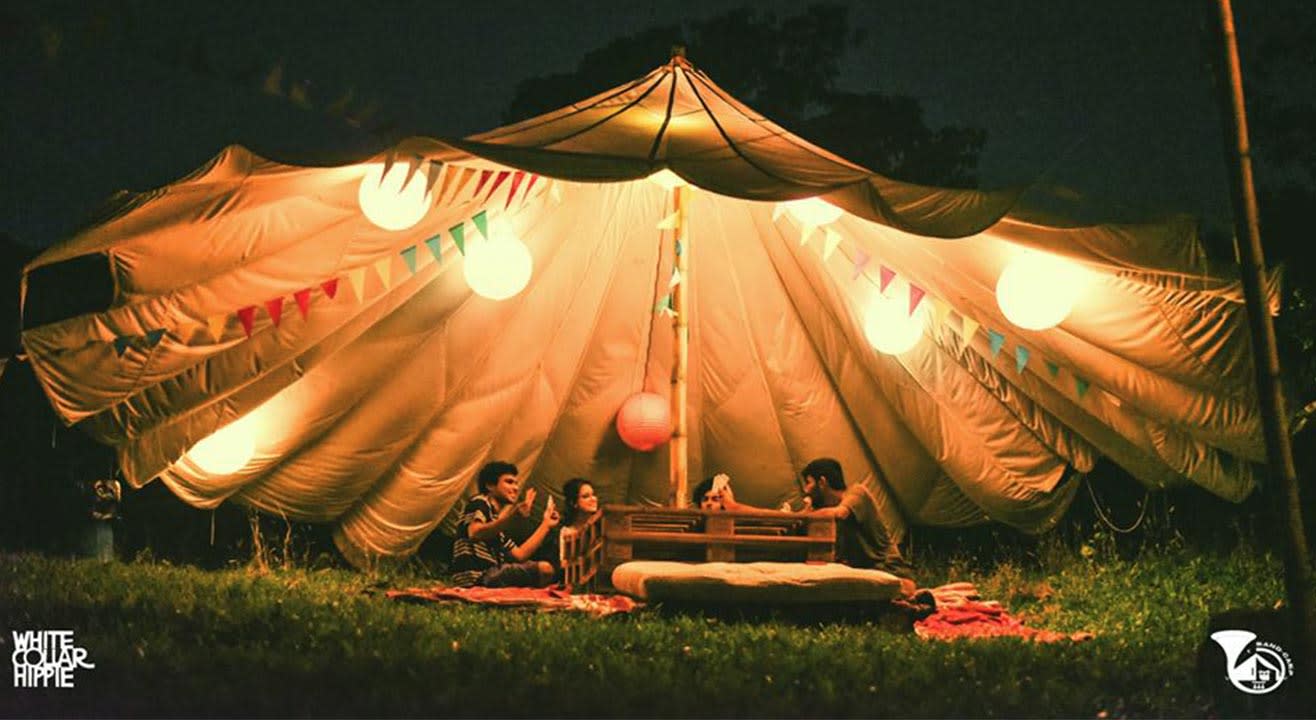 Camping
BandCamp Presents: Movie Under The Stars
About
BandCamp Season 4 is ON!
Movie nights at BandCamp is a great way to help you reconnect with cinema out in the open in a beautiful, camping environment. Also, since the venue is BandCamp, there is going to be some great live music before the screening. You can expect the movies to come from an assorted mix of world cinema, classics and crowd favorites. The gig before that will be indie, blues, retro music and so on.
There will also be bonfires, a barbeque, long walks, and some great food! The campsite has huge grounds and there are hammocks, books, and games to ensure that there is something for everyone.
Stay
1 spacious tent for two.
Foam Mattress
1 Sleeping bag per person
1 Solar lamp per tent
White Collar Hippie Goodie bag

Meals
Evening- tea, coffee
A super Barbeque and Dinner [ Veg, Non Veg & Jain Options ]
Everything edible on the breakfast table
Chips, biscuits and other munchies all day

Other Things
Band performance and/ or Movie screening.
Clean and well-functional loos and showers.
House full of Board games books etc for entertainment.
Beautiful walks, conversations and memories.
Bonfire, which you can also help us build.
White Collar Hippie's curated stash of music and if it's a weekend, then a live band.
Alcohol and aerated drinks
Any purchase/ extra cost you incur
Travel to the campsite and back
Any extra meals
Boat ride/ swimming pool charges
A stone's throw away from the city (clock says 60 mins!), BandCamp is located off Gorai beach. The layout is such that you can enjoy nature and have your privacy even though it's a bustling campsite. Expect tents, sleeping bags and camping goodies, unwind in the main area or walk around the fishing village down to the sea anytime.
Since Uttan is a coastal town (home to the Koli community), meals are freshly made by locals. Sundown brings with it a pre-gig BBQ and beer that sets the mood for the rest of the evening.
BandCamp is best suited for groups, solo campers, families, corporates, couples and pets. Basically, everybody! You can even attend movie nights or weekend workshops on capoeira, photography, fitness, poetry and so on.
This Friday, the movie we are screening is 'Almost Famous'. It's the perfect adventure, drama and coming-of-age movie to watch along with a group of young people. Join us to know the story of a high-school boy, who is given the chance to write a story for Rolling Stone Magazine about an up-and-coming rock band. Follow his journey as he gets an opportunity to accompany them on their concert tour as well
Bullu in the Backyard
Shashwat Bulusu is a Singer/ Songwriter and visual artist from the Pocket-Sized City of Vadodara. His music is bathed in deep melancholy and soulful stories strung together with his high pitched slacker drawls. His atmospheric, slow-burning compositions that, despite their unobtrusive nature, will absorb you. What began as a years of grinding as a solo acoustic act has now also turned into a Power Packed three-piece act with Rishi Nair and Siddharth Shastri. On stage he brings a set chock-full of tunes and tales of childhood, love and everything in between, generously drenched in attempted humour. He is currently recording his Debut EP in New Delhi, slated for a release towards the end of the year.
Train: Take a Train to Bhayander and then a rick to U-Tan sea resort. The campsite is right behind the resort *Cheapest option*
Take a cab: A cab from anywhere in Bombay will typically cost you Rs 1000 and will get you right to our campsite. Best options- Meru, Uber, Ola
Venue
U-Tan Sea Resort, Mumbai
CHOWK DONGRI VIA UTTAN, Bhayandar West, Near Pali Beach Resort, Dongri, Uttan, Mumbai, Maharashtra 401106