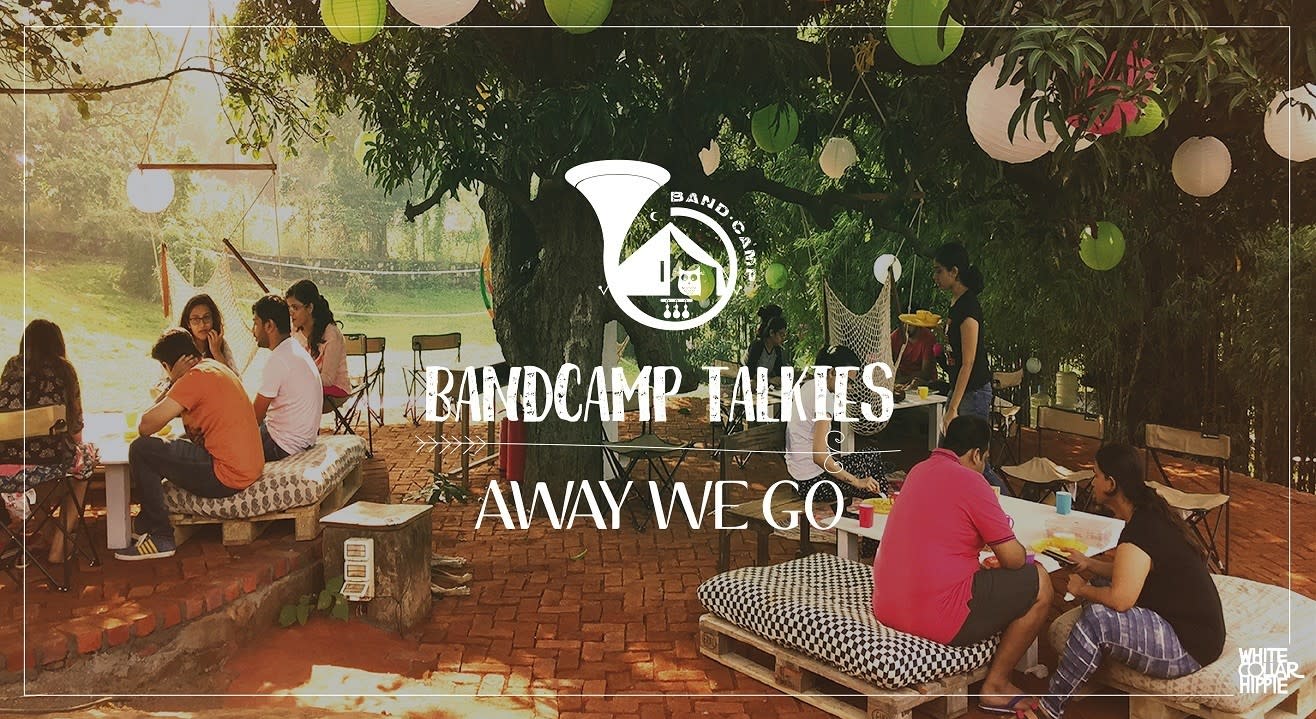 Camping
BandCamp Talkies- Away We Go
March 31 - April 1 | 4PM - 12PM
About
BandCamp Season 3 is ON!
Movie nights at BandCamp is our own little way of helping you reconnect with cinema out in the open in a beautiful camping environment. Also, since the venue is BANDCAMP, there is going to be some great live music before the screening :) You can expect the movies to come from an assorted mix of world cinema, classics and crowd favourites. The gig before that will be indie, blues, retro music and so on.
There will also be bonfires, a barbeque, long walks, and some great food! The campsite has huge grounds and we've added hammocks, books, and games to ensure that there is something for everyone.
A stone's throw away from the city (clock says 60 mins!), BANDCAMP is located off Gorai beach. The layout is such that you can enjoy nature and have your privacy even though it's a bustling campsite. Expect tents, sleeping bags and camping goodies, unwind in the main area or walk around the fishing village down to the sea anytime. Since Uttan is a coastal town (home to the Koli community), meals are freshly made by locals. Sundown brings with it a pre-gig BBQ that sets the mood for the rest of the evening.

BandCamp is best suited for groups, solo campers, corporates, couples and pets. Basically, everybody! You can even attend their Music Nights or weekend workshops on Capoeira, Photography, Fitness, and Poetry and so on.
Train: Take a Train to Bhayander and then a rick to U-Tan sea resort. The campsite is right behind the resort *Cheapest option*
Take a cab: A cab from anywhere in Bombay will typically cost you Rs.1000 and will get you right to our campsite. Best options- Meru, Uber, Ola
Stay is at the White Collar Hippie campsite. We recommend you carry the following:
Personal toiletries
Personal Medicines
A shawl or a jacket to keep you warm (full sleeves to ward away the mosquitoes)
A bed sheet if required.
Any Munchies or snacks you might want to nibble on
A camper attitude
This Friday you are in for: "Away We Go" A couple who is expecting their first child travel around in order to find a perfect place to start their family. An assortment of relatives and friends help them discover "home" on their own terms.me>
Osvy is a singer-songwriter and a guitar player from Mumbai. Initially influenced by blues & rock music, he eventually developed a taste for singer-songwriters such as John Mayer, James Taylor etc. His songs are an amalgamation of intricate guitar work and lyrical themes reflecting upon expressions of his thoughts and feelings.
Venue
U-Tan Sea Resort, Mumbai
CHOWK DONGRI VIA UTTAN, Bhayandar West, Near Pali Beach Resort, Dongri, Uttan, Mumbai, Maharashtra 401106