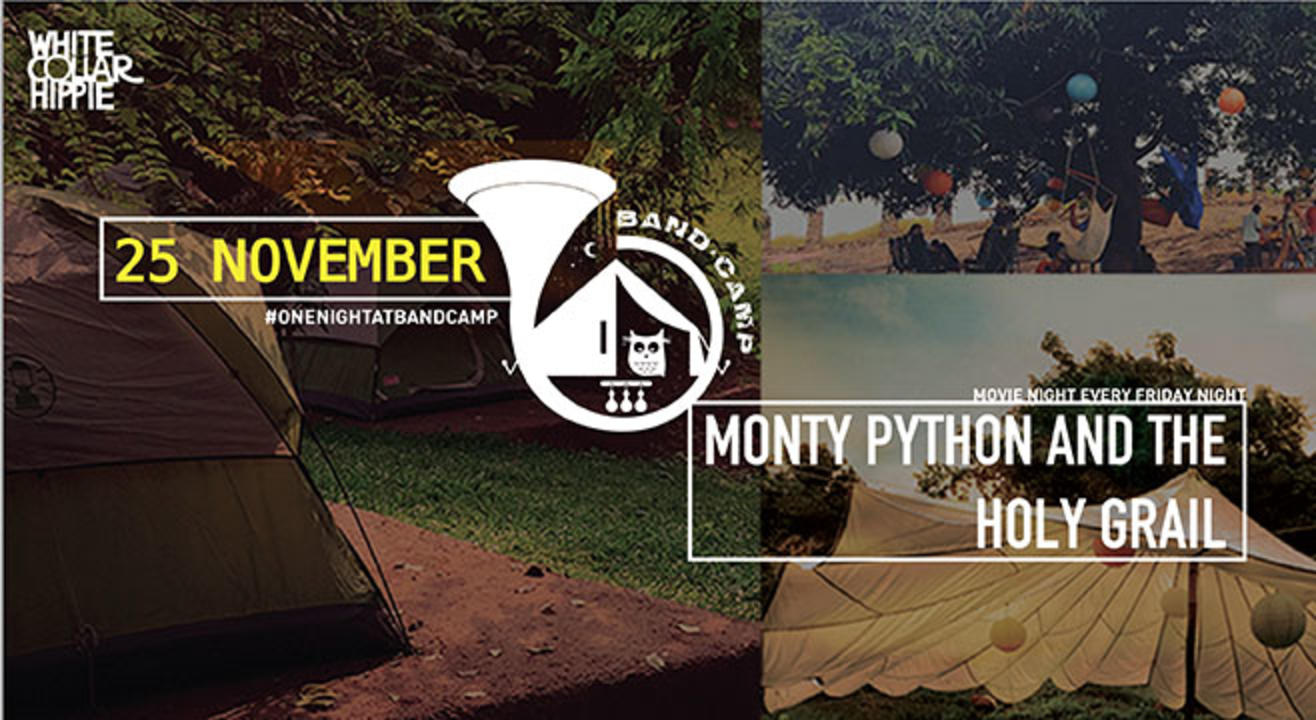 BandCamp Talkies: Monty Python and The Holy Grail
Step out and enjoy this event
Invite your friends
and enjoy a shared experience
BandCamp Talkies: Monty Python and The Holy Grail
Step out and enjoy this event
Invite your friends
and enjoy a shared experience
Invite your friends
and enjoy a shared experience
Movie nights at BandCamp is a great way to help you reconnect with cinema out in the open in a beautiful, camping environment. Also, since the venue is BandCamp, there is going to be some great live music before the screening. You can expect the movies to come from an assorted mix of world cinema, classics and crowd favorites. The gig before that will be indie, blues, retro music and so on.
There will also be bonfires, a barbeque, long walks, and some great food! The campsite has huge grounds and there are hammocks, books, and games to ensure that there is something for everyone.
A stone's throw away from the city (clock says 60 mins!), BandCamp is located off Gorai beach. The layout is such that you can enjoy nature and have your privacy even though it's a bustling campsite. Expect tents, sleeping bags and camping goodies, unwind in the main area or walk around the fishing village down to the sea anytime.
Since Uttan is a coastal town (home to the Koli community), meals are freshly made by locals. Sundown brings with it a pre-gig BBQ and beer that sets the mood for the rest of the evening.
BandCamp is best suited for groups, solo campers, families, corporates, couples and pets. Basically, everybody! You can even attend movie nights or weekend workshops on capoeira, photography, fitness, poetry and so on.
Sneak Peek: Monty Python And The Holy Grail (1975)
Package Includes:
1 spacious tent for two
Foam Mattress
1 Sleeping bag per person
1 Solar lamp per tent
White Collar Hippie Goodie bag
Evening- tea, coffee
A super Barbeque and Dinner [ Veg, Non Veg & Jain Options ]
Everything edible on the breakfast table
Chips, biscuits and other munchies all day
Band performance and/ or Movie screening.
Clean and well-functional loos and showers.
House full of Board games books etc for entertainment.
Beautiful walks, conversations and memories.
Bonfire,which you can also help us build.
White Collar Hippie's curated stash of music and if it's a weekend, then a live band.
Package Excludes:
Alcohol and aerated drinks
Any purchase/ extra cost you incur
Travel to the campsite and back
Any extra meals
Boat ride/ swimming pool charges
Personal toiletries
Personal Medicines
A shawl or a jacket to keep you warm (full sleeves to ward away the mosquitoes!)
A bed sheet if required
Any Munchies or snacks you might want to nibble on
A camper attitude
Train: Take a Train to Bhayander and then a rick to U-Tan sea resort. The campsite is right behind the resort *Cheapest option*
Take a cab: A cab from anywhere in Bombay will typically cost you Rs 1000 and will get you right to our campsite. Best options- Meru, Uber, Ola
BandCamp
Dongri, Uttan, Mira Bhayandar, Maharashtra 401106
GET DIRECTIONS
BandCamp Talkies: Monty Python and The Holy Grail
Step out and enjoy this event
Invite your friends
and enjoy a shared experience