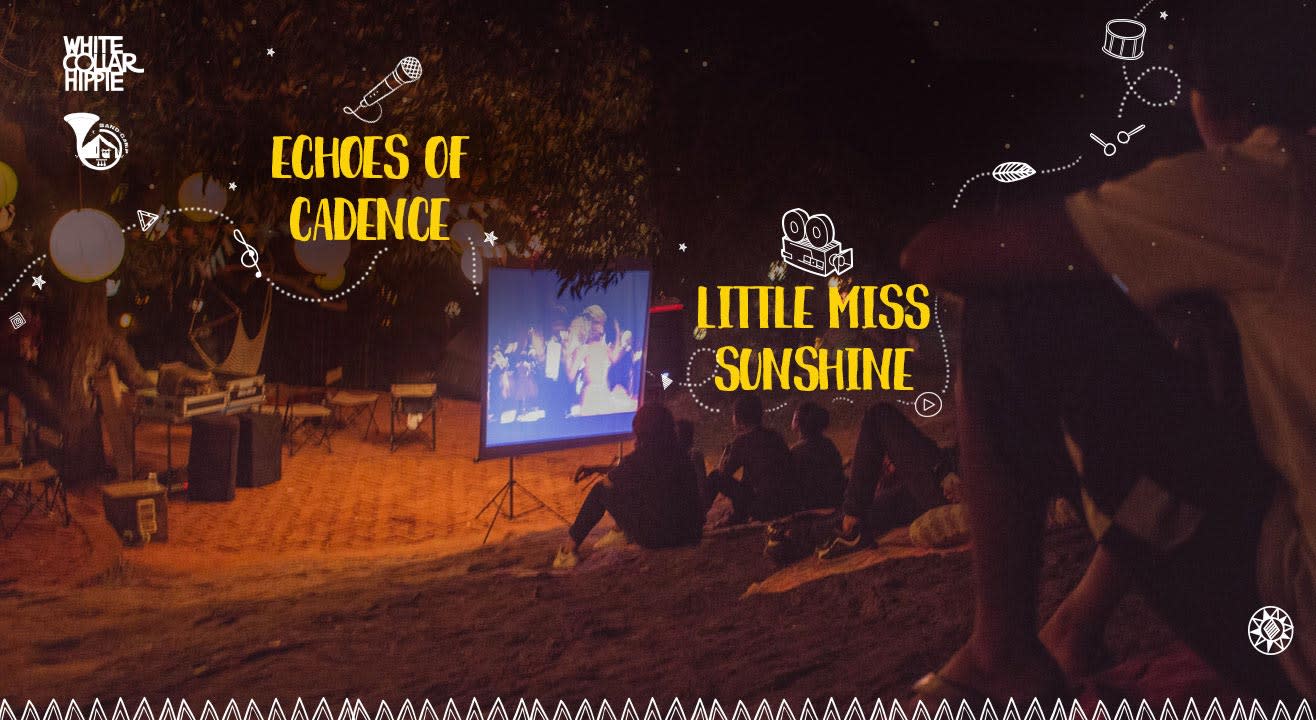 Camping
BandCamp Talkies: Movie Under The Stars
About
BandCamp Season 4 is on!


Movie Nights at BandCamp is a great way to help you reconnect with cinema out in the open in a beautiful, camping environment. Also, since the venue is BandCamp, there is going to be some great live music before the screening. You can expect the movies to come from an assorted mix of world cinema, classics and crowd favourites. The gig before that will be indie, blues, retro music and so on.


There will also be bonfires, a barbeque, long walks, and some great food! The campsite has huge grounds and there are hammocks, books and games to ensure that there is something for everyone. Expect tents, sleeping bags and camping goodies while you can also unwind in the main area or walk around the fishing village down to the sea anytime. Sundown brings with it a pre-gig BBQ and beer that sets the mood for the rest of the evening. BandCamp is best suited for groups, solo campers, families, couples and pets. Basically, everybody!
A stone's throw away from the city, BandCamp is located off Gorai beach. The layout is such that you can enjoy nature and have your privacy even though it's a bustling campsite.
Echoes of Cadence was born when Rachel and Darren, both graduates of the Swarnabhoomi Music Academy collaborated to compose unique tunes in Jazz, Blues and Pop. They bagged their first performance at Kaasha ki Aasha in Pondicherry in 2016, and have played in venues like The Boston Butt, The Finch etc in Mumbai. The Mumbai based duo draws their inspiration from Ella Fitzgerald, Lianne La Havas, Mili Vizcaino, Norah Jones, Sid Jacobs, and The Beatles. They aspire to create visual narratives through their originals and characterize their sound as they go along. To check out more of their music click, here
Little Miss Sunshine is a 2006 American comedy-drama road film and the directorial debut of the husband-wife team of Jonathan Dayton and Valerie Faris. Olive, the daughter of Richard and Sheryl, and the youngest of the Hoover family, is an aspiring beauty queen who is coached by Edwin, learns she has qualified for the "Little Miss Sunshine" beauty pageant that is being held in Redondo Beach, California in two days. Her parents and Edwin, who has been coaching her, want to support her, and her brother, Dwayne cannot be left alone, so the whole family goes. Because they have little money, they go on an 800-mile road trip in their yellow Volkswagen Type 2.
Stay
1 spacious tent for two
Foam mattress
1 sleeping bag per person
1 solar lamp per tent
White Collar Hippie Goodie bag
Meals
Evening: tea, coffee
A super barbeque (Veg, non-veg & Jain options)
Elaborate dinner (Veg, Non Veg & Jain Options)
Hearty breakfast
Chips, biscuits and other munchies all day
Other Things
Band performance and/or movie screening.
Clean and well-functional loos and showers.
House full of board games books etc for entertainment.
Beautiful walks, conversations and memories.
Bonfire, which you can also help build.
White Collar Hippie's curated stash of music
Exclusions:
Travel to the campsite and back
Alcohol and aerated drinks purchased at the bar. (Outside alcohol not allowed)
Any purchase/ extra cost you incur
Any extra meals
Boat ride/ swimming pool charges
Personal toiletries
Personal medicines
A shawl or a jacket to keep you warm (full sleeves to ward away the mosquitoes!)
A bed sheet if required
Any munchies or snacks you might want to nibble on
A camper attitude

Cab
A cab from anywhere in Mumbai will typically cost you INR 400-1000 and will get you right to the campsite. Best options: Uber, Ola, Meru. Drop Location: U-Tan Sea Resort.
Train
Take a Train to Bhayander, get out on the west Side and then a rickshaw (INR 180) to U-Tan Sea Resort , Chowk, Uttan. Or stake a sharing rickshaw to Uttan Market (INR 25 per seat) and then another rickshaw to U-Tan Sea Resort (INR 10 per seat) The campsite is right behind the resort. You can take the Bus No. 1, which will be your cheapest option.
Ferry
From Borivali, take a ferry from Gorai Creek which will get you to Gorai Village. Hire a rickshaw directly to the resort or take a bus to Uttan and thereafter, Bus No. 1 to the resort.

7 calendar days or more prior to the departure of the tour – 100 % of the ticket price
5 calendar days prior to the departure of the tour - 75% of the ticket price
2 calendar days prior to the departure of the tour - NIL
please write us a mail at bandcamp@whitecollarhippie.com Or help@insider.in

Venue
BandCamp
CHOWK DONGRI VIA UTTAN, Bhayandar West, Near Pali Beach Resort, Dongri, Uttan, Mumbai, Maharashtra 401106