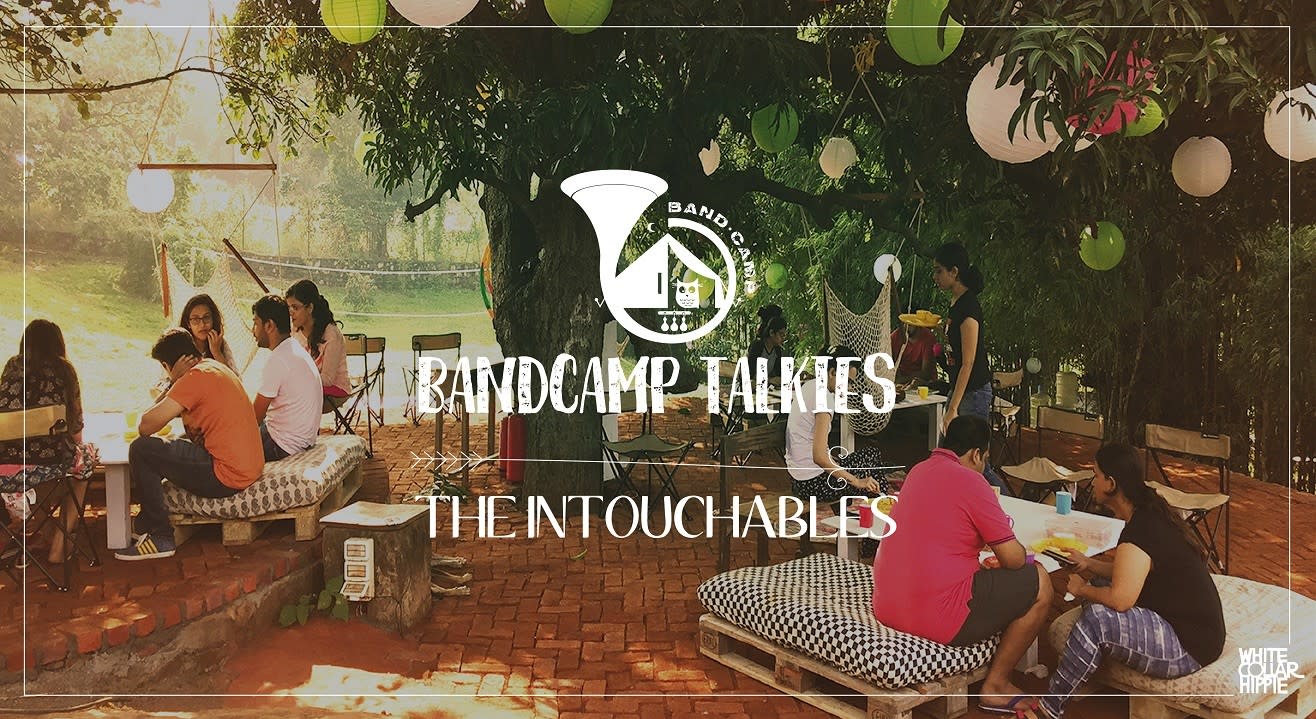 BandCamp Talkies-The Intouchables
U-Tan Sea Resort, Mumbai, Mumbai
Step out and enjoy this event
Invite your friends
and enjoy a shared experience
BandCamp Talkies-The Intouchables
U-Tan Sea Resort, Mumbai, Mumbai
Step out and enjoy this event
Invite your friends
and enjoy a shared experience
Invite your friends
and enjoy a shared experience
BandCamp Season 3 is ON!
Movie nights at BandCamp are a way to help you reconnect with cinema out in the open in a beautiful camping environment. Also, since the venue is BANDCAMP, there is going to be some great live music before the screening. You can expect the movies to come from an assorted mix of world cinema, classics and crowd favourites. The gig before that will be indie, blues, and retro music and so on.
There will also be bonfires, a barbeque, long walks, and some great food! The campsite has huge grounds and there will be hammocks, books, and games to ensure that there is something for everyone.
A stone's throw away from the city (clock says 60 mins!), BANDCAMP is located off Gorai beach. The layout is such that you can enjoy nature and have your privacy even though it's a bustling campsite. Expect tents, sleeping bags and camping goodies, unwind in the main area or walk around the fishing village down to the sea anytime. Since Uttan is a coastal town (home to the Koli community), meals are freshly made by locals. Sundown brings with it a pre-gig BBQ that sets the mood for the rest of the evening. BandCamp is best suited for groups, solo campers, corporates, couples and pets. Basically, everybody! You can even attend their Music Nights or weekend workshops on Capoeira, Photography, Fitness, and Poetry and so on.
This Friday you are in for: "The Intouchables" An unusual friendship develops when a street smart immigrant is hired to take care of a disabled French nobleman.
Train: Take a Train to Bhayander and then a rick to U-Tan sea resort. The campsite is right behind the resort *Cheapest option*
Take a cab: A cab from anywhere in Bombay will typically cost you Rs 1000 and will get you right to our campsite. Best options- Meru, Uber, Ola
Stay is at the White Collar Hippie campsite. We recommend you carry the following:
Personal toiletries
Personal Medicines
A shawl or a jacket to keep you warm (full sleeves to ward away the mosquitoes!)
A bed sheet if required.
Any Munchies or snacks you might want to nibble on
A camper attitude
He is 22 years old now and wishes never to turn 30, ever. He is an Electronic Engg. Jishnu also likes to Sing and can be found mostly singing or playing his guitar or keyboard. Growing up listening to Backstreet boys, NickelBack, Mariah Carey, Avril he found his sound in Pop culture Music. He initially started singing with the radio, never had an instructor. So, His friends told him to go for it and then one thing led to another, he became a singer for his friends.

He started singing more often in collage and won several collegial level competitions, which he is very proud of. That helped build his confidence He recorded his 1st youtube cover with his friend Antareep Hazarika (Check him out) and When I was your man became his signature cover, until they recorded thinking out loud for HP which got over 1 lakh views, which I am sure is a pretty huge deal for him ;) . . .

So, then he started his own channel. His dad got him his recording equipments and he taught himself how to record and Engg. his sounds. He has some great videos on youtube so; if you wanna you can check them out. Look for Jishnuraj Deka or Jishnu Young. He doesnot get much views because he lost most of his viewers during his learning process and search for inner peace.

Here are few of his favorites: Art, Dogs, Mythologies, Cooking, Cleaning, Dogs, Cats, Cows, Rugs,SWORDS. So, his Birthday is on 13th Dec. So, if you wanna give him something, you know . . . Sword would best.

He would like to Give his love to Ed Sheeran and is on the right track with Lady Gaga. He will always Love Whitney Huston and is Crazy in Love with Beyonce but will never find someone like Adele.
Passenger : Let Her Go (Cover by Jishnuraj Deka)
U-Tan Sea Resort, Mumbai
CHOWK DONGRI VIA UTTAN, Bhayandar West, Near Pali Beach Resort, Dongri, Uttan, Mumbai, Maharashtra 401106
GET DIRECTIONS
BandCamp Talkies-The Intouchables
U-Tan Sea Resort, Mumbai, Mumbai
Step out and enjoy this event
Invite your friends
and enjoy a shared experience