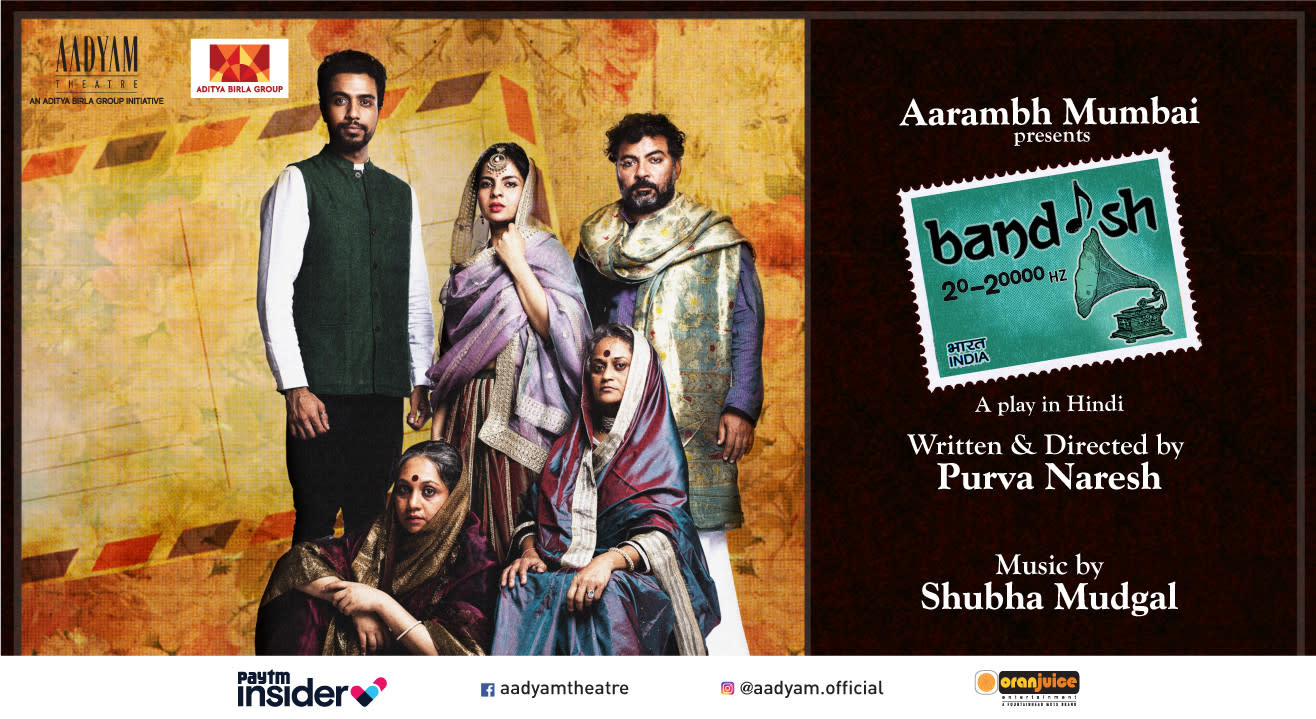 30th & 31st Jan | 6:50 PM
Enjoy this event from your home
Event Guide
Digital Event
Watch on Insider
For Age(s)
Family Friendly
Interactive show
Be a part of the show
Invite your friends
and enjoy a shared experience
Event Guide
Digital Event
Watch on Insider
For Age(s)
Family Friendly
Interactive show
Be a part of the show
Invite your friends
and enjoy a shared experience
About the Event
Play Synopsis
In a green room 4 artists come face to face with each other. Two are yesteryears divas and the other two are young heart throbs of the nation. They are all set to participate in an event celebrating 70 years of Independence in small town India.
Soon a crisis begins to emerge. The male heart throb of the nation gets banned by social media. The second crisis emerges when there is a power failure. The third crisis emerges when the senior most singer Beni Bai refuses to sing.
Will the show happen? And at what cost?
Six entertaining characters, a crisis and a show at stake – Bandish is an anecdotal tapestry of emotions, history and exquisite music.
PLEASE NOTE - THIS IS A PRE-RECORDED SHOW.
THIS PLAY WAS SHOT AND RECORDED LIVE IN AN EMPTY AUDITORIUM IN KEEPING WITH PANDEMIC-RELATED RULES & REGULATIONS SET FORTH BY THE GOVERNMENT OF INDIA
THE RECORDED PLAY STREAMING WILL BEGIN AT 7:00 PM. PLEASE FEEL FREE TO JOIN 10 MINUTES EARLY TO DISCOVER THE AADYAM EXPERIENCE DIGITALLY
Language
Hindi
Produced by
Aarambh Mumbai
Written and Directed by
Purva Naresh
Music composed by
Shubha Mudgal
Cast (in alphabetical order)
Anubha Fatehpuria
Danish Hussain
Harsh Khurana
Hitesh Bhojraj
Ipshita Singh Chakraborty
Nivedita Bhargava
Musicians (in alphabetical order)
Purav Jagad - Harmonium
Shantanu Herlekar - Vocalist
Shweta Deshpande – Vocalist
Varun Gupta - Percussions
Crew
Asmit Pathare – Light Design
Manoj Sikka – Sound Design
Sonal Gupta - Production Manager
Sudhan Singh Rajput – Sound Engineer
Manish Kansara – Set Design
Backstage
Chaitanya Deshpande
Darshan Jayesh
Krutti Saxena
Rakhi Kashyap
Shumaila Shaikh
Vedpal
Yash Khan
Director's Bio – Purva Naresh
Purva Naresh is an award-winning playwright and theatre producer from India. She has received the Laadli Media Award (supported by UNFP) for best play on Gender Sensitization in 2012 for "Ok Tata Bye Bye". Recently, she received the Ustad Bismillah Khan Yuva Puruskar for young performing and theatre artists by the illustrious Sangeet Natak Akademi. To her name, she also has a Yash Bharti (awarded by the UP Government) and the Dada Saheb Phalke Memorial Honour (presented to the best performing student in the entire batch by FTII Pune).
An established leading theatre artist in India, Purva's plays have crossed borders too. Her plays Jatinga, Pink Saree Revolution, Ok Tata Bye Bye, among others have gained international recognition and critical success when playing outside India too. She's also got another show in the pipeline for a Japanese Arts Organization set to hit the stage in 2020!
Following these, and numerous other successes, Purva was listed amongst India's 50 powerful women by VERVE in 2013 and amongst the 'Top Under 40 Stars of Mumbai' in a survey by the leading daily ¬e Hindustan Times in 2014.


Cast Bio's (in alphabetical order)
Anubha Fatehpuria
Anubha Fatehpuria is both an actor (since 1995) and a gold-medalist architect (since 2001). Her performances have met with critical acclaim both within the country and abroad. A recipient of the Sangeet Natak Akademi's Ustad Bismillah Khan Yuva Puraskar 2013-14, The Telegraph SHE Award 2019, The Shyamal Sen Smriti Puraskar 2007 for theatre acting, Anubha has had the privilege of working with renowned theatre directors like – Habib Tanveer, Shyamanand Jalan, Rajinder Nath, Alyque Padamsee, Jayant Kripalani, Suman Mukhopadhyay, Vinay Sharma, Vikarm Iyengar, John Britton (UK), Włodzimierz Staniewski (Poland) – to just name a few. Her theatre training consists of combined learning from varied production processes. Anubha received extensive theatre training from Late Shyamanand Jalan through 2003-'10. She continues to learn the craft of acting and theatre making under her guru - theatre director, actor, writer, scenographer Vinay Sharma since 2006. Anubha is currently Director Programmes for Padatik Theatre Kolkata. She runs her own architecture design studio, acknowledged for its green practices, working on projects including performing arts spaces amongst other typologies, in various cities.

Danish Hussain
Danish Husain is an actor, storyteller, poet and a theatre director. He lives in Mumbai and runs his theatre company The Hoshruba Repertory. He was instrumental in reviving the lost art form of Urdu storytelling Dastangoi, which he later expanded into a multilingual storytelling project Qissebaazi to showcase and preserve stories from oral and written literature of the languages of india. Recently, he has been applauded for his performances in Netflix series Taj Mahal 1989 and the Zee5 Original film Mee Raqsam.

Harsh Khurana
Sttartedas an actor with the theatre group Act One, N Delhi, under the guidance of N K Sharma. Continued to pursue theatre actively (in Mumbai), along with acting and occasionally writing, for television and OTT platforms. Directors who work regularly with Harsh are Swanand Kirkire, Kalyani Hiwale, Shubhrajyoti Barat, Purva Naresh & Vinay Sharma. Harsh can be seen regularly on CID crime patrol.

Hitesh Bhojraj
Hitesh Bhojraj (Malukani) is an actor, singer and voice-over artist. He began his theatre journey with Thespo, featuring in 'Being Sartak Majumdar,' a play by Karan Shetty. 7 years later, he has worked with the best theatre directors and continues to do so, Rehaan Engineer, Sunil Shanbag, Purva Naresh, Quasar Padamsee, Trishla Patel, Faezeh Jalali, Hidayat Sami, Vikranth Pawar to name a few. Hitesh has been part of 8 musicals other than the regular plays that he has done, one can safely say when it comes to musicals, Hitesh has done it all, from experimental musicals to the biggest of the musicals that have come out from the Indian Theatre stable. Hitesh was launched by Shahrukh Khan with Class of '83 as Vishnu Varde, one of the leads of the film. He has rendered the role of Gaston in Disney's broadway style musical, Beauty And The Beast. He was the lead in Wizcraft's musical, Balle Balle. The latest feather in his cap Genie in Aladdin a Disney Musical.

Ipshita Singh Chakraborty
Ipshita Chakraborty Singh, a gold medalist from Rajasthan University in Economics, graduated from National School of Drama in 2010, specialising in acting and along with Ajeet Singh Palawat runs a theatre group, Ujagar Dramatic Association in Jaipur, Rajasthan. She worked as a professional actor in NSD repertory company, under directors like Anuradha kapur, Robin Das, Kirti jain, K.N.Panikkar, Mohit Takalkar, Abhishek Majumdar, Ranjeet Kapur, Roysten Abel, Suman Mukhopadhyay, Sabir Khan, Waman Kendre, Prasanth Narayanan and many more. Her adaptation of "A Midsummer Night's Dream" as "Kasumal-Sapno " in Rajasthani has won accolades in Karachi, Pakistan.

Nivedita Bhargava
Nivedita Bhargava is a post graduate diploma holder in Theatre Design and Direction from the National School of Drama New Delhi, in'96. As a child she started learning music at the Bhatkhande Music Mahavidyalaya, Lucknow and many renowned radio composers. She has performed in several ghazal concerts and recorded folk songs. Nivedita has been an active member of the IPTA Lucknow since 1990. Apart from other plays, she acted in the play "HarishChandra Ki Ladai" directed by Shri Urmil Kumar Thapliyal for the Karnataka Theatre Festival in the year 1990. In the year 2010, she got a production grant by the Ministry of Cultural Affairs, Government of India. Under the grant, the play "Kitni Qaiden", written by Mridula Garg was staged at Sathe College, Mumbai. She also directed "Twelfth Night" and "Riders to the Sea" at the National School of Drama. Nivedita has conducted several theatre workshops organized by the NSD and Whistling Woods International, under the guidance of Shri Naseer-ud-din Shah and has been associated with many schools in Mumbai as a personality development coach She has trained few bollywood child actors like Darsheel Safary, Markand, Ahsaas for a german filmmaker Candice Breitz's short film "Prodigy"