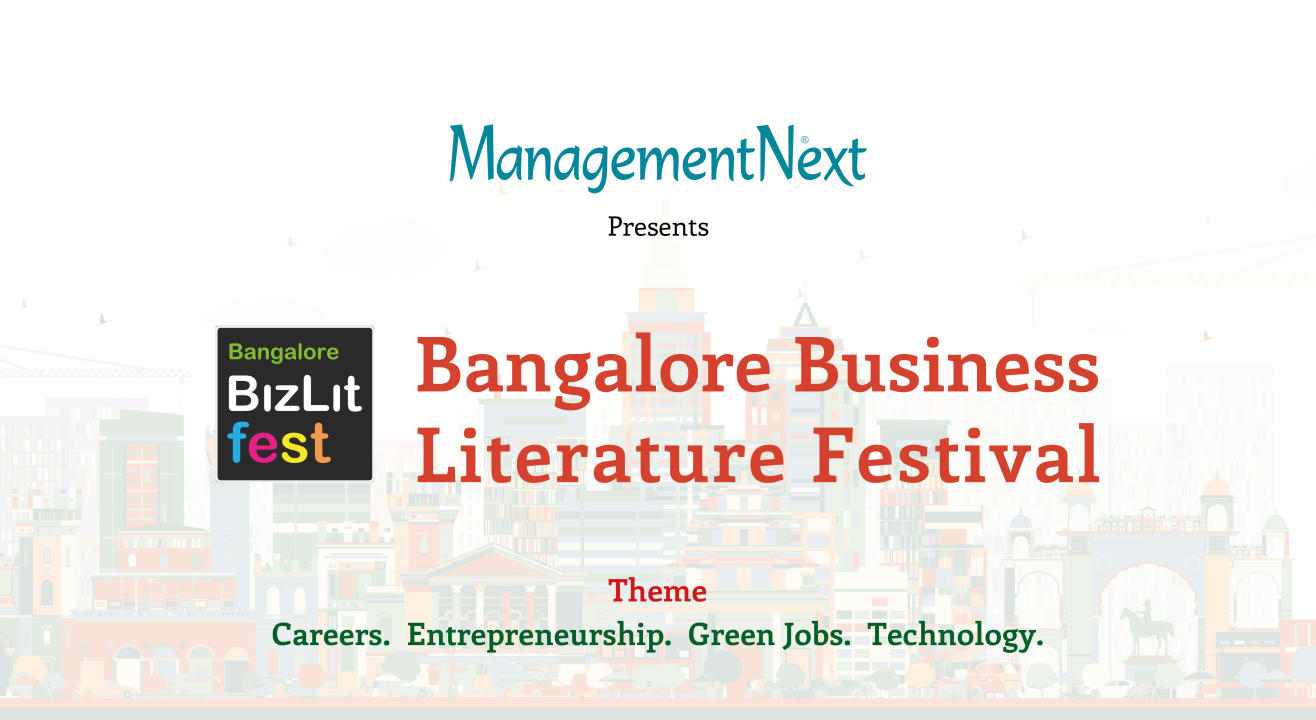 Interactive Session
Bangalore Business Literature Festival
About
The Bangalore Biz LitFest is organized by a team of distinguished authors and editors. They are:

V. Raghunathan - CEO, GMR Varalakshmi Foundation, Author of bestsellers like Games Indians Play, Locks Mahabharata & Mathematics, Ganesha.
Benedict Paramanand, Author of C K Prahalad The Mind of the Futurist and Editor of SustainabilityNext

Shankar P - Editor at Knowledge @ Wharton Former resident editor, The Economic Times, Mumbai & Bangalore.
Shinie Antony - Columnist with The Economic Times, co-founder of the Bangalore Literature Festival and author of The Orphanage for Words.

Sangeeth Varghese - Sangeeth Varghese is a management thinker and author of bestsellers 'Open Source Leader' and 'Decide to Lead'.
The team has so far organized three editions (2015, 2016, 2017) of Bangalore Biz Litfest. The three editions hosted more than 50 authors and nearly 1,000 readers.

Prominent Speakers of the past BBLF were
Gurcharan Das - Author of India Unbound, India Grows at Night
Rashmi Bansal Author of Say Hungary, Stay Foolish
Devdutt Pattanaik Author of Business Sutras: A Very Indian Approach to Management
Prof. Anil Gupta Author of Grassroots Innovation: Minds on the Margin are not Marginal Minds
Alan Rosling Author of Boom Country: A New Wave of Indian Enterprise
Ajay Nanavati Former MD at 3M India
Captain Gopinath Founder Air Deccan, Author of Simply Fly
R Raghuram - IIMB Director
Vinita Bali former MD Britannia
Manish Sabharwal Founder TeamLease
Mukesh Bansal - Co-founder Myntra
Sahil Barua Founder Delhivery
Naga Prakasam Mentor NSRCEL - IIMB
K Jairaj Former Chief Secretary, Government of Karnataka
Vitheeswaran K Author of Failing to Succeed The Story of Indias First E-commerce Company
Rakesh Godhwani Faculty IIM Bangalore and author of What to Say and When to Shut Up
Ramya Ranganathan Faculty at IIM Bangalore
Tamal Bandyopadhyay Financial Journalist
Walter Viera Author of The Impatient Manager
Gautam Mahajan - Customer Value Investment, Total Customer Value Management, and Value Creation
Vivek Mehra MD of Sage Publishing India
Harish Bijoor Branding Guru
Subroto Bagchi
Aakar Patel Popular Columnist
09.00AM
Registration and Networking Tea by Typhoo
10AM – 10.15AM
Opening
Welcome by BBLF Chair Dr. V. Raghunathan, Director, Schulich School of Business, India Campus, Hyderabad, and CEO, GMR Varalakshmi Foundation; Formerly, Professor of Finance at IIM Ahmedabad and President of ING Vysya Bank. He is also an Author and a Columnist. His books, mostly non-fiction, include Games Indians Play, with Return to Jammu being the latest and his only novel.
10.15AM – 10.45AM
The Future of Work: Unasked Questions, Likely Answers
Prof. Vasanthi Srinivasan, Faculty, IIM Bangalore, brings insights from books on the subject. Her research interests include multi-generations in the workplace, women in management and boards, and ethics teaching at business schools.
10.45AM to 11.15AM
Human + Machine - Will Artificial Intelligence and Machine Learning Take Away Jobs or Add New Ones?
Dr. Lalitesh Katragadda, Founder, Indihood, a crowd-sourcing platform for social good; founder of Google India and co-founder of Google Map Maker; and Advisor on AI & Machine Vision, Andhra Pradesh government.
11.15AM to 11.30AM
Networking Break
11.30AM to 12.05PM
BBLF CK Prahalad Best Business Book Award
Subroto Bagchi, the Award Winning Author, in Conversation with Benedict Paramanand
12.05PM to 1.00PM
Climate Change and Green Jobs. How Big is the Potential? How can India Tap It?
Kolluru Krishan, CEO, Skills Council for Green Jobs, Government of India.
Mridula Ramesh, Author of The Climate Action; Entrepreneur; Angel Investor.
Anchor - P.S. Narayan, Head - Sustainability and Social Initiatives, Wipro Ltd
1.00PM to 1.45PM
Networking Lunch
1.45PM to 2.15PM
Play on Future of Work by Dramatics Club of IIM, Bangalore
Power of Handwriting in Communication by
Srini Ramaswami, Advisor TEDx., Founder chittii.com, an initiative to make sending handwritten letters special, fun, effortless and empowering
Anchor - Sandeep Das, Asst. Director, PWC Bangalore, Author of Yours Sarcastically.
2.15PM to 2.25PM
Emerging Trends in Business Education
Sudhakar Rao, Director - Branding, ICFAI Group
2.25PM to 4.00PM
Emerging Innovations in Business-Work Models
Prof. Rishikesha Krishnan, Author of 8 Steps to Innovation, Director, IIM Indore
Debashish Sengupta, Author of The Life of Y: Engaging Millennials as Employees and Consumers, Director, Alliance School of Business Alliance University
Aarti Wig, Co-founder, Yunus Social Business India, inspired by Nobel laureate Prof. Mohammad Yunus.
Rajiv Jayaraman, Author of Clearing the Digital Blur to be published by Wiley, Founder and CEO of Knolskape
Sangeeth Varghese, Author of Open Source Leader: The Future of Organizations.
Anchor - Priya Chetty-Rajagopal, Founder Multiversal Advisory
4.00PM to 4.15PM
Networking Break
4.15PM to 5.30PM
How Entrepreneurs are Shaping Tomorrow's Jobs in Healthcare, Wellness, Farming, Start-ups, Technology....
Dr. Ashwin Naik, Founder, Vaatsalya Healthcare; Ashoka Fellow; author in the making.
Ankit Nagori, Co-Founder, CureFit; Angel Investor.
Nikhil Kumar, Fellow at iSpirit Foundation, a professional with leadership experience in Startups, Strategic Partnerships, Policy, Platforms and Developer Ecosystems.
Anchor - S Parthasarathy, Author of Unmet Needs of Entrepreneurship: Why Entrepreneurs Do What They Do
Workshops of 60 minutes each (register separately)
How to Write a Good Business Book and Publish It
By Ganesh Vancheeswaran, Author of 'The Underage CEOs'
How to Seamlessly Transition to a Second Career
By Unfold Second Innings – www.unfoldsecondinnings.com
How to Become an Intrapreneur and Add Zing to Your Career
By Ranganath Iyengar, www.strategicin.org
Aarti Wig Co-founder, Yunus Social Business India
Yunus Social Business Global Initiatives was co-founded by Prof Muhammad Yunus to create social businesses globally. YSB runs as social business itself by setting up incubator funds and providing advisory services to companies, governments, foundations and NGOs. Yunus Social Business India, previously Grameen Creative Lab India is the Indian arm of YSB Global.

Ankit Nagori Co-Founder, CureFit, Angel Investor
Ankit graduated from IIT Guwahati and founded couple of startups in Advertising and Social Media Marketing space. Ankit joined Flipkart in early 2010 and played a leading role in launching and scaling key businesses such as Fashion & Marketplace. In his last role at Flipkart, Ankit managed the entire P&L as the Chief Business Officer. Ankit is very active in the startup community as an angel investor and advisor to some of the early stage startups. Ankit is currently Co-Founder of CureFit, a Healthcare Startup which has also entered the market with a fitness chain called Cult.Fit and also launched a healthy food subscription offering under the brand name Eat.Fit.

Dr. Ashwin Naik Founder, Vaatsalya Healthcare, Ashoka Fellow
Ashwin Naik is an entrepreneur/advisor with interests in healthcare delivery, social enterprise and tech enabled health startups. Ashwin is the Founder of Vaatsalya Healthcare, an award winning social enterprise, which was the first network of hospitals focused exclusively on Tier II and Tier III towns in India. Vaatsalya has been recognised globally as winner of the Inaugural Porter Prize in India for value based healthcare, the Most Innovative Healthcare Company by VCCircle in 2014 and Indias top 10 innovative companies by Fast Company in 2013 among many other recognitions.
He is passionate about healthcare access and is now deeply engaged in building a right to primary health movement around the world. He is also a Resident Fellow and part of the Leadership Group at Ashoka, a pioneering network of social entrepreneurs worldwide. In addition he co-founded &chairs the National Association of Social Enterprises, India. To support health startups, he also leads DisruptHealth a health focussed ecosystem enabler based in Bangalore and is actively involved in the sector as an advisor and angel investor.
Ashwin is a trained physician and has written and spoken about leadership, entrepreneurship, rural health and social entrepreneurship at various forums around the world, including World Health Congress, NHS Alliance, Ashoka Future Forum, Global Philanthropy Forum, and Africa Health summit (KPMG). Ashwin has been recognized as a Economic Times Leaders under 40, Young Global Leader (YGL) 2012 By World Economic Forum, Young Leader by Asia Society Asia21 in 2011, Senior Ashoka Fellow in 2010, Finalist for the India Social Entrepreneur of the Year Award 2010 by Schwab Foundation, Ted India fellow for 2009. Dare Magazine India in its April 2011 edition profiled Ashwin as 50 inspiring Entrepreneurs of India. Ashwin has a medical degree from Karnatak Medical College, Hubli and a Masters from University of Houston, Texas.

Kolluru Krishan - CEO, Skills Council for Green Jobs
30 years experience in the Energy & Infrastructure sectors, in capacities of Founder Managing Director of Ansaldo Energias Indian JVC (1994-2002) & previously Vice President of Dodsal, General Manager of Voltas. Founded multiple Clean Tech companies, including Malavalli Power Plant (which commissioned in 2001 the worlds 1st low density crop residues fired power plant, which also delivered the worlds 1st Gold Standard CERs) . Current focus on Advanced Bio-Technologies, as Chairman of CVC India Infrastructure, CVC Biorefineries , Pallava Water & Power, Shree Krishna Captive Energy. Involved in Policy formulation related to Renewable Energy, Climate Change & Green Businesses, in capacity of;
Chairman of Skills Council for Green Jobs, Govt of India & Industry initiative, covering entire spectrum of Green Businesses. Chair of FICCI Committee on Climate Change & was Speaker/ Panelist during COP21 &COP22.
Member of BRICS Business Council Working Group on Energy & Green Economy.
Member of B20 Task Force on Energy, Climate & Resource Efficiency. (e) Member of Executive Committee of Karnataka State Bioenergy Development Board.

Dr. Lalitesh Katragadda - Google Map Maker, Advisor on AI & Machine Vision
Lalitesh founded a startup in 1997 with 8 PhDs in the areas of AI and Machine Vision. This startup was Googles first acquisition in 2002. In 2004, Lalitesh co-founded Googles first international engineering center in India. He retired as Head of India Products in 2014 after leading, inventing several products including Google Finance, Google Transliteration, Crowdsourced YouTube Subtitles, Crowdsourced Translation, Handwriting recognition for Indic languages. He advised the CEO on India and emerging markets strategy. He was noted as one of the 7 most influential Indians at Google by Economic Times and Silicon India. Lalitesh Katragadda is a pioneer in crowdsourcing. His creation, Google Map Maker, tripled the world's digital maps corpus, mapping 3 billion people. Every map seen today on Google maps in 187 emerging countries was created by users overseen by machine learning and geometric algorithms he invented and built. The UN and aid agencies have used these user generated maps to assist and rescue millions.
He now focuses on India's Billion. As advisor to the AP Chief Minister, Lalitesh architected the AP Fiber Grid along with a revolutionary open business model to deliver 15 Mbps to each of its 13 Million households for less than $3/month. He authored Indias Open API policy, co-authored Indias software products policy and serves as an advisor to the secretary of IT (MEITY), Government of India.
Lalitesh advises Indias largest NGO, Tata Trusts, on technology driven transformation. He funds, mentors deep-tech startups in areas like smart grids, automated micro sewage processors and crowdsourcing platforms. He is currently driving the Avanti platform, a finance startup by Mr Ratan Tata and Mr Nandan Nilekani to deliver credit to millions. Lalitesh has spoken at TED, Brookings and The White House. He received a PhD and MS from CMU in Robotics and Computer Science, where he led the CMU Lunar Rover Initiative. Lalitesh has a MS from Design Division, Stanford, MS in Aerospace, Iowa State and B-Tech from IIT-Bombay.

Mridula Ramesh - Author, Entrepreneur, Angel Investor
Joint Managing Director with expertise in Logistics and Textiles. Author of forthcoming book on climate Change and India. Investor in early stage startups in waste, water, Agritech and transport. Columnist - Climate Conversations, Firstpost; Founder, Sundaram Climate Institute - focussed on last-mile solutions in waste and water.

P.S.Narayan - Head Sustainability, Social Initiatives & Wipro Foundation
P.S.Narayan is the Vice President and Head of Sustainability at Wipro Ltd. He has been instrumental in the creation of Wipros sustainability initiative and has stewarded it since its inception in early 2008. Wipro's sustainability charter is built on the core principle that business and social purpose must reinforce each other in addressing several key challenges around ecology and the environment, education and communities.
In addition, Narayan is Visiting Faculty at the Azim Premji University where he teaches Ecology and Development as part of the MA (Development) program. He is also Visiting Faculty at Xavier School of Sustainability, Xavier University, Bhubaneswar.
Narayans interests center around
(i) the broad interplay between Ecology, Economics and Humanities
(ii) the role of the business sector as a change agent in sustainable development
(iii) Sustainability in Education and
(iv) Sustainable and Inclusive Cities.
Prior to the current role, Narayan was the global head of Information Systems for Wipros IT business, when he was chosen as one of CIOs global 25 Ones to Watch.
A graduate in Electrical Engineering with a post-graduation in Management, Narayan has more than twenty five years of cross-disciplinary experience in consulting, business development, Enterprise Systems and most recently, in Corporate Sustainability. He is also involved in sustainability advocacy as a member of several industry forums on sustainability. He is currently the Co-Chair of the CII-GBC Greenco forum for Bangalore.

Nikhil Kumar - Fellow at iSpirt Foundation A seasoned professional with leadership experience in Startups, Strategic Partnerships, Policy, Platforms & Developer Ecosystems.

Priya Chetty-Rajagopal - Founder, Multiversal Advisory
An impactful businessperson and CXO search consultant, Priya Chetty-Rajagopal is well known in business and industry circles. She recently co-founded Multiversal Advisory, representing a paradigm shift in Executive Search. In the People Consulting space from 2004, her previous assignment was as Board Member & Executive Director- Leadership & Board Practice, RGF Executive Search. She joined Stanton Chase India brand in 2004 (which was acquired by RGF, the global search brand of the Japanese $ 15 billion Recruit Holding Co. Ltd.) In her initial years in Stanton Chase/RGF, her agenda as Vice President and Head of Corporate Practice was to apply a non-IT search focus in a completely IT-oriented city. Priya was active in the Global Marketing and Business Excellence Groups in Stanton Chase, playing a seminal role in establishing & heading its Global Diversity Practice. She was on the Asia Pacific Board of AESC (Association of Executive Search Consultants) till Oct 2017. She has successfully led Chief Executive Officer level search assignments for a varied selection of companies in India. She is known for the intensity, passion and commitment she brings in to understanding and delivering a variety of eclectic CXO search mandates, and has been responsible for a significant number of Diversity hires.
Prior to Executive Search, Priya worked for over 19 years in financial services, covering credit cards with pioneers Diners Club, as well as the services industry with Diners Business Services (DBS).
With dual responsibilities as General Manager, DBS Corporate Services, and Regional Manager - Asia for Alliance Business Centers Network, USA, she interacted with hundreds of the top corporates and multinational companies setting-up in India at the time . Priya, a seasoned industry specialist, was responsible for the concept, set up, operations, marketing and profitability of the largest and most well known business centers in India. She has also provided thought leadership, high brand recall, and strategic impetus to the group.
A National Merit Scholar, Priya holds a Bachelor of Arts, as well as postgraduate degrees in Marketing Management and in Public Relations. Priya was nominated Femina Woman of the Year 2017, conferred the Indira Gandhi Priyadarshini Award for Excellence in 1997, recognized by the Guild of Women Achievers in 2000, and was selected by the British Government for the Chevening Scholarship in 2004. Active in various business groups, Priya was Chairperson of the Indo American Chamber of Commerce (IACC), Karnataka, and from 2007, elected to the National Executive Council of the IACC, the first woman to hold either of these positions. In addition to being the Founder-Chair of the IACCs Womens Business Council, Convener of the CII Womens Business Leadership Forum for over 4 years till 2011, and a TiE Charter Member, Priya serves on the Advisory Council of Common Purpose, India, Asia Pacific Council of the AESC as well as the Academic Council of her Alma Mater, Mount Carmel College.
As active civic evangelist & a committed, visible champion of womens leadership and gender diversity, she is highly regarded for her views in the space and is a sought after speaker in both industry fora and academic circles. A transformational leader & seasoned campaigner, she may be lauded as co-founder of CfB, which architected the famed Steel Flyover Beda movement in Bangalore, one of the strongest & most memorable of citizen campaigns , but she is equally committed to heritage as the founder of #HeritageBeku & the less visible cause of Animal Welfare.
A columnist in her spare time, she remains passionate about Executive Search, Bangalore, Womens Causes, Urban Spaces and Animal Rescue, not necessarily in that order. In her rare time, Priya wonders about being a Google Doodle, is happiest working on animal advocacy issues, spending time with her family, curled up with her iPad or a book in hand.

V Raghunathan - Author, CEO, GMR Varalakshmi Foundation
Raghu is an academic, corporate executive, author, columnist and a hobbyist. He taught at IIM, Ahmedabad for two decades until 2001, after which he turned a banker for four years, serving as the President of ING Vysya Bank, Bangalore. Since January 2005, he has been the CEO of GMR Varalakshmi Foundation, which he has steered towards several prestigious awards. He is also the Director of India campus of Schulich School of Business (York University, Toronto) in Hyderabad. Raghu is also an Adjunct Professor at the University of Bocconi, Milan, Italy, and Schulich School of Business, Toronto, Canada.
He has written nearly 500 academic papers and popular articles as a columnist, 12 books and dozens of monographs and published cases in the field of capital markets and corporate finance. His forthcoming book is The Good Indians Guide to Queue Jumping. His other books include, Beyond the Call of Duty, Duryodhana, Locks, Mahabharata and Mathematics, and Don't Sprint the Marathon from Harper Collins; and Ganesha on the Dashboard, The Corruption Conundrum and Other Paradoxes and Dilemmas, and Games Indians Play from Penguin.
He is or has been on many boards, including corporates, banks, stock exchanges, hospitals and educational bodies and has been a member of several national level committees of the, Ministry of Finance, SEBI, BSE, NSE, ICAI et al. He was also the MBA Program and Finance Area Chair at IIM, Ahmedabad in the past, and served on several doctoral dissertations and examinations. He lectures extensively in India and abroad. Raghu has perhaps the largest private collections of old and ancient Indian locks. He has also held a weekly cartoon column in the Financial Express, played chess at national level, and sketched competitively in his earlier years. He features among the top 50 Global Indian Management Thinkers of the Indian Council of Competitiveness & Thinkers Magazine (London) in 2013,14 & 15.

Debashish Sengupta
Debashish Sengupta is a dual PhD in management from Central University of Nicaragua (UCN) and Azteca University, Mexico (accredited by ASIC, UK) and holds certificates in 'Social Psychology' and 'Leadership Development' from Wesleyan University, USA and Japan Management Association, respectively.
Dr Sengupta is the co-author of the Crossword Bestseller and KPMG-cited book, Employee Engagement and has authored five other acclaimed books. His research papers have been published in leading international journals. He is a featured Judge at Engage International, a UK-based global engagement consulting firm, for the Blue Lotus Award—given every year to companies with the best engagement practices. He was featured globally as the 'author of the week' by PM World Journal, USA, to honour his research contributions. He occasionally writes for reputed business media publications. He guides leaders of large and small organizations worldwide through his teaching, writing, strategic and practical insights, and direct consultation to major corporations and governments.
Dr Sengupta is a much sought-after trainer and has done management development programmes for business leaders and managers. His clientele includes CEOs, CXOs and senior managers from Indian and foreign companies. He is a frequent speaker at various business forums. He is currently Professor of Organizational Behaviour and Strategy and Director (MBA Program—Ascent), Alliance School of Business, Alliance University, Bangalore, India. He has also taught in various international exchange programmes. His diverse interactions with students from India, USA, Europe and Far East find reflection in his work on millennials. His blogs on people and millennial engagement are extremely popular and attract large number of readers from all over the world.

Partasarathy S
Head - Alumni Relations at IIM Bangalore
Author - Unmet Needs of Entrepreneurship, published by Rupa Publishers.

Rajiv Jayaraman


As the Founder / CEO of KNOLSKAPE, I have built a global team that pioneers a world class learning and assessment platform that is used in 300+ leading companies across 25 countries.

I am deeply interested in technology, design and learning.

Highlights
Delivered TEDx talk on "Transforming boardrooms and classrooms"​ @ TEDxGachibowli, Hyderabad.

Delivered TEDx talk on "Pursuit Of Happiness" @ TEDxBITSPilani

Delivered TEDx talk on "Disrupting learning methodologies" @TEDxXLRI

Featured in Economic Times, Outlook Business, ET Now, Digital Learning magazine, Entrepreneur magazine and Yourstory.in.

Speaker at international Management Conclaves

Delivered guest lectures on technology strategy and entrepreneurship at INSEAD, IIM-B, IIT-Madras, IIFT-Delhi, NMIMS, MICA.

Specialties: Innovation, New product development, leadership, general management, project management, creative concept development.

Sudhakar Rao Director - Branding, ICFAI Group 2
Studied Mechanical Engg at graduate level and went to IIM , Bangalore for Post Graduate Program in Management for specialisation in Marketing. Started career as Brand Manager and moved up as SBU Head and Director. In a career spanning over 18yrs, played multiple roles of Branding, Marketing, P & L responsibilities, Team Building, Corporate Relations, International Operations, PR etc. In the last 18yrs of fast track work life, dealt with sectors like Textiles, Food and Education; launched many brands, nurtured and doctored brands giving them the rightful position in the market place. At ICFAI, heading the Branding department for the entire Group that includes 11 ICFAI Universities, 9 ICFAI Business Schools,7 IcfaiTech Schools, 5 ICFAI Law Schools and a huge ICFAI Flexible Learning Program. Also the official spokesperson for the ICFAI Group.

Prof. Vasanthi Srinivasan - Faculty, IIM Bangalore
Teaches Organizational Behavior at IIM Bangalore. Leads several initiatives including women leadership, organizational design, inclusive workplace. Much sought after speaker at business, IT and HR forums for her ability to articulate fresh and deep insights with flair.

Srini Ramaswami - Heads Inclusion and Collaboration at Cisco
Srini Ramaswami - For over 17 years, has been transforming organizations by creating and fostering highly inclusive, diverse and dynamic work environments, helping employees do the best work of their lives.
In his current role as Head of the Office of Inclusion and Collaboration for Cisco, he leads the integration of D&I into HR and business processes to create exponential value for Cisco Employees, Customers, Partners and Communities in India & APJC.
Prior to Cisco, he held the role of Chief of Staff at Intuit India where he supported the Executive Leadership Team and led Diversity & Inclusion, Employee Engagement, Corporate Social Responsibility and Great Place To Work programs. His employee-centric initiatives propelled Intuit consistently in the Best Companies to Work For in India for 5 years and securing rank #1 for 2017, #3 in Australia in 2015 and #8 in Asia Pacific in 2016 by Great Place to Work Institute. For Srini, the boundaries of excellence clearly go beyond the workplace.
As a Senior Advisor at NASSCOM D&I Regional Council, TEDx Chapters (India), Advisory Board Member at Connecting Dreams Foundation (India), Womens Education Project (India), he spreads his ideas on Social Welfare, Equality & Inclusion, Human Rights, Women Education &Empowerment, Sustainability and Village development projects. He along with few industry thought leaders have been instrumental in mobilizing the Transgender community in India through Project Vayati, an initiative that actively helped them with employment, skill development and confidence building.
Srini is a recipient of the 2017 Champion Award by Out & Equal Workplace Advocates (USA) and 2017 D&I Leadership Award (South East Asia) by BD Foundation, India. Srini recently co-founded chittii.com, a for-profit venture which aims to bring back the essence of handwritten letters. Chittii - Sending a handwritten letter is becoming such an anomaly. It's disappearing. My mom is the only one who still writes me letters. And there's something visceral about opening a letter - I see her on the page. I see her in her handwriting. - Steve Carell. Chittii makes sending handwritten letters special, fun, effortless and empowering. We bring back the little something that has gotten lost over the years. There's no denying that sending and receiving letters is magical and cuts through the communication noise. Your words might be the same, but, with a Chittii, emotions are amplified tenfold. And if we had the time, we personally would pick up that special paper, pen down our feelings, find a stamp and send the letter. But sometimes you don't and you still want to let someone know you are thinking of them. Chittii is here to help you deliver emotions... with a whole lotta oomph.
Venue
WeWork Galaxy, Bengaluru
43, Residency Rd, Srinivas Nagar, Shanthala Nagar, Ashok Nagar, Bengaluru, Karnataka 560025