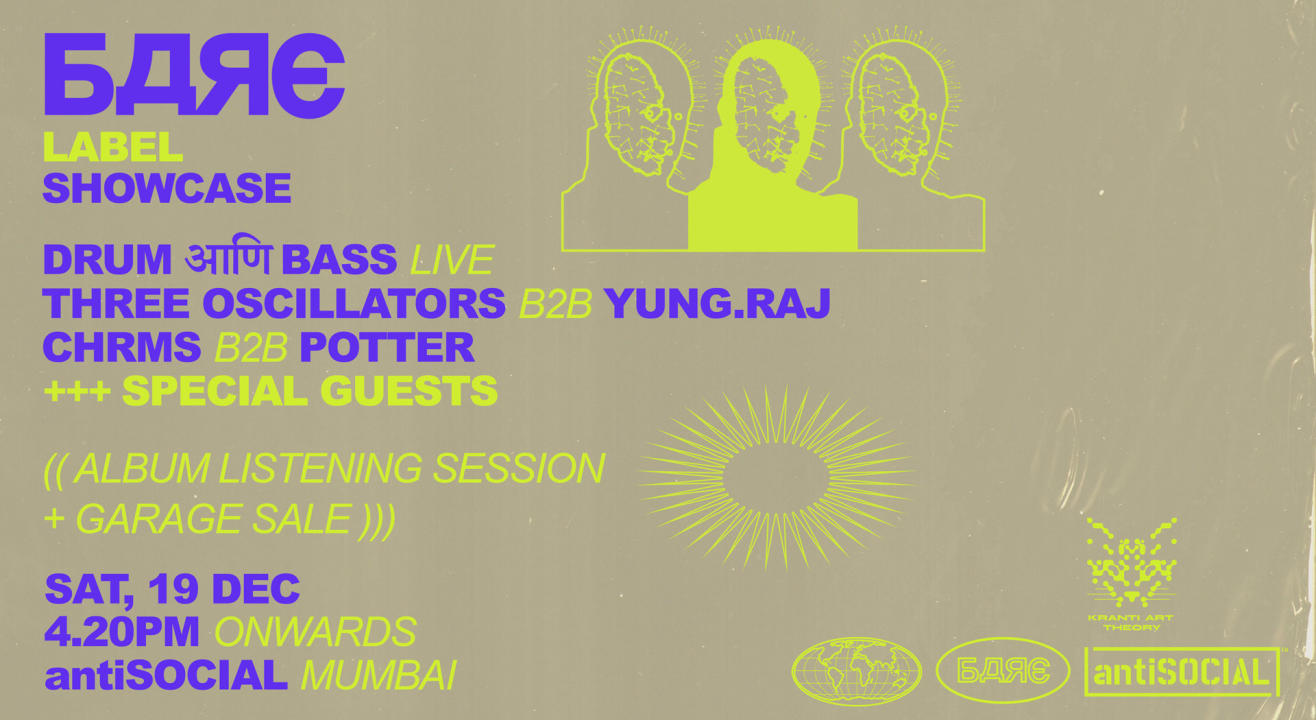 Bare Recordings Showcase ft Chrms b2b Potter, Yung.Raj b2b Three Oscillators, Drum ani Bass Live (Album Launch)+ Garage Sale
antiSOCIAL, Lower Parel, Mumbai
Invite your friends
and enjoy a shared experience
Bare Recordings Showcase ft Chrms b2b Potter, Yung.Raj b2b Three Oscillators, Drum ani Bass Live (Album Launch)+ Garage Sale
antiSOCIAL, Lower Parel, Mumbai
Invite your friends
and enjoy a shared experience
Invite your friends
and enjoy a shared experience
Bare Recordings is a label & brand inspired by nostalgic and abstract virtual reality based out of Mumbai, India. Co-founded by Krishna Luthria (Potter) & Veer Kowli (chrms), both Dj's and music producers (also based out of Mumbai), the brand's primary goal is to create a platform for local and international producers to come forth, get creative and push for different forms of club music. The compilation-Mental Movie Theatre hopes to spark within its listeners a personal interpretation, thus having them create a theatre in their minds, triggered sonically. MMT features a number of artists, favorites from not only India but worldwide, such as Three Oscillators,Yung Raj, Ray Monero,Dj Frankie, Etch, and more. Its set to release on all major streaming platforms on the 19th of December.
Bare beings from 🇮🇳d + 🗺️
Here 2 unschool your 🧠
Performances by:
Drum ani Bass Live (Album Launch)
Chrms b2b Potter
Three Oscillators b2b Yung.Raj
+++
***Garage Sale***
Gig Guidelines:
- The venue will have a maximum of 1/3rd of its previous capacity.
- Patrons have to get their temperature checked, wear a mask and have no symptoms such as cough, breathlessness etc.
- The entire venue has a HVAC UV-C system, which disinfects the air near the AC ducts continuously using UV-C light rays.
- Patrons are encouraged to reserve their tickets in advance.
- Valet service is available.
- Patrons are to wear their mask at all times, except when eating and drinking.
- Contactless payment will be the preferred mode of payment
- Patrons are encouraged to stand on spots designated to them
Bandcamp pre order link
https://barerecordings.bandcamp.com/album/mental-movie-theatre
antiSOCIAL, Lower Parel
CS #242, Near Viva Centre, Mathuradas Mill Compund, Lower Parel West, Mumbai
GET DIRECTIONS
Bare Recordings Showcase ft Chrms b2b Potter, Yung.Raj b2b Three Oscillators, Drum ani Bass Live (Album Launch)+ Garage Sale
antiSOCIAL, Lower Parel, Mumbai
Invite your friends
and enjoy a shared experience