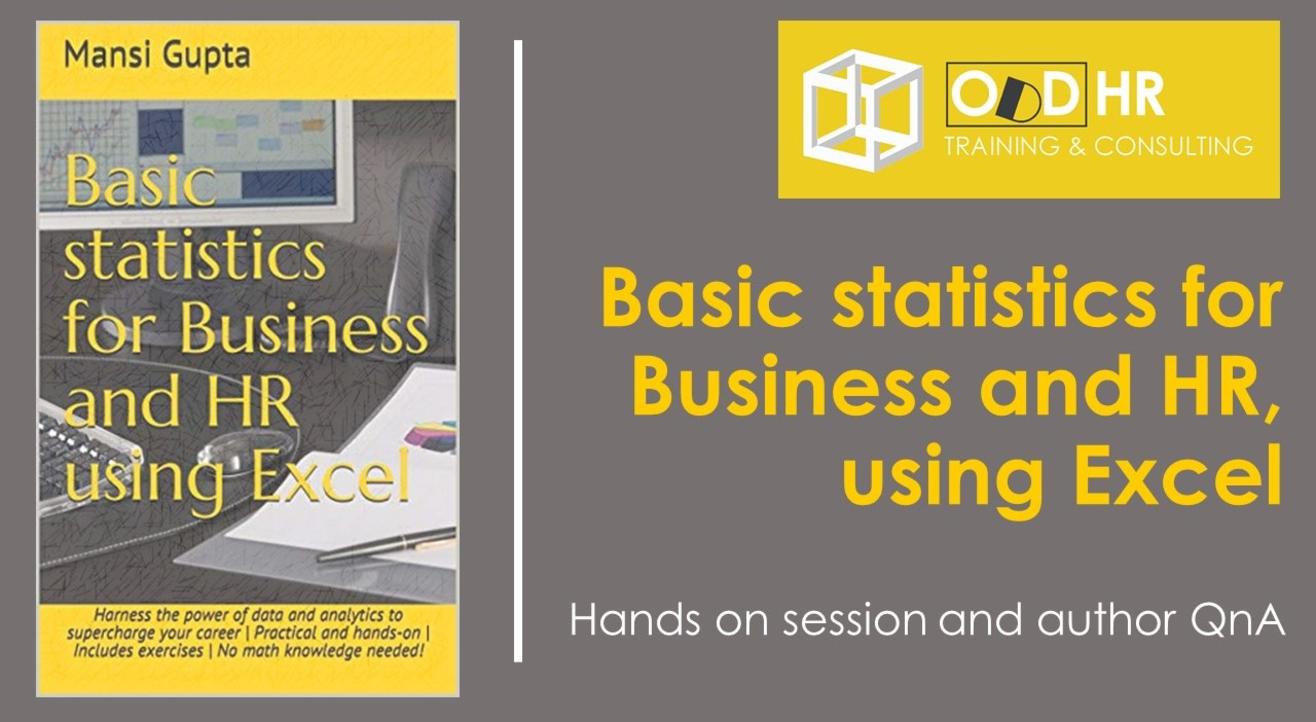 Workshops
Basic statistics for Business and HR using Excel - Hands-on session and Author Q&A
About
Harness the power of data and analytics to supercharge your career
In our roles as HR analysts, we often find it difficult to present our work to people who do not know any statistics at all. They are curious but also afraid to get familiar with the basic terms.
This session is designed as a non intimidating entry point for people who do not know much maths or statistics. The book does not explain the mathematical calculations, but rather which function of Excel can be used to calculate a particular metric, and then spends time explaining how to interpret the results.
​
This session is completely beginner friendly. You do not need to know how to do math or have any background in statistics to follow along with me as I take you step by step into applying the simplest of statistical functions using just Excel.


Curriculum
COUNT
SUM
COUNTIF and SUMIF
AVERAGE
MEDIAN and MODE
MIN and MAX
Standard Deviation
Correlation
My tips to work with data
Author Q&A
In the last 15 minutes, Mansi will take up Author Q&A. You can find her book on Amazon or Oddhr.com/books


Please note:
This meetup will happen on Zoom & can be viewed from anywhere (It will not be recorded for viewing post the session).
You will receive the link to join the meetup on your registered email id 1 days prior to the session.
All you need is a good internet connection and a fully charged laptop/mobile with the Zoom installed.
This is an beginner level meetup to introduce the concept of statistics and excel in HR.
The instructors are fluent in English & Hindi. While the session will be conducted in English we can answer queries in both languages.
Who this course is for:
HR analysts or anyone interested in HR or HR analytics
HR professionals who want to start working with data
Business owners or managers, anybody who would like to start working with data or excel.
Students & Professionals who are planning to make a career in HR and Reporting
Course requirements
Anyone with an interest in this field can do this course.
There are no prerequisites, an interest in the HR domain will be helpful.
Bring your Laptop (don't forget your charger), with MS-Excel installed.