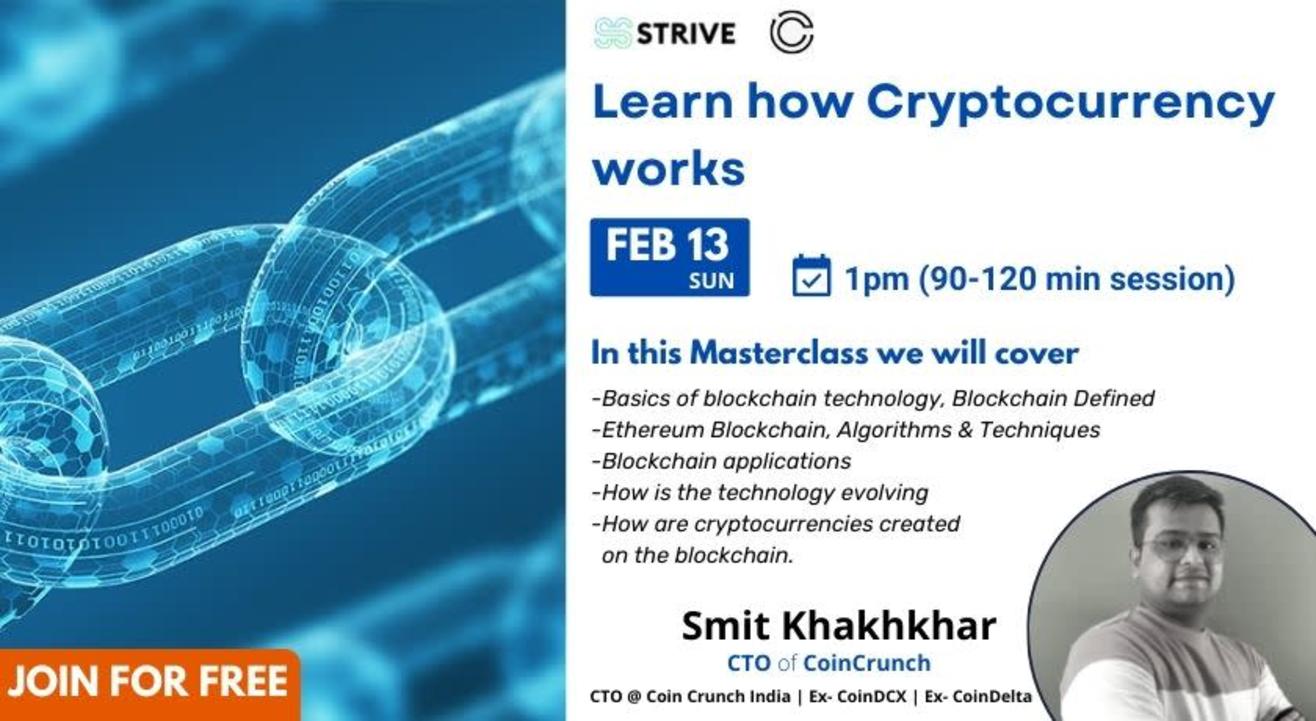 Learn how Cryptocurrency works
Enjoy this event from your home
Event Guide
Masterclass
Learn from an expert
Invite your friends
and enjoy a shared experience
Learn how Cryptocurrency works
Enjoy this event from your home
Event Guide
Masterclass
Learn from an expert
Invite your friends
and enjoy a shared experience
Event Guide
Masterclass
Learn from an expert
Invite your friends
and enjoy a shared experience
In this Masterclass we will Cover
Basics of blockchain technology
: Understanding how cryptocurrency works
Blockchain Defined
- We will introduce and define blockchain, explain the structure and operational aspects of Bitcoin blockchain, and compare different types of blockchains.
- Ledgers, Distributed Ledgers, and Consensus
Ethereum Blockchain
- We will discuss the innovation of the Ethereum blockchain, review its protocol, and explore the payment model for code execution.
Algorithms & Techniques
- We will discuss the concept of asymmetric key encryption, define the concept of hashing, and explain techniques that use algorithms to manage the integrity of transactions and blocks in blockchain.
- Cryptography, Hash Functions, Public Key Cryptography and Signing, Blocks and Blockchain, the Chain, Nodes and Network.
Blockchain applications
- We will define elements of trust in blockchain and discuss the Consensus protocol.
- Trust Framework and Consensus Mechanisms, Public, Consortium, Private Blockchains, Blockchain Interoperability, When to Use a Blockchain (Limitations and Misconceptions), Implications of Blockchain on Traditional Business.
How is the technology evolving?
Where is blockchain technology headed? There are several themes that are emerging as important, one of which is solving for scalability. Moving away from Proof of Work may be one of the ways to scale.
How are cryptocurrencies created on the blockchain.
Learn how Cryptocurrency works
Enjoy this event from your home
Event Guide
Masterclass
Learn from an expert
Invite your friends
and enjoy a shared experience