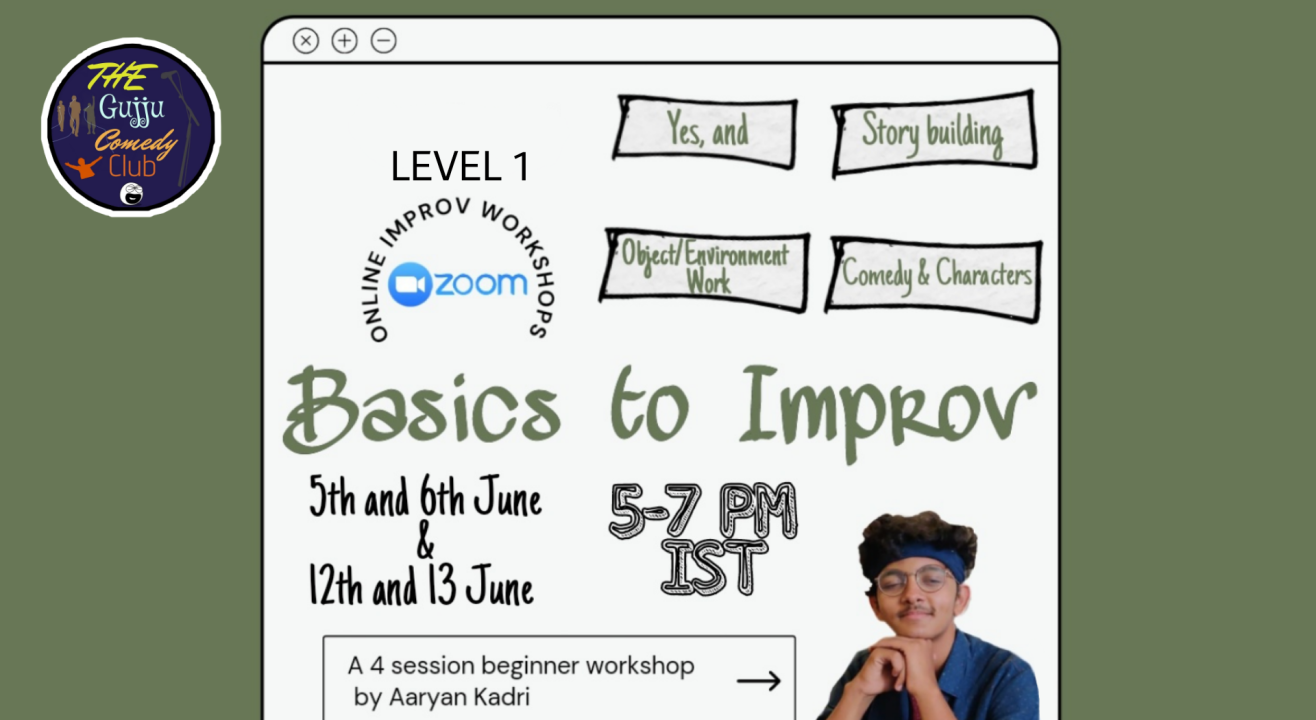 Basics To Improv : Workshop
June 5 | 5PM - June 13 | 7PM
Enjoy this event from your home
Event Guide
For Age(s)
Family Friendly
Masterclass
Learn from an expert
Invite your friends
and enjoy a shared experience
Event Guide
For Age(s)
Family Friendly
Masterclass
Learn from an expert
Invite your friends
and enjoy a shared experience
About the Event
Improv, the art of creating things on the spot, we shall be covering the fundamentals of the theatrical aspect of it along with it's connection with comedy. If you have seen Kaneez Surka's shows or 'Who's line is it anyway?' then you probably have already having a brief idea about it, if you haven't, no need to worry.
In level 1 you will be encouraged to explore your creativity, build your confidence and have fun whilst developing the basic skills of improvisation.
No previous acting or improv or comedy experience is required to participate.
Improv Fundamentals focuses on the basic tenets of scenic improvisation.
Specific skills and topics covered:
-"Yes, and"
-Listening
-Creating characters
- Supporting your scene partner
-Object /Environment work (miming)
-Story Arcs and Narrative Structure
-Creating Comedy based on the Game of the scene methodology based on UCB's philosophy on which most sketch groups like Key&Peele, Monty Python etc are based.
-Some short and long-form improvisation techniques
Each session shall be structured around one or two of the aspects where we shall be covering some theory and do exercises with other participants as well as play scenes, it's a journey of self discovery along with some side coaching and feedback from the facilitator.
If you are thinking to improve your acting, be more confident, be more mindful over yourself, be a more spontaneous comedian, be an inclusive leader, want to learn story building/storytelling or to be a better person in general, this might as well be a good fit for you.
We shall also be covering the levels ahead through more such upcoming workshops as well as after level one you get to be part of our core community and perform with the GCC squad in the future including shows/improv festivals.
About the Facilitator: Aaryan Kadri is a stand up comedian, philosophy enthusiast, content writer, political analyst and ofcourse an improviser. He has been trained for Improv under the Upright Citizen's Brigade, New York. He has performed at improv shows across India as well as has collaborated with many national and international troops for different events online. He is the artistic director at GujjuComedyClub which hosts the GCC weekly online jams since more than a year, they are a improv troop based in Gujarat. Narrative and Musical improv are the fields in which he is venturing nowadays and is trying to expand the long form improv circuit in India. His specialisation workshops include Sketch writing, Comedic Improv, Character Development, Critical Thinking/Debating, Social Satire, Conflicts, Story Structure and Spontaneity.
He is a strong LGBTQ+ ally and is trying to get more non binary gendered folks into art. He makes his best attempts in his classes and jams to create an inclusive and safe space which caters to an internationally/marginally diverse audience.
Note:
- The medium of communication shall both English and Hindi, if you are more comfortable in either of the two languages or might not know one of the language then do preinform us through mail and we will make the necessary accommodations
- Any device is fine though It is preferable if you use your computer/laptop or your tab rather than a phone for a better experience.
- We have kept very limited seats to ensure individual attention that shall be given on first come first serve basis.
GCC Scolarship: We know that a pandemic is ongoing and many may be going through financially tough times, we have kept 2 scholarship spots as well, so if you are interested to be considered for them then write to us a short description about you and how can this workshop help you to voiceoftheanonymity@gmail.com to apply for 'em.
You can follow us on @gujju_comedyclub and address your queries there as well, feel free to share the event with friends who might be interested.