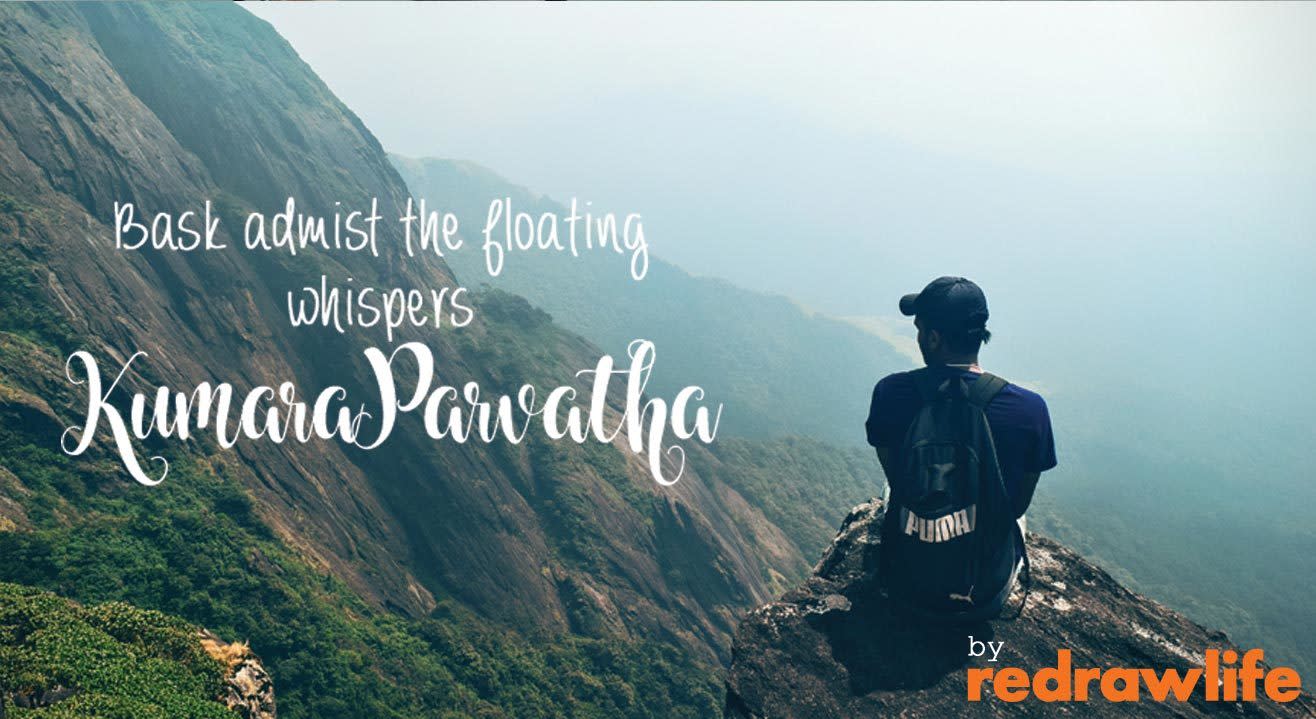 Trek
Bask Amidst The Floating Whispers: Kumaraparvata!
April 28 - 29 | 8PM - 7PM
About
If you aren't very new to the world of trekking then you would have definitely heard the name Kumara Parvata being mentioned often. Considered among the toughest treks in South India,it is a perfect mix of physical challenge and natural beauty of Wildlife.Peppered with trails, both easy and difficult, The Kumar Parvata trekking experience will tire you and delight you at the same time.It is rest assured that every effort you take will be rewarded by stunning landscapes from the mountains.
Day 0

08:00 PM: Board train from Kochi
08:30 PM: Board bus to the base. ( From Bangalore)

Day 1

08:30 AM: Have a delicious breakfast from the temple town
09:00 AM: Start the trek to the forest range
11:00 AM: Reach the first halting point! Just look around you might find peacocks!
01:30 PM: Reach Bhattar mane
02:00PM: Have Lunch prepared by Mr Bhattar
02:30 PM: Explore the places around
04:00 PM: Sit awestruck by the serene views
07:00 PM: Back to the base for the campfire
08:30 PM: Dinner and sleeping in tents afterwards.

Day 2

06:00 AM: Have breakfast and start the trek to the peak
10:30 AM: Reach the peak
11:30 AM: Trek down to the Bhattar mane
01:30 PM: Have Lunch
02:00 PM: Trek to the base
04:30 PM: Reach the base
07:00 PM: Board bus back to Railway station
07:00 PM: Board bus back to Bangalore(Bangalore)

Trek through the toughest routes and that too at the peak of monsoons!
The windy mountains and its breath taking views!
Redefine your limits by covering 21 KM by foot
Camp amidst the wet forest listening to the melody of raindrops
Train tickets/Bus Tickets
2 breakfast
2 lunch
1 dinner
Camping Permission
Tents, sleeping bags and accommodation
Food in the train
All expenses incurred due to unforeseen and unavoidable circumstances.
Any kind of cost which is not mentioned in the "Inclusions"above.
Rucksack/ backpack to carry your personal belongings.
Trekking shoes with good grip & two pairs of socks (it's optional if you have floaters with good grip)
Dress change for 2 days along(Light colors preferable, avoid jeans) & few plastic covers to keep wet cloths.(It might Rain)
Torch with extra batteries (Strictly no mobile torch).
Water Bottle min (2 liters)
Personal medicines if you use any (General first aid would be with host) & ORS packets
Raincoat or Poncho (optional in case of rains)
Carry Identification card.- Govt recognized one
Wind cheater/Jacket (It'll get cold at night)
Food/Snacks:dry fruits, energy bars, dates, cashew,citrus fruits,etc.
Insect or mosquito repellent
Sunscreen
Redrawlife allows passionaries to choose among three standardized cancellation policies (Flexible, Moderate, and Strict) that we will enforce to protect both customer and passionary alike.

Flexible : 90% refund up until 5 days prior to course date
Moderate : 70% refund up until 5 days prior to course date
Strict: 50% refund up until 5 days prior to course date

If you have any queries you can contact our support : Support website or shoot us a mail at: support@redrawlife.com