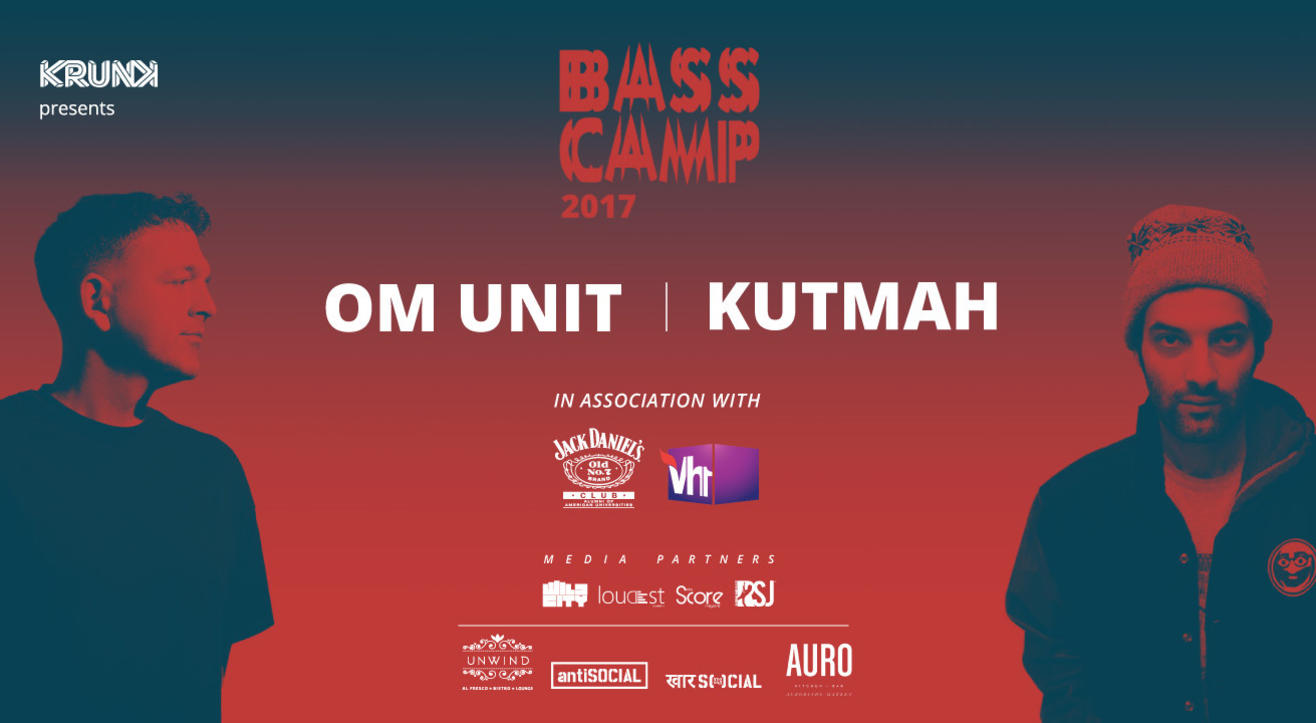 Music
India's Only Bass-Heavy Electronic Music Festival Is Back!
Catch Om - Unit & Kumtah in the 2017 leg of India's first and only bass heavy electronic music festival - across Pune, Delhi, Bangalore, Mumbai from 30 November to 03 December. Details + tickets below.
Check out all the gigs below!
What is Bass Camp?
Founded in Feb 2010, Bass Camp is India's first and only bass heavy electronic music festival, promoting cutting edge electronic music like drum n bass, dubstep, glitch hop, drumstep and more. The festival has garnered a huge following in a short span of time and has covered all the major Indian cities like Delhi, Mumbai, Kolkata, Chennai, Bangalore, Pune and Goa. Bass Camp Festival is a quarterly Indoor music festival and is already 9 editions old. Every bass camp edition invites one international headliner which is supported by the most cutting edge Indian DJs.

Bass Camp Festival lineups in the past have consisted of DJs like LONDON ELEKTRICITY (UK), KOAN SOUND (UK), DUB PHIZIX (UK), CONCORD DAWN (NZ), JAZZSTEPPA (UK/ Germany), KLUTE (UK / Commercial Suicide), NU:TONE (UK / Hospital Records), Osmani Soundz (UK / Nasha Records), Bandish Projekt (Mumbai), Bay Beat Collective aka BBC (Mumbai), BASSFoundation (Delhi), DJ Uri (U.K), Vachan Chinnappa (Bangalore), Nucleya (Delhi) & more.
What's in store this year?

Om Unit As a producer and DJ, Om Unit (Jim Coles) has been a significant and pioneering presence in various dance music circles for the past five years. Following a formative decade in the global hip-hop underground, Coles took the name Om Unit in the late 2000s and began to travel across genres and scenes in search of sonic tropes to cross-breed and re-imagine. In the early 2010s, he came to pioneer the stylistic and rhythmic links between jungle and footwork via a series of acclaimed edits that brought him to the attention of the drum & bass scene. This personal approach has earned Coles praise as a refreshing voice in dance music from both peers and the media. His debut album was, 2013's Threads, and he's worked with legendary drum & bass outfit Metalheadz, Machinedrum, Grammy-winning producer Om'Mas Keith, Plastician's Terrorhythm, Sam Binga and more. In 2011, Coles set up a label, Cosmic Bridge Records, through which he has exercised an A&R sensibility that has created an exciting independent home for likeminded artists. Coles is also a sought after DJ, with over 300 appearances in clubs and festivals in more than 30 countries he has made the equivalent of over a dozen trips round the globe and counting. And in line with his desire to imagine new potentials for dance music has appeared on varied bills from the Montreux Jazz Festival to Bass Coast, Outlook to Mysteryland.

Kutmah A mercurial creative, whether you're talking art or music. As a DJ/curator, he has tirelessly searched for and championed new underground talent from across the globe. His passion, hunger and most importantly, his incredible ear for new music have made him Flying Lotus' go-to warm-up DJ and also earned him the honour of compiling an album - "Kutmah presents Worldwide Family Vol.2" - for Gilles Peterson's Brownswood Recordings in 2012. It brought to the fore Kutmah's gift for A&R, cemented when he founded his own label IZWID in 2013. In August 2017, he released his debut album "The Revenge Of Black Belly Button!" (or TROBBB!), featuring an incredible cast of guests - Gonjasufi, Jonwayne, Natureboy Flako, Ta'Raach, Jeremiah Jae, Zeroh, Zackey Force Funk, N8NOFACE, Sach, Akello G Light and DJ Chris P Cuts - spanning experimental meditative, Zennist loops; crackly oddball beats and abstract raps; as far as outright punk/noise and even folk/blues.
Sample their music below!
Subscribe to receive our newsletter!
Find the best experiences happening out there in your city or enjoy handpicked content while sitting comfortably at home. Insider is your go-to place to figure out what to do today!