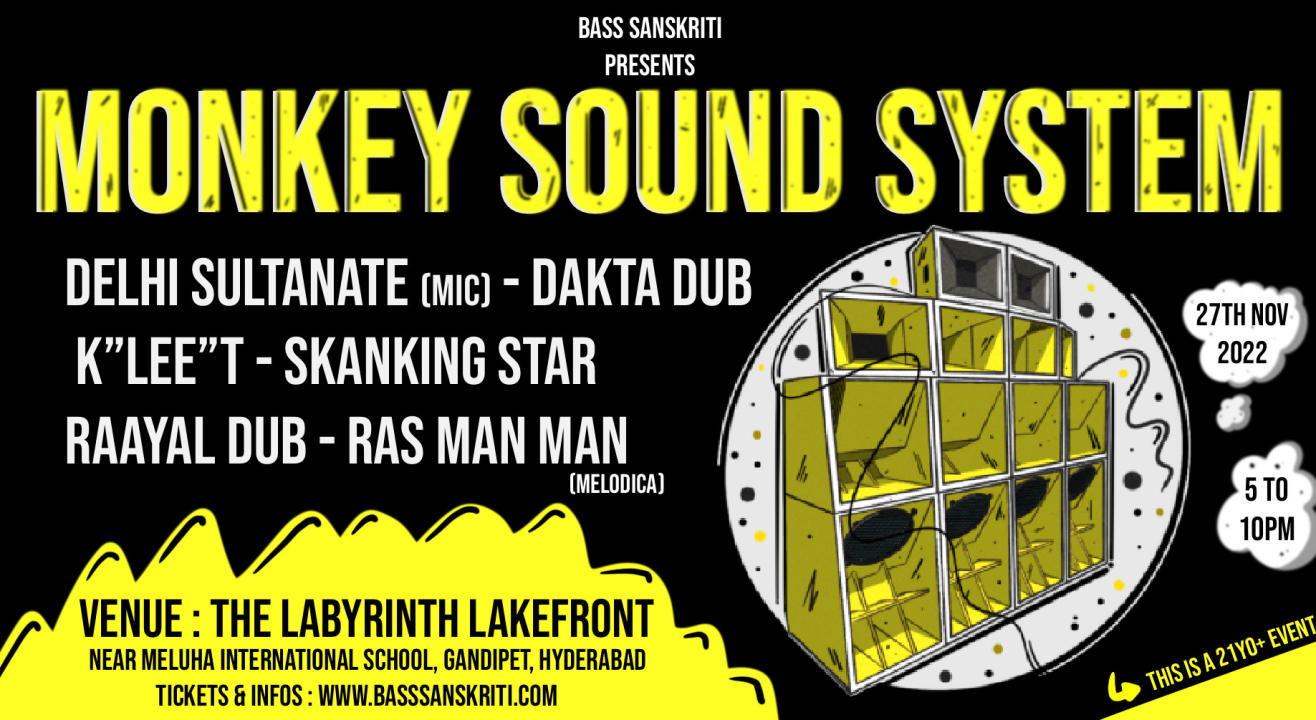 Bass Sanskriti ft Monkey Sound System @ The Labyrinth Lakefront
The Labyrinth Lakefront, Hyderabad
Event Guide
Live Performance
Enjoy a unique experience
Invite your friends
and enjoy a shared experience
Bass Sanskriti ft Monkey Sound System @ The Labyrinth Lakefront
The Labyrinth Lakefront, Hyderabad
Event Guide
Live Performance
Enjoy a unique experience
Invite your friends
and enjoy a shared experience
Event Guide
Live Performance
Enjoy a unique experience
Covid 19 Safety Measures
This event adheres to the following

Health & safety measures
Hand Hygiene Stations
Limited Capacity
Contactless Service
Sanitisation before the show
Invite your friends
and enjoy a shared experience
Covid 19 Safety Measures
This event adheres to the following

Health & safety measures
Hand Hygiene Stations
Limited Capacity
Contactless Service
Sanitisation before the show
Bass Sanskriti is back!!
Hyderabad's hand-built sound machine is set to start the season with heavy basslines and merciless grooves.
Calling all bass heads, herbalists, cool cats, and calm birds. Skanking by the lake, under blue skies on 27th November as we stack up fresh speaker boxes in Jamaican-style sound healing for the mind, body, and soul.
14,000 watts of power and a fire lineup of artists to take you on a sonic journey.
Join us for a sundowner Bass Sanskriti style and enjoy sound like you have never before on Monkey Sound System.
⭐ Mark your dates - 27th November
⭐Venue: @labryinthlakefront
⭐Along with the Bass Sanskriti entry ticket there is a ₹1000/- cover charge per person will be collected at gate. Which can be redeemed for food & drinks.
.
.
.
.
.
.
.
#Monkeysoundsystem #basssanskriti #hyderabad #bassculture
Bass Sanskriti Events Code of Conduct-
Bass Sanskriti is committed to fostering safe and inclusive community events. In order to do so, all participants understand and agree to this code of conduct in relation to all activities regarding the event.
The following actions will result in a WARNING or IMMEDIATE ejection from the event.
Possession of illegal substances, using, or selling anywhere on the premises will effect immediate ejection from the event premises.
No offensive or abusive language, obscene or offensive gestures
Participating in any activity that is insulting, harmful to oneself and others violent or engaging in harmful behavior to self or others
Disrespecting or damaging the venue, equipment, or any other property
Any individual who violates this code of conduct will be immediately removed from the event, and their event wristband will be revoked and shall be reported to law enforcement.
Enjoy music, vibes, and culture.
Introducing Monkey Sound System | Bass Sanskriti Events | 2022
The Labyrinth Lakefront
near MELUHA INTERNATIONAL SCHOOL, Gandipet, Hyderabad, Telangana 500075, India
GET DIRECTIONS
Bass Sanskriti ft Monkey Sound System @ The Labyrinth Lakefront
The Labyrinth Lakefront, Hyderabad
Event Guide
Live Performance
Enjoy a unique experience
Invite your friends
and enjoy a shared experience