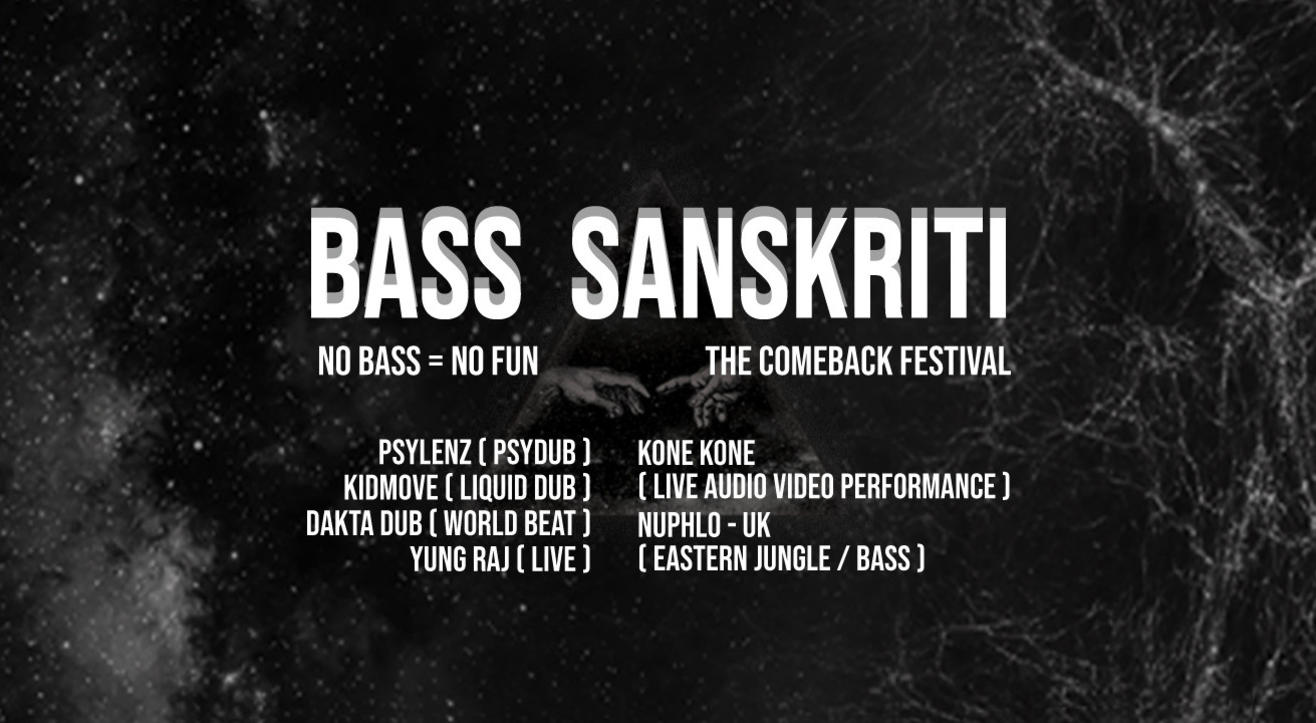 Bass Sanskriti Friendship Edition
Heart Cup Coffee, Jubilee Hills, Hyderabad, Hyderabad
Step out and enjoy this event
Invite your friends
and enjoy a shared experience
Bass Sanskriti Friendship Edition
Heart Cup Coffee, Jubilee Hills, Hyderabad, Hyderabad
Step out and enjoy this event
Invite your friends
and enjoy a shared experience
Invite your friends
and enjoy a shared experience
Bass Sanskriti returns after a long break with fresher cleaner and more intense vibes.
August 3rd, Friendship day Special !!
Continuing with the annual August tradition, Bass Sanskriti is back with a line-up of heavy duty local, outernational and international acts from 5pm to close, ranging from Psybient, world beat, drum n bass, beatboxing, audio video live performance and a special eastern dub plates set to close the night.
5pm-9pm Heart Cup Cafe Outdoor - Psylenz, Dakta Dub, Kidmove, Yung Raj
9pm-11.30 Heart Cup Cafe Alt Space - Kone Kone, Nuphlo (UK)
Kone Kone produces audiovisual electronic music that draws upon South Asia's great repertoires of popular culture from the 20th century.

Nuphlo 's style is a delicate balance of eastern melodies, innovative beats and low subs. This tightrope approach to production has lead to a string of Vinyl, CD and MP3 releases on record labels both sides of the cultural spectrum. In short, Nuphlo's music represents multicultural cohesion. Much of Nupho's inspiration comes from 90's Asian underground music.

Dakta Dub a veteran DJ/Radio host bass'ed out of Hyderabad has contributed to Indian underground music culture over the past decade with his versatile music taste. He has created the future of bass music scene in Hyderabad.

Yung Raj is a 22-year-old beatboxer and producer who has been performing at popular venues and festivals in the country since 2011. He has performed with both nationally and internationally acclaimed acts like Foreign Beggars, Shri, Karsh Kale, Niladri Kumar, Shiva Sound System, BOGL, Func, Stitch In Nine and was also an active member of popular acapella outfit – Voctronica until late 2017. He has now moved on to focus on his solo project and is scheduled to release his debut EP called Laced Loops in July 2018. His live setup involves improvisation using a loop station to blend beatboxing along with synth bass and keys

KID MOVE is a trained music producer and sound designer with a lot of musical knowledge. Among many, Drum & Bass music stood out for him since 2010 in Leeds, UK. Coming back to Hyderabad in 2013, he's been performing at venues and festivals, and hosts his radio show The Situation on Monkey Radio India.

Psylenz a soulful selector straight outta Nellore, took up Djing for passion and continues to dedicate himself passionately, he stands out to be one of the very few artists in Hyderabad who play Psychedelic dub influenced world music. Pyslenz hosts one of the leading and longest-running show "Souls of Sound" on Monkey Radio India.

Bass Sanskriti is the love for the Dub music. The energy and the message it transmits to the listener, and take them to a super trance.

Bass Sanskriti is focused on events for people who love bass heavy genres such as Dub, Reggae, Dancehall, Dubstep, Junge/Drum n Bass and all bass heavy sub-genres. Bass Sanskriti offers something new and different to what's already available in the local scene. It is for people who love dub and other underground electronic bass music who will groove to slinky bass lines
Heart Cup Coffee, Jubilee Hills, Hyderabad
Road Number 45, Hyderabad
GET DIRECTIONS
Bass Sanskriti Friendship Edition
Heart Cup Coffee, Jubilee Hills, Hyderabad, Hyderabad
Step out and enjoy this event
Invite your friends
and enjoy a shared experience