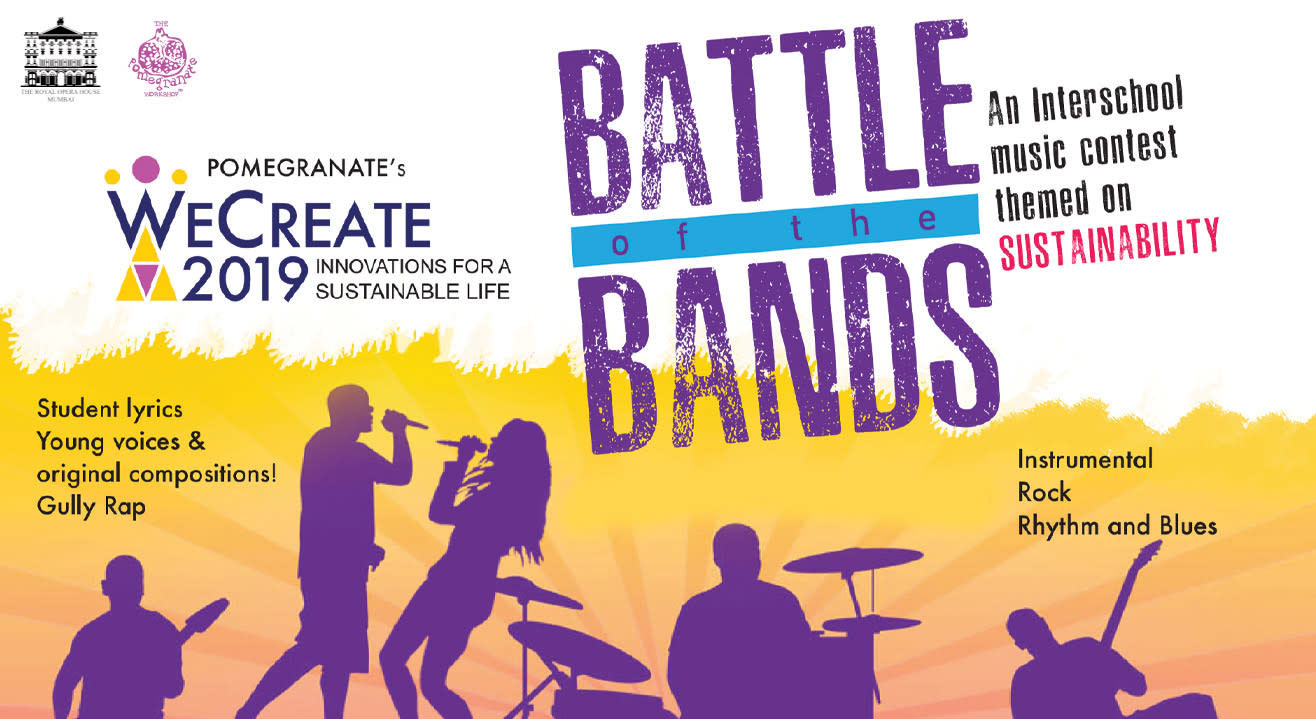 Music
Battle of the Bands
The Royal Opera House, Mumbai
About
Pomegranate's WeCreate 2019 and The Royal Opera House, Mumbai present Battle of the Bands featuring all-teen bands and solo performers from schools across Mumbai.
Focusing on the theme of Sustainability, young adults across schools and NGOs have written their very own lyrics and set it to music. In no holds barred brainstorming sessions, students have delved into their own experiences and created lyrics based on them. Audiences are in for a treat as the performers straddle various genres including gully rap, rock, parody and rhythm and blues in Hindi and English. Students will display their prowess on a range of instruments including the cello, piano, tabla and dholak in addition to guitar, drums and bass. Students across schools have been preparing their performances and creating lyrics over the last two months, facilitated by Pomegranate's writers and musicians, Pranita Pandurangi and Akshat Nigam. Participating schools belong to all boards of education - SSC, ICSE, CBSE, IB and IGCSE.
Witness these students across the city galvanize themselves for the sake of music and sustainability.
About Pomegranate's WeCreate 2019
2019 being year of the first conclave for the United Nations Sustainable Goals mission, The Pomegranate Workshop, a 13 year old arts education company which works with schools and NGOs across Mumbai has launched a Sustainability Project and Festival centered around what students can actually action as they get sensitized to issues of sustainability. This inter-school sustainability festival features leaders in the field of Science Technology Engineering Art Mathematics (a senior team from IDC at IIT Bombay), Sustainable Food (Bombay Canteen Restaurant, rated India's No1 by Conde Nast Traveller), Conservation Architecture (Art Deco Mumbai), Sustainable Transport (Smart Commute Foundation), Issue based theatre (NCPA and the Mumbai Theatre Guide), Music performances (The Royal Opera House), City Environment (Greenline)
ABOUT PARTNERS
Pomegranate's WeCreate 2019 has been conceived as a project spanning a few months with intensive and transformational student activities which give high school students of various interests a platform to display their skills and build their portfolios in their area of interest, under the guidance of Mumbai's top experts in each sphere.
Top industry experts have visited schools and NGOs across Mumbai for student workshops followed by specific and very exciting student assignments which focus on ideation, research and the final outcome. The student works will all be featured at the WeCreate 2019 Festival on 4th, 5th and 6th October at the Royal Opera House, Mumbai, NCPA and Don Bosco, Matunga.
Royal Opera House, Mumbai is widely touted as Mumbai's Cultural Crown Jewel and India's only surviving Opera House. The original idea for the space was conceived of in 1908, inaugurated in 1911 by King George V, and eventually completed in 1916. The design incorporated a blend of European and Indian detailing. The space became a cinema in later years before falling into disrepair and shutting by the 1990s. Fittingly, the space has been owned by the Royal Family of Gondal since 1952 and was eventually restored by conservation architect, Abha Narain Lambah under the leadership of His Highness, Maharaja Shri Jyotendrasinhji of Gondal. The Royal Opera House Mumbai, now one of the last remaining Baroque structures in the city, reopened after 23 years in October 2016. The building was included on the 2012 World Monuments Watch to raise awareness about its history and significance, and support preservation efforts. The building has since been recognized with an Award of Merit in the 2017 UNESCO Asia-Pacific Awards for Cultural Heritage Conservation. The restored facilities feature a 575-seater 3-level auditorium with an orchestra pit and state of the art technological upgradations, including acoustics, stagecraft, lighting and air-conditioning, alongside retaining the old world charm of the proscenium stage, the royal boxes and the magnificent regal chandeliers. Some more enhancements to the venue include a motorized screen, co-axial ceiling speaker system, Four-zone volume control and all round wifi access. Today, it stands as a key performance and creative hub in the city's cultural landscape, while being a premier heritage landmark. Facebook: MumbaiOpera Twitter: @MumbaiOpera Instagram: @mumbaiopera
Venue
The Royal Opera House, Mumbai
Mathew Rd, Charni Road East, Opera House, Girgaon, Mumbai, Maharashtra 400004
GET DIRECTIONS