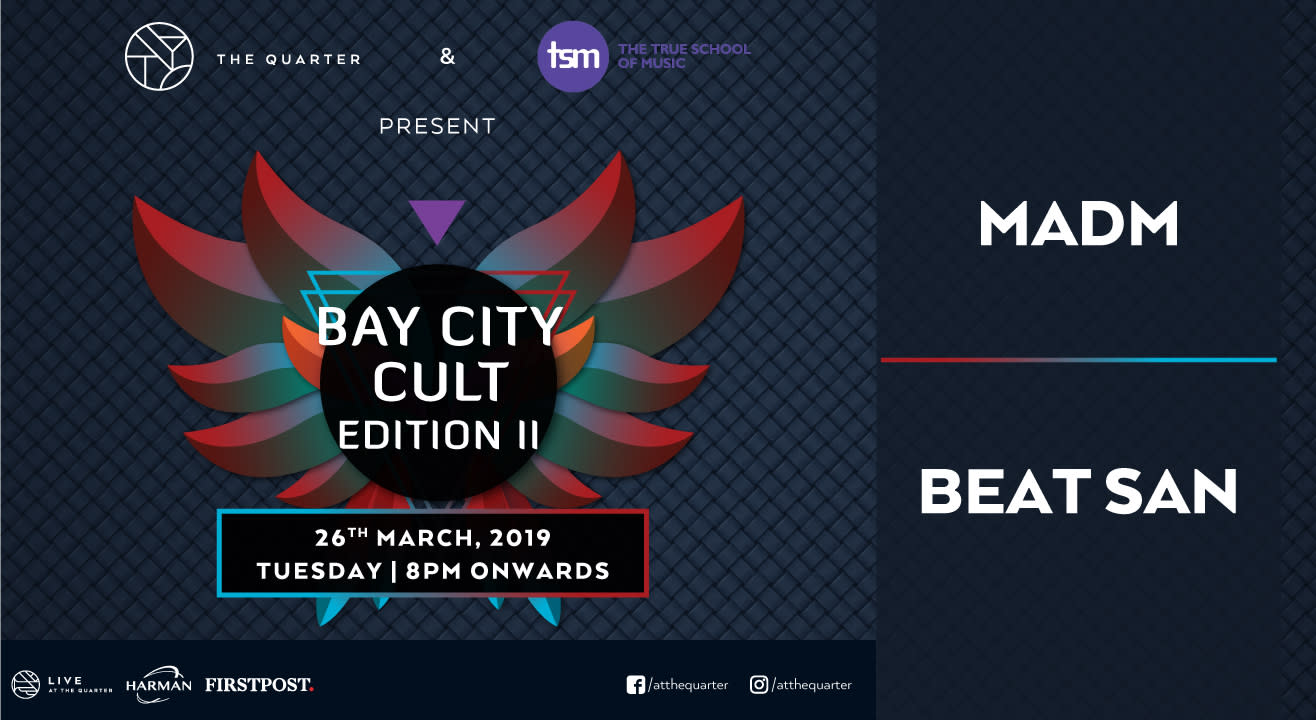 Music
Bay City Cult Edition II at The Quarter
About
In our ongoing effort to promote and extend a platform to newer and upcoming artists, 'Bay City Cult Edition II' is ready to introduce to the world, the next wave of music superstars!
For this night we have MADM and Beat San.
MADM
Chennai-born singer and songwriter Sanjana goes by the moniker MADM, which she says is everything between madness and tranquility. Trained in Carnatic and Western classical music, she recently released her first solo debut album, also titled MADM , a spirited display of emotion yet restrained in its soundscapes.

Picking from a multi-cultural hodgepodge of influences, MADM finds a way to express a deep metropolitan malaise. Intermittently, and with grace, she reveals a cautious optimism in the form of simple melody.

MADM is an amalgamation of thoughts and ideas gathered over a year and put together artfully with the help of producer duo Marti Bharath and Tapass Naresh AKA Sapta.

Beat San
Beat San is stage name of a music producer/singer Sachin Nair. Sachin is a signed artist on Atlantic Records and also has a boutique record label of his own Stereophone Records which comes under Atlantic Records and Darkchild Productions owned by Rodney Jerkins (Michael Jackson, Lady Gaga, Justin Bieber). Sachin has worked on Justin Bieber's Believe album that came out in 2013, as a part of Rodney's Darkchild Production. Since childhood due to his father, Sachin was exposed to a lot of Indian Classical and Carnatic music, which influenced his music. But strikingly he had no connection with music before 2010, although he was a part of school choir and was proficient at playing percussion instruments along with pianos and keyboard. Later in 2012 he started mixing his own productions and then leaned more towards mixing and production.Apart from this with his productions he is also a composer and has worked for artist like Jason Chen, Megan Nicole, Nine Diamond Prod. etc.

Beat San's musical inspirations are and equal share of western music as well as Indian Classical music. Since his childhood he was exposed to a lot of Carnatic music because of his dad who was an avid classical and Carnatic music enthusiast. And his love for western music was something that he developed as he grew starting from the pop charts meanwhile Bollywood music was there at par with everything else he heard.

Beat San's main musical inspiration is Bruno Mars, he likes how Bruno has been able to capture the soothing sounds of 90s and 80s and mix it with today's sound. Other than that his musical inspiration are artists like Michael Jackson, Justin Timberlake, Usher.
Venue
The Quarter
Royal Opera House, Mathew Rd, Opera House, Girgaon, Opera House, Girgaon, Mumbai, Maharashtra 400004, India