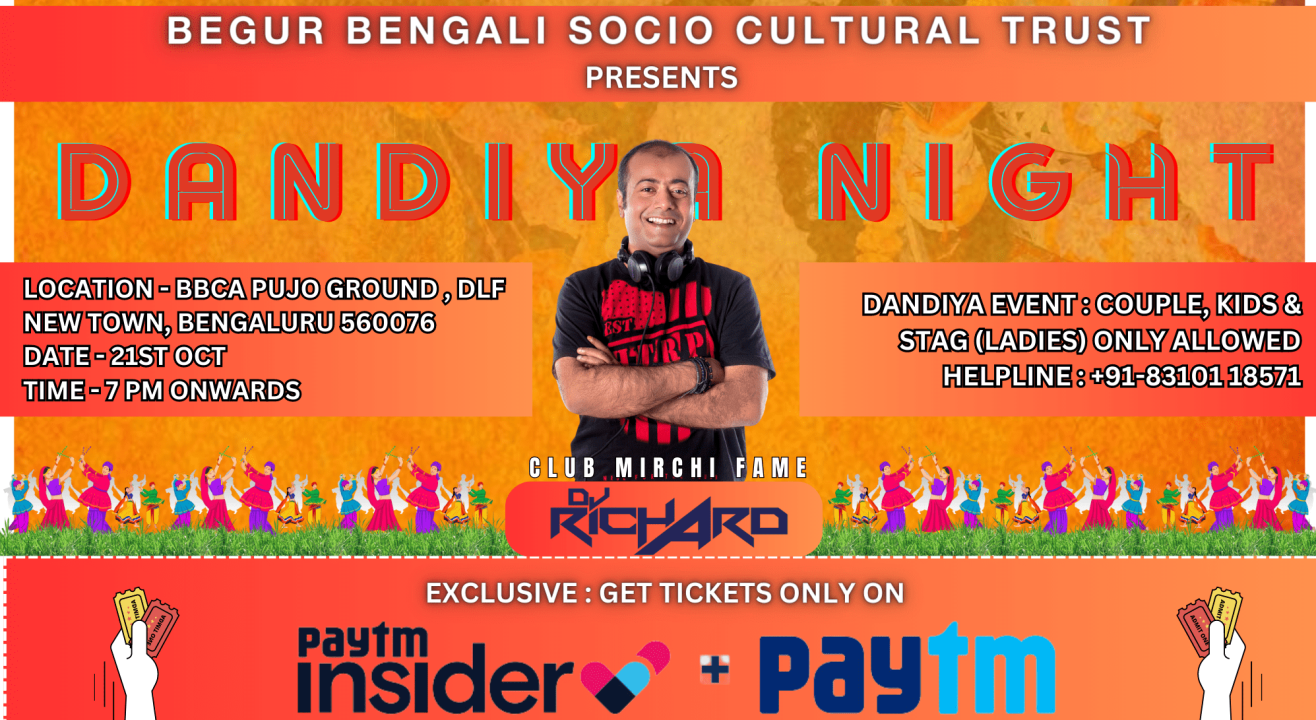 BBCA DURGA PUJA DANDIYA NIGHT WITH DJ RICHARD | Navratri 2023
Begur Bengali Socio Cultural Trust-(BBCA) Bengaluru(Durga Puja, Laxmi Puja, Kali Puja, Saraswathi Puja), Bengaluru
Event Guide
For Age(s)
Family Friendly
Language
Hinglish, Bengali, Hindi, Gujarati, Kannada, Punjabi
Live Performance
Enjoy a unique experience
Invite your friends
and enjoy a shared experience
BBCA DURGA PUJA DANDIYA NIGHT WITH DJ RICHARD | Navratri 2023
Begur Bengali Socio Cultural Trust-(BBCA) Bengaluru(Durga Puja, Laxmi Puja, Kali Puja, Saraswathi Puja), Bengaluru
Event Guide
For Age(s)
Family Friendly
Language
Hinglish, Bengali, Hindi, Gujarati, Kannada, Punjabi
Live Performance
Enjoy a unique experience
Invite your friends
and enjoy a shared experience
Event Guide
For Age(s)
Family Friendly
Language
Hinglish, Bengali, Hindi, Gujarati, Kannada, Punjabi
Live Performance
Enjoy a unique experience
Invite your friends
and enjoy a shared experience
Are you ready to groove to dandiya beats?
Calling all dance enthusiasts and party animals! On Saptami, 21st October, brace yourselves for an epic BBCA Durga Puja Dandiya Night like never before!
DJ Richard(Club Mirchi) all the way from Kolkata is going to set the dance floor on fire with his electrifying mixes! Put on your colourful attire, grab those dandiya sticks, and let's create some mesmerising moves!
Dandiya Rules and Regulations:
1. Tickets once booked/sold cannot be exchanged or refunded
2. An internet handling fee per ticket may be levied.
3. We recommend that you arrive at least 30 minutes prior at the venue for a seamless entry.
4. It is mandatory to wear proper ethnic
a. Lehenga choli, Saree for ladies
b. Kurta Pajama, Dhoti Kurta for gents
5. Unlawful resale (or attempted unlawful resale) of a ticket would lead to seizure or cancellation of that ticket without refund or any other compensation.
6. Rights of admission reserved
7. These terms & conditions are subject to change from time to time at the discretion of the organizer
8. Kindly use the same ID which you used while booking the ticket.
9. Tickets can be booked only as Couple or Couple with kids. NO single entry will be entertained.
10. Dandiya Sticks will be provided.
11. Food and Beverages is not included in the ticket price. Price mentioned is only for the entry of the event.
Begur Bengali Socio Cultural Trust-(BBCA) Bengaluru(Durga Puja, Laxmi Puja, Kali Puja, Saraswathi Puja)
Besides, McDonald, Market Ground, DLF Main Rd, Bhagyalakshmi Avenue, Rukmaiah Layout, Hulimavu, Bengaluru, Karnataka 560068, India
GET DIRECTIONS
BBCA DURGA PUJA DANDIYA NIGHT WITH DJ RICHARD | Navratri 2023
Begur Bengali Socio Cultural Trust-(BBCA) Bengaluru(Durga Puja, Laxmi Puja, Kali Puja, Saraswathi Puja), Bengaluru
Event Guide
For Age(s)
Family Friendly
Language
Hinglish, Bengali, Hindi, Gujarati, Kannada, Punjabi
Live Performance
Enjoy a unique experience
Invite your friends
and enjoy a shared experience