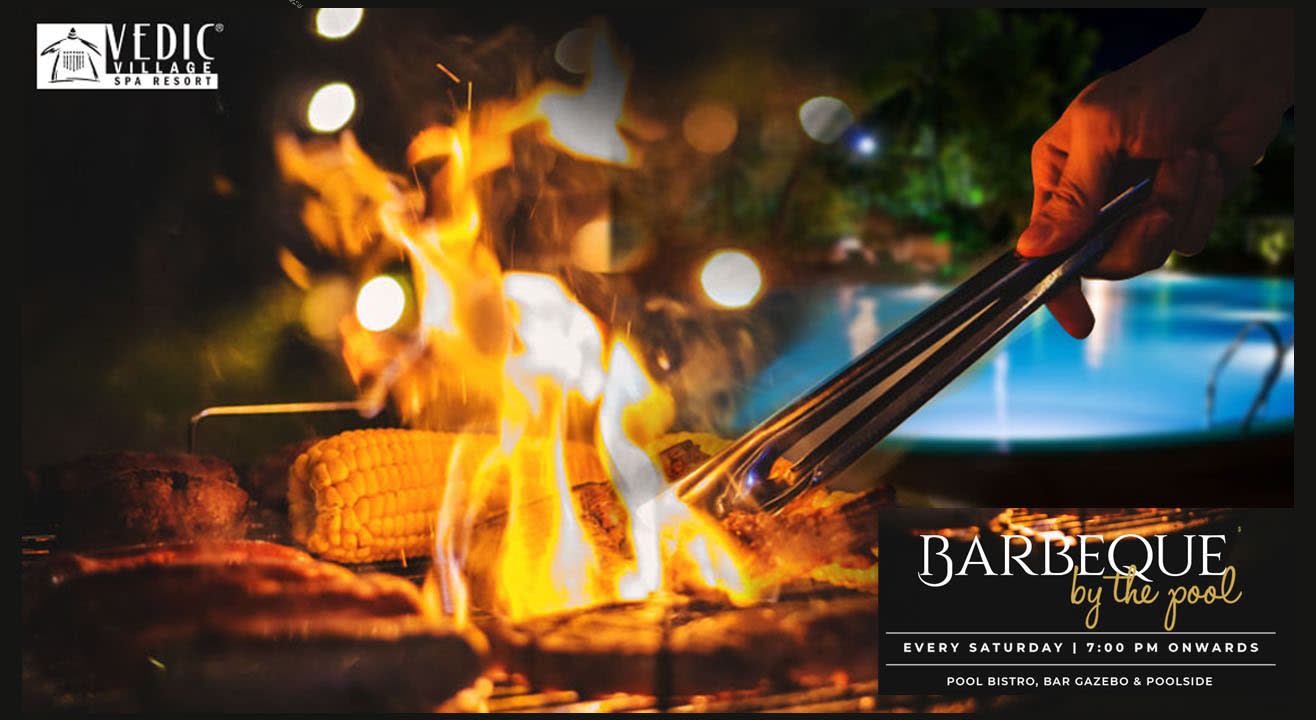 BBQ by the poolside I Vedic Village, Kolkata
The Vedic Village, Kolkata
Step out and enjoy this event
Invite your friends
and enjoy a shared experience
BBQ by the poolside I Vedic Village, Kolkata
The Vedic Village, Kolkata
Step out and enjoy this event
Invite your friends
and enjoy a shared experience
Invite your friends
and enjoy a shared experience
Our Barbeque Grills are ready to start, Make your Saturday night special by the poolside at Vedic Village.
Menu:
Soups
Cream Of Smoked Tomato | Chicken And Currypatta Broth
Bread Display
Bagels , Baguette , Challah , Ciabata , Corn Bread , Pretzel , Sour Dough , Desi Pao Flavoured Butter
Dips For Breads – Green Chilli Hummus | Tandoori Tomato Salsa
Salads & Dressings
Egg Mayo | Three Beans | Coleslaw | Chargrilled Veg | Thai Cold Veg Roll
Veggies To Choose From – Cucumber | Carrots | Broccoli | Mixed Lettuce Etc
Dressings - Caesar | Dill & Youghurt | Honey Mustard
Pickled – Carrot | Cucumber | Raddish – In Jar
From Hot Plate
Chipotle Paneer Tikka | Pesto Broccolli | Balasmico Mushroom
Moghlai Paratha
Chicken Mince Mash , Confit Potato Onion Seed Stir Fry
Charcoal Flamed
Honey Soya Wings | Cheesy Mutton Boti | Chicken Satay With Thai Basil Sauce.
From Hot Plate
Habanero Telapia | Jerk Spiced Prawn Skewer
Fresh Entally Sausage ( Chicken ) , Garlic Oil
From Deep Frier
Edmame Fritters , Spicy Ranch Dip
Karvapallai Chicken With Garlic Pepper Aioli
Fillers – From Stationed Buffet
Kabsa - Chicken & Vegetable | Cucumber Raita
Sarson Ka Saag | Paneer Khurchan | Dal Makhani | Makhmali Paratha | Makki Ki Roti
Pasta On Demand
Dips And Accompaniments
Chilli Aampapad | Panchforon Tazziki | Tamarind Maple | BBQ Sweet Chilli
Charred Cauliflower | Spinach, Oil & Garlic | Roasted Brussels Sprouts
Dirty Fries | Buttery Mashed Potatoes | Pearl Onions
Desserts
Moist Almond Cake | Caramel Jaggery Cheese Cake
Ice Cream—Vanilla , Chocolate Sauce
Hot - Medjool Dates And Nut Crepes
Terms & Condition:
◊ This event is particularly on every Saturday
◊ Event Timing - 07.00 PM to 10.30 PM
◊ Reservation for the event is mandatory
◊ Without reservation - entry will be subject to availability basis upon arrival
◊ Reservation voucher need to be shown to avail the booked services
◊ Packing of leftover food not allowed
◊ Child below 5yrs: Free
◊ Offer is inclusive of all taxes
◊ Voucher bought is Non Cancel-able and Non refundable.
The Vedic Village
Shikharpur, P.O, Bagu, Newtown, Kolkata, West Bengal 700135, India
GET DIRECTIONS
BBQ by the poolside I Vedic Village, Kolkata
The Vedic Village, Kolkata
Step out and enjoy this event
Invite your friends
and enjoy a shared experience