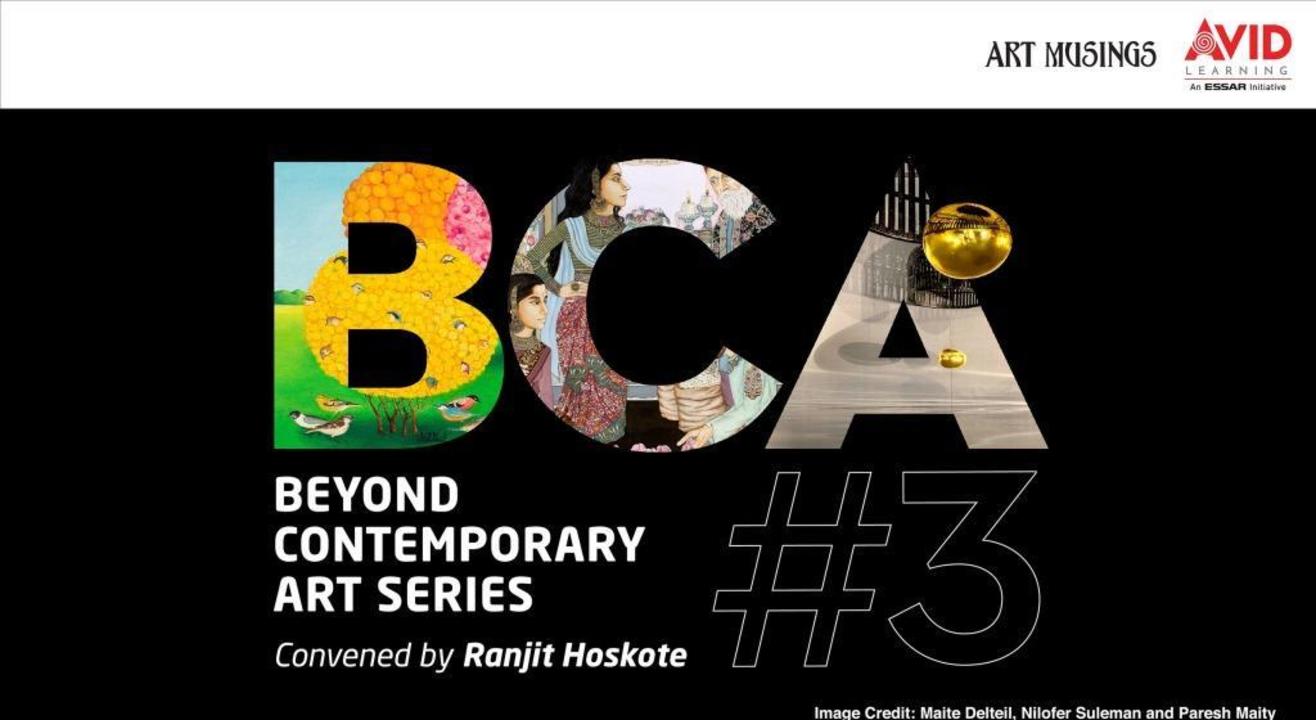 Art
BCA#3: The Shifting Ground of Performance Art
About
Art Musings Gallery and Avid Learning present BCA#3: The Shifting Ground of Performance Art, a panel discussion that will deconstruct the changes that performance art has witnessed with respect to the introduction of technology, relentless political movements and other critical factors, while examining the current state and future trajectories of the art form.
Join Multidisciplinary Artist Raghava KK and Artist Shilo Shiv Suleman who will be in conversation with Curator, Poet and Cultural Theorist Ranjit Hoskote.
The description of the discussion is as below:
These practitioners and experts will explore how performance art persistently operates against the definitions imposed on it, finding new meanings for itself in conjunction with changing times. As performance art continues to confront increasingly topical issues, the artists, audience and institutions it functions under experience a shift in roles occupied.
The spectator in performance art now more than ever, inhabits an active space, integral to the art practice. Unlike traditional forms of visual art, the audience is instrumental to the performance art piece, playing a critical role, with the artwork often culminating in the response and reaction of the audience. This panel discussion will examine the shift in the function of the spectator, the interactive nature of performance art, and whether the purpose of performance art in provoking the audience determines its categorization as a performance art piece.
With the advent of digital media, performance art has further distanced itself from the traditional notions associated with it. The panel will explore the reactions of performance artists to the social media age, the roles that technology plays in the performance art scene as being either an enabler for performance art pieces or a virtual platform for artists, creating a means to document and share, and the extent to which these have been followed through.
The discussion will additionally examine the commodification that performance art finds itself being subject to in today's day and age. In stark contrast to its beginnings that stressed on its transient nature, is the pressure to leave behind residue after a performance art piece mounting? How do performance artists succeed in sustaining themselves? Is performance art elitist and exclusive or is it a medium that represents the ordinary people? What is the present-day equation of performance art with galleries? From its origins where performance art was excluded from galleries to now taking on functions such as providing opening pieces for exhibitions, how has the attitudes towards each changed?
Read on for more about this unique Series of Discussions:
This talk marks the third episode of the third iteration of Avid Learning's Beyond Contemporary Art Series. BCA#3 is a series of discussions that will examine art making in today's world of exploding media boundaries, climate change, political upheaval, and scientific and technological innovation.
The series continues to extend the invitation to respond to new developments and debates, revolutions and trends, preoccupations and passions of the globalized art world and to reconsider the very fundamental role of art in the world we live in.
Previous iterations of the series probed the condition of the contemporary art through the lens of the Curator, Institution, Artist and Viewer and also looked at Art as Activism, Art and Technology, Art Education and Audience Building.
Beyond Contemporay Art # 3 addresses topics like Art's evolution into a hybrid practice, Art as a political tool in the age of social media and information proliferation, the role of the artist as environmental activist and the updated performative, scientific, activist and conceptual aspects of visual art.
The third edition is presented in conjunction with Art Musings Gallery's ongoing year-long exhibition The 20th – curated by Ranjit Hoskote – that celebrates two decades of the gallery. Art Musings is one of the earliest galleries to have been established in South Mumbai's vibrant, culturally rich Colaba area. (Rotating Exhibits will be on view between March –December 2019)
Join us for an absorbing panel that will examine the ever-changing landscape of performance art in the context of the burgeoning digital age!
Where: 1, Admiralty Building, Colaba Cross Lane, opp. to The Mehta International Eye Hospital, Mumbai
When: Wednesday, 9th October 2019 | 6:00 PM – 6:30 PM – Registrations | 6:30 PM – 8:00 PM – Discussion
About the Speakers
Named by CNN as one of the 10 most remarkable people in 2010, Raghava KK is a multidisciplinary artist and entrepreneur working at the intersection of art, science, technology, education and entrepreneurship. Raghava KK's art explores transcendence for the digital anthropocene without sacrificing the particular. Aside from working with traditional forms (painting, installation and performance) Raghava's art practice involves inventing media to express post-human contemporary realities. His painting exhibitions, instead of asserting identity, disturb the limits of the social and the perceptual self through the friction between found digital elements. His neuro-feedback artworks like MonaLisa 2.0 and his visual discovery engine Must#, anchor digital algorithms in physical space and in the specific locus of the viewer's body and her emotions. His iPad art book Pop-it, launched at TED Global in 2011, which presents children with multiple perspectives on the concept of the ideal family, won several awards, including a Best of 2011 award from Kirkus. Raghava's talk on visioning for 200 years was launched at TED. He has conducted talks and workshops for visionaries such as Tom Hanks, Jeff Bezos, Oprah Winfrey to think about the role of creativity in the future. Raghava was inducted into the National Geographic Society in 2013 as an Explorer for pushing the boundaries of scientific exploration through art. Artistic creativity for him is a deeply decentred enterprise shared with the users of the artwork, which is evident in his numerous collaborations with other artists, technologists, corporations, educationists, scientists, academia. His lectures, including 5 TED talks, are known for inspiring his audiences to expand their socially and psychologically settled selves using art. Raghava has been a keynote speaker at top conferences including Wired, Google, DLD, TIE, TED, Cities Summit, Israel, YPO, UN, NOVUS, etc. In 2019, Raghava was invited to speak at the UN headquarters on the occasion of man landing on the moon to present a vision for the future of art and culture. The popular Netflix show 'The Creative Indians' dedicated an episode on his art and life. Solo exhibitions with Art Musings include Sublime Machines, 2018; Ridiculous Copycats, 2015; That's All Folks, 2013; Exquisite Cadaver, 2011; Brooklyn Bound R-Train, 2009/10 and Drawn and Quartered, 2008. He has also shown with Art Musings in several editions of the India Art Fair, New Delhi. The artist lives and works in Woodstock, NY and Bangalore, India.
Shilo Shiv Suleman
Ranjit Hoskote has been acclaimed as a seminal contributor to Indian art criticism and curatorial practice, and is also a leading Anglophone Indian poet. He is the author of more than 30 books, including Vanishing Acts: New & Selected Poems 1985-2005 (Penguin 2006), Central Time (Penguin/ Viking 2014), and Jonahwhale (Penguin/ Hamish Hamilton 2018); and the monographs Zinny & Maidagan: Compartment/ Das Abteil (Museum für Moderne Kunst, Frankfurt/ Walther König 2010) and Atul Dodiya (Prestel 2014). Hoskote curated India's first-ever national pavilion at the Venice Biennale (2011). He co-curated the 7th Gwangju Biennale with Okwui Enwezor and Hyunjin Kim (2008). He was co-convenor, with Maria Hlavajova, Kathrin Rhomberg and Boris Groys, of the exhibition-conference platform Documents, Constellations, Prospects (Haus der Kulturen der Welt, Berlin, 2013). He co-curated, with Rahul Mehrotra and Kaiwan Mehta, the exhibition-conference platform The State of Architecture: Practices and Processes in India (National Gallery of Modern Art, Bombay, 2016).
About Partners
Art Musings is one of the earliest galleries to have been established in South Mumbai's vibrant and culturally rich Colaba area. Founded in 1999, well before the emergence of the area's 'gallery district', Art Musings has been a trailblazer both in terms of the artists it represents and the exhibitions it has organised both in its own space and at such major venues as the city's Jehangir Art Gallery. Over the years, Art Musings has nurtured a spectrum of artistic practices, working across generations and choices of medium and vocabulary. It has presented the work of such legendary Indian modernists as SH Raza, MF Husain, FN Souza, KG Subramanyan, Ram Kumar and Satish Gujral, all members of the first generation of post-colonial Indian artists. The gallery has also enjoyed a long-term relationship of collegiality with stellar practitioners of distinctive approaches such as Anjolie Ela Menon, Sakti Burman, Baiju Parthan, Paresh Maity and Jayasri Burman. Art Musings is also proud to be associated with an artist renowned in the domain of global contemporary art, Nalini Malani. Among the younger artists with whom the gallery works are Raghava KK, Shilo Shiv Suleman, Smriti Dixit, Gopikrishna, Maya Burman, Ajay Dhandre and Nilofer Suleman, their trajectories encompassing many diverse directions on the compass of contemporary art. In 2017 Art Musings exhibited the works of Sakti Burman in a retrospective at the esteemed National Gallery of Modern Art in Mumbai, entitled 'In the Presence of Another Sky' featuring over 300 works from the artist's illustrious career, curated by Ranjit Hoskote. In 2006, Art Musings emphasized its commitment to sustaining the knowledge infrastructure of the Indian art scene by inaugurating its publishing initiative, Afterimage, which has for over a decade published a series of high-quality art-historical monographs that are extensively researched, elegantly written and beautifully produced. These include Sakti Burman: In the Presence of another Sky; SH Raza: Nirantar; SH Raza: Vistaar; Maïté Delteil: Enchanted; Baiju Parthan: A User's Manual, and Baiju Parthan: Re-set. It is the endeavour of the gallery to take the works of the artists it represents to a viewership and a collector base that is spread across Asia, Europe and North America. The gallery recently celebrated their 20th anniversary in February 2019 with an exhibition at the iconic Jehangir Art Gallery featuring works of an inter-generational ensemble of 20 artists who have enjoyed a continuing association with Art Musings.
Avid Learning, a public programming platform and cultural arm of the Essar Group, has conducted over 1000 programs and connected with more than 125,000 individuals since its inception in 2009. Driven by the belief that Learning Never Stops, AVID's multiple formats like Workshops, Panel Discussions, Gallery Walkthroughs, and Festival Platforms create a dynamic and interactive atmosphere that stimulates intellectual and creative growth across the fields of Culture & Heritage, Literature, Art and Innovation. Facebook:www.facebook.com/Avidlearning; Twitter: www.twitter.com/Avidlearning; Instagram: @avidlearning
Venue
Art Musings Gallery
1 Admiralty Building, Colaba Cross Lane, opp. to The Mehta International Eye Hospital, Cuffe Parade, Mumbai, Maharashtra 400005
GET DIRECTIONS