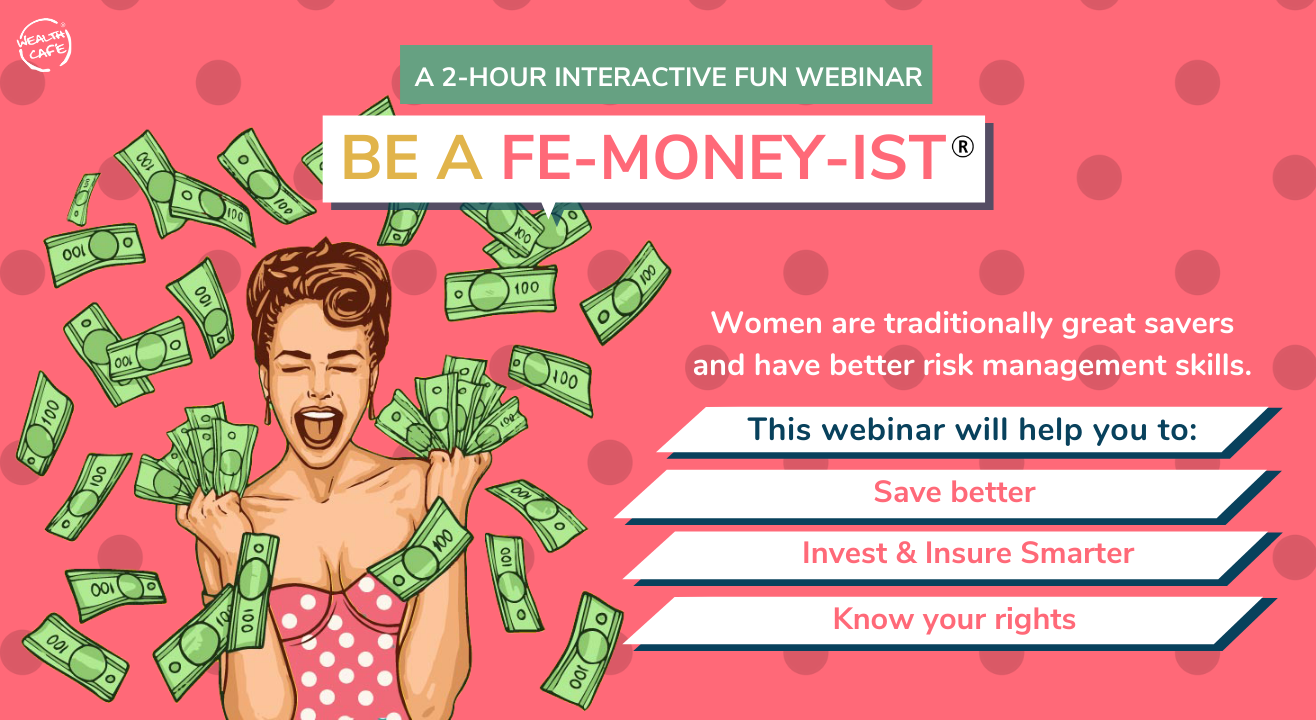 Be A Fe-Money-Ist Financial Webinar
Enjoy this event from your home
Invite your friends
and enjoy a shared experience
Invite your friends
and enjoy a shared experience
About the Event
This March, celebrate yourself, and let's change the perspective about women and make ourselves great at not only saving our (and our family's) money but also invest and growing it to achieve financial freedom.
This workshop is a breakthrough in finances for 21st-century women. Designed around the broad existing spending behaviour and specific individual patterns, this course will help you plan, manage and remodel your financial life.
Whether it is going for your favorite product on sale or renting a house, as a woman you make decisions involving money directly or indirectly, EVERY SINGLE DAY of your life. Like it or not, these decisions ultimately impact your store of wealth. (There's no use trying to escape managing money). So might as well learn to make an informed choice, right?
This workshop will enable you to make the best financial choices and decisions for yourself. Once you have money management skills in your pocket, independence and agency will follow. For we know, creating wealth is a sure shot chance at personal freedom and equality.
The 2-hour webinar is divided into 3 parts where we would focus on the following:
I. Things women do right and could do better
How women are traditionally great savers.
Learn about how managing your cash flows - the first step to wealth creation.
Using credit cards to spend smartly and save more.
II. Things you must do - Investing & Insuring
Investing options beyond gold & fixed deposits.
Setting up an investment method to suit your needs.
Realize the power of long term investing
Start gossiping about investments & stocks
Know how women have better risk management skills
Health insurance needs for women
Attach a financial value to your life and insure it
III. Knowing your rights
Streedhan - what it is and your rights
How the inheritance laws are designed
Actionables to ensure your wealth reaches the right people
Who Is Conducting The Webinar?
Akruti Agarwal
A Chartered Accountant with over 5 years of experience in the field of consulting, Akruti Agarwal has worked with the Big Fours in the financial world. Akruti has been recognized and listed in India's Top 100 women in Finance by AIWMI. She is a money wizard.
Over the years, she has conducted various workshops for women, young millennials, couples, and corporate employees. Being a people's person, her enthusiasm, relatable content, and on-point references will make money management seem super breezy for you.
What do you get :
A 12-week actionable emails post the webinar
Digital guide books and Investing tools to help them compute and know their investments.
Risk Profile Tool
Asset Allocation Tool
Wealth Cafe Investing Tool