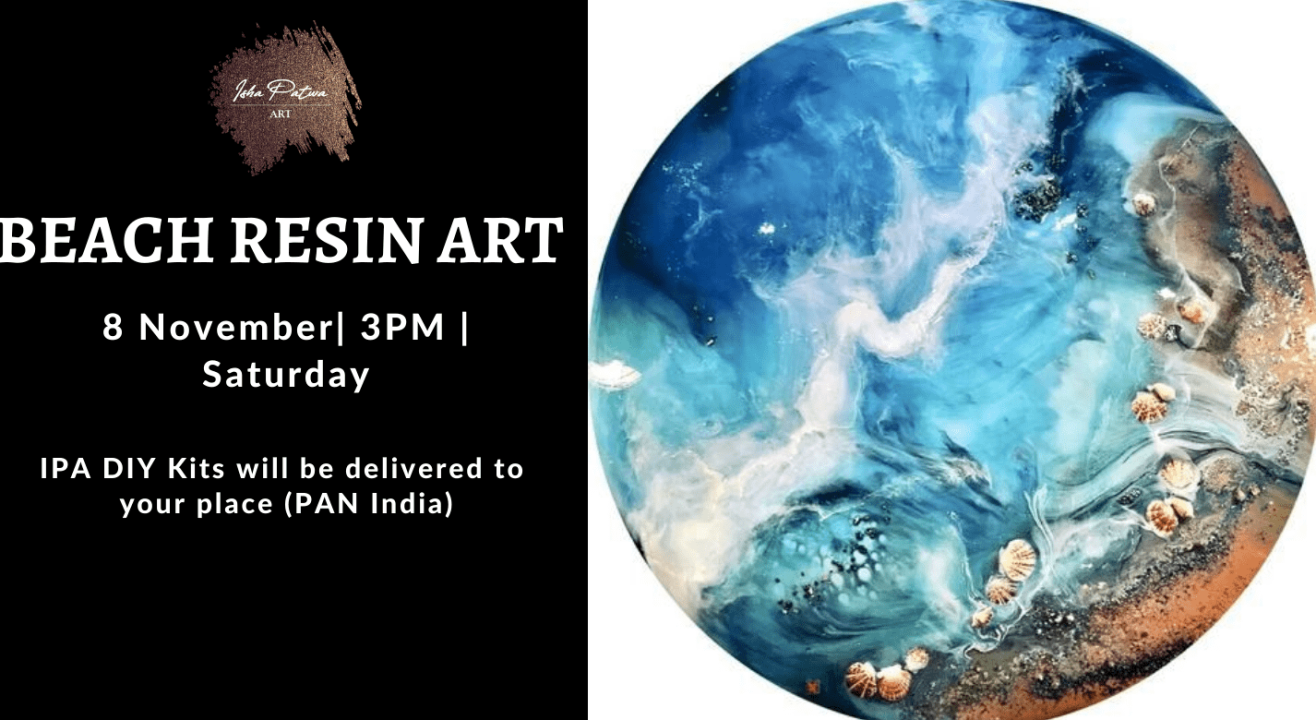 Beach resin art- IPA DIY Kit
Enjoy this event from your home
Invite your friends
and enjoy a shared experience
Beach resin art- IPA DIY Kit
Enjoy this event from your home
Invite your friends
and enjoy a shared experience
Invite your friends
and enjoy a shared experience
Resin art workshop
Epoxy resins are a two-component system consisting of resin and hardener. By mixing the two components, a chemical reaction takes place so that the liquid resin gradually hardens to a solid form. The result is a high-gloss, clear surface.
You will create your own amazing glossy piece during this workshop. The trend to use resin in art comes from the USA and Australia. With resin you can create works of art that enchant with their clarity, luminosity, brilliance and depth.
Inclusions
Basics of resin art, techniques for beginners, chemistry behind it, precautions and science.
Properties of resin, types of resin, how to select your resin
How to mix the resin properly to avoid it being tacky
How to mix pigments to your resin and various pour techniques
Why put rubber latex and its properties
Q & A Session
ABOUT THE EVENT
DATE: 8 November, Sunday
TIME: 3pm
VENUE: Zoom, at your place
COST: 2499/- (Incl. IPA DIY Kit)
ABOUT IPA DIY KIT
You'll take back a round MDF base with frothy beach waves
The kit is included with the ticket charges and also includes delivery charges
Materials you would need to purchase that are not included: Blow drier high voltage or heat gun, Kitchen measuring scale (which measures grams)
Inclusive of IPA DIY kits delivered at your doorstep!
· Only for Indian residents
ZOOM CALL
Please be ready with all required materials at least 5-10 mins before the start of the session. The ticket price is per user per session. For example, if two people are attending using one login, please pay for 2 people. Tickets once booked, cannot be cancelled/ rescheduled.
To simplify communication, please register using the participants name and phone number (on which whatsapp is functional). Please note the all timings are in IST (which is GMT+5:30hrs).
Because of logistical reasons, it will not be possible to take in late entries. Also, we would recommend you familiarise yourself with Zoom and its usage so you have no trouble during the session. We will be sending you a link 10 mins before the start of the session, on whatsapp, on the number you provided during registration. You can join in to the session through that Zoom link.
ABOUT THE ARTIST
Ever since Isha Patwa was 3 year old, she has been fond of throwing colours on a canvas - intercepting an art form of herself. Today, over 20 years later - she has found herself specialising in different forms of art - ranging from various oil painting techniques like knife and finger techniques to fluid art forms. With an attempt to share her passion, she also holds online fluid art workshops PAN India. In the process of wanting to pursue designing as a career to doodling in between work meetings, her bond with art only grew stronger. Apart from being an artpreneur, she's also a dance choreographer and social entrepreneur along with pursuing a career in Finance - combining various art skills not only on canvases, but in life.
ABOUT ISHA PATWA ART (IPA)
Bringing together our passion for art, we - a father-daughter duo have found comfort and solace in art, artists, ideas and more. With constant love and admiration for painting, we have grown up with the ideology to paint our hearts out - and have seen this run in our family. Bringing on this platform - our creativity and visual thinking - we find it difficult to combine letters and sentences to talk about how we sanded down that one spot or how we decided the piece was finished - not to mention expressing the larger meanings with decisions, or describing how the work will hum with energy in a viewers living room. But we hope you like what we create and we leave you wanting more.
For more details visit - https://www.ishapatwaart.com/