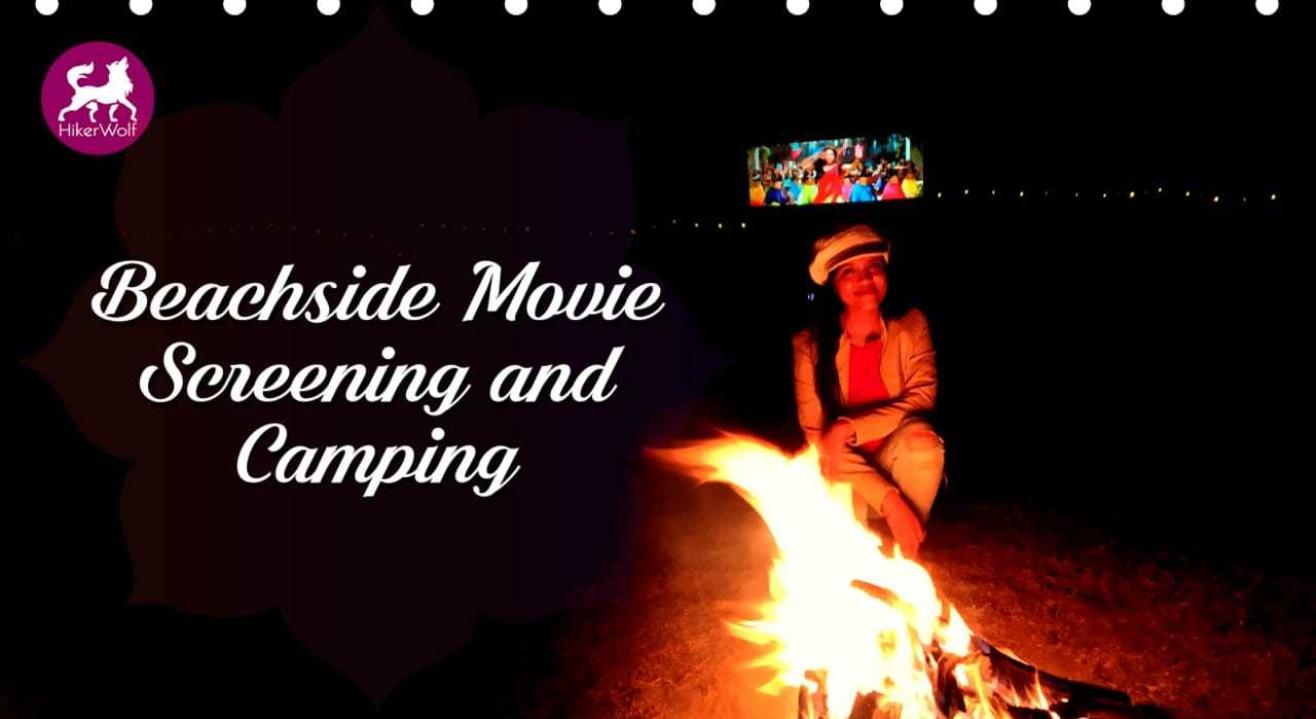 Camping
Beach side Movie Screening & Camping
About
The Beach camping experience is defined by the unique experiences it offers.
A swim in the azure sea welcomes you to replenish the body and soul.
This engrossing weekend escapade lets you try your hand at barbecuing, even as you watch the sun set over the horizon and experience the best movie
screening by the beach, under twinkling stars.
Retire for the day beside a bonfire while experiencing the movie by the beach and gazing at the stars.
Partake in the various adventure water and beach sports (Banana Ride, Jet Ski, and Bumper Ride)
Hiker is the explorer within you. The part of you which wants to reach out for more! Wolf is that side of you which yearns for a sense of belonging, the side which wants to bring people together and be there like Family!!

HikerWolf gives you a sense of belonging and guides you through exploring the world through a different lens. With each event, our family grows and the bond becomes stronger with every passing day!!

We make sure that every minute you spend with us is so energized and power-packed that it keeps you buzzing for days! Every step develops a backstory! Every face you see is that of a friend-to-be!! Every photograph is a flashback of a movie like experiences!

With HikerWolf, there are no Goodbyes. It's always, See You Again Soon. So, See You Soon! There's so much room in our family! You are welcome to be a HikerWolf.

Batch 1: 26th Oct '19

Batch 2: 9th Nov '19

Batch 3: 23rd Nov '19

Batch 4: 30th Nov '19

Batch 5: 14th Dec '19

Batch 6: 28th Dec '19

Batch 6: 11th Jan '19

Batch 8: 25th Jan '19

Batch 9: 8th Feb '19

Batch 10: 22nd Feb '19

Mumbai to Mumbai: 2499/-

Campsite to Campsite: 1999/-


Gateway of India Mumbai at 12:30pm
Alibag at 4:00pm

Day 1:
04:00 PM: We reach the campsite and freshen up with some delicious snacks and welcome drink

05:00 PM: We'll have an interactive icebreaker round to get to know your fellow travelers better. The soothing twilight will lure you to stay in, take in the beach aura and click photos of the fifty shades of sunset.

07:00 PM: Let's Party!!! We have arranged a special musical evening for you folks.

08:30 PM: Time to warm up the grill and get Barbeque going! (Jain/Veg/Non-veg)

09:30 PM: We start to serve dinner to you all. (Jain/Veg/Non-veg unlimited food)

10:00 PM: We will preview the movie that you guys would have voted the most.

Just lay back and enjoy the movie by the Bonfire to keep you nice and cozy for the night.

00:30 AM: After calling it a day, we'll get into our tents for a sound comfortable sleep.

Day 2:
06:30 AM: Morning Sunshine! See the sunrise as it appears from the brim of the sea.

07:00 AM: Enjoy the Sun at its best colors and a cup of hot tea

07:30 AM: Enjoy the pleasant morning along the beachside, play games, take a dip into the sea or one can go for the water sports activities.

10:00 AM: With a bunch full of beautiful experiences and lasting cheerful memories, we bid a final goodbye to the mesmerizing segment of the life journey in the chaotic mundane routine!!

Activities

• Movie Screening by the beach
• Beachside Camping
• Make Your Own BBQ (Veg/Non-Veg)
• Bonfire
• Star Gazing
• Tent Stay
• Fun Games

Other Inclusions

• Camping lights and mats
• Toilet facilities
• Mineral water
• Barbeque
• Meals (Evening Snacks, Dinner (Jain/ Veg/ Non-Veg), Breakfast)
• Beach View
• Hammocks
• Basic First Aid
• Parking available
• Pet-friendly

• Insurance
• Water sports facilities like the Banana ride, Bumper ride, and Jetski on site
• Anything not mentioned in the above inclusions list

• Comfortable Footwear
• Mosquito Repellent
• Extra Set of Clothes
• Sunscreen
• Sunglasses
• Waterproof Bag
• Flip Flops
• Towel
• Camera
• Basic Toiletry
• Mobile Charger
• Power Bank
• An extra bag to keep your wet clothes
• Personal Medicines if any

Note: Do not carry any valuables. Please take care of it in case you are carrying the same. We will not be responsible if you lose them by any chance.
Venue
Beach Camping Revdanda
Beach House, Ravdanda Beach Access Rd, Theronda Fata, Revdanda, Maharashtra 402202
GET DIRECTIONS