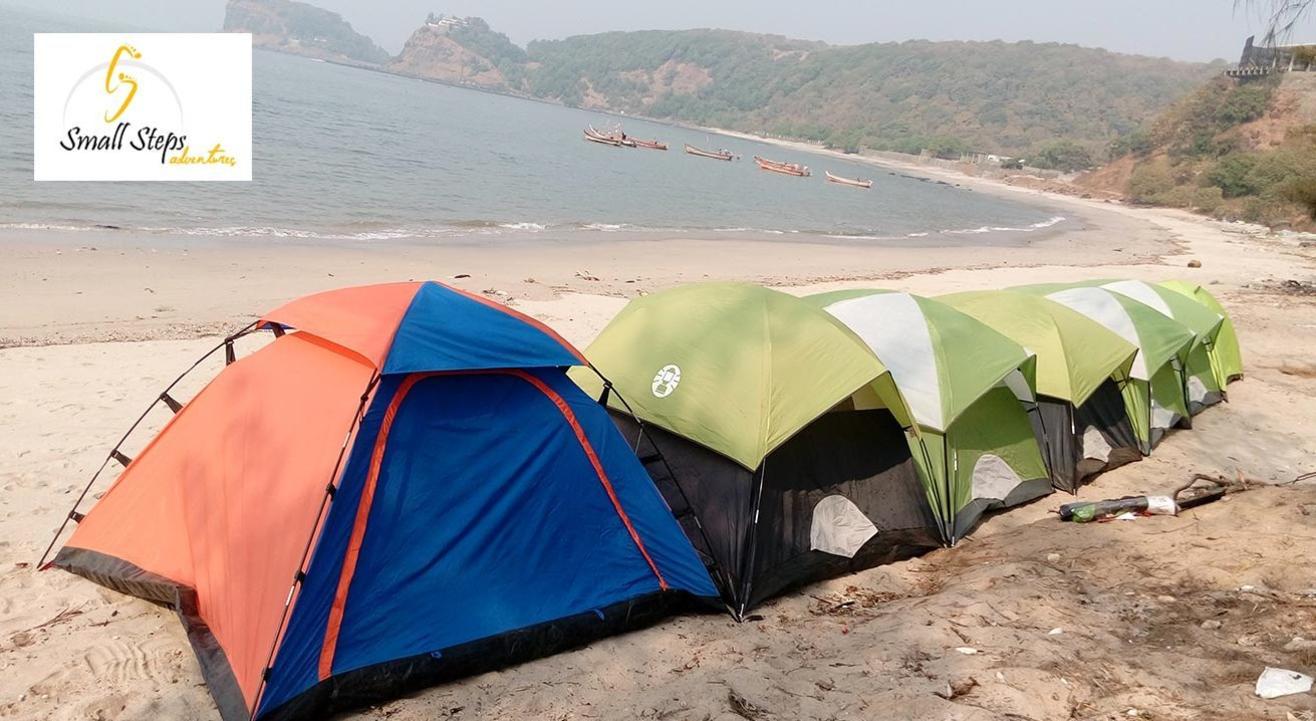 Camping
Beachside Camping near Kashid beach, Alibaug
About
Beachside camping is restricted by Alibaug Police, but it is a dream for everyone and hence Small Steps Adventures have a private beachside land which makes a perfect private beach camping destination for you. Beachside campground is surrounded by old style parking shacks for fishing boats of local villagers. Sitting on a beach with your loved ones and watching the sunset is no more a dream. An evening on beach with cool breeze one can enjoy campfire and BBQ.


Who can join? Anyone, especially those who will love to enjoy camping, bonfire beach-side with lovely food.
Kashid Beach & water sports
Janjira Fort
Korlai Fort and lighthouse
Murud Beach
Kolaba Fort
Karmarkar Museum
Sagargad Fort
Birla Temple

Day 1:
03:30 PM: Reach campsite by your own travel (bike/car)
04:00 PM: Evening snacks and hot tea will be served once you freshen up. One has to carry bags and belongings to the tents pitched at camping area. Once you are settled down, it's up to you how much you can enjoy the seashore.
Place is all time best for bird and sunset photography. Instead of doing anything, one can just relax & unwind on the sounds of waves.
After the sunset, one can feel the cold breeze waving and that's the best time for campfire & ghost stories.
09:00 PM: Delicious dinner (veg/non-veg) will be ready.
One can enjoy late night dance with music amidst nature.

Day 2:
06:30 AM: Hangover wakeup call
08:00 AM: Morning tea is a must if it's a chilled morning
09:00 AM: Hot breakfast will be waiting for you
09:30 AM: Bye-bye with loads of memories and pictures

Welcome tea & snacks Dinner (veg/non-veg) Local fishing boat ride Next day breakfast Music system for group Tent with bedding and blanket, pillow.
Travelling till campsite
GST & any other personal expenses
Cancellation and refund policy
If cancellation done prior to 15 days of outing 75% will be refunded.
If done prior to 10 days of outing 50% will be refunded.
After that no refund will be provided.
Alibaug roads are not in good condition. One can take different route (good in condition but less used) - Panvel - Khopoli-Pali-Roha-Alibaug.
There might be no networks for few, please inform the same to your loved ones.
Camp manager's decision will be final and binding.
Small Steps reserves all the right to change/deviate/cancel the plans without prior notice.
Telephonic confirmation is mandatory; if unable to contact SSA, then send a text message and they will call you back.
Please avoid wearing gold jewellery or any other valuable things.
Hukkah is strictly prohibited.
You need to step out of your comfort zone to experience something truly extraordinary. And usually, all it takes is one small step. Small Step Adventures is all about the little thrills and they offer a wide range activities including trekking, camping, waterfall rappelling, river rafting, rock climbing and valley crossing.