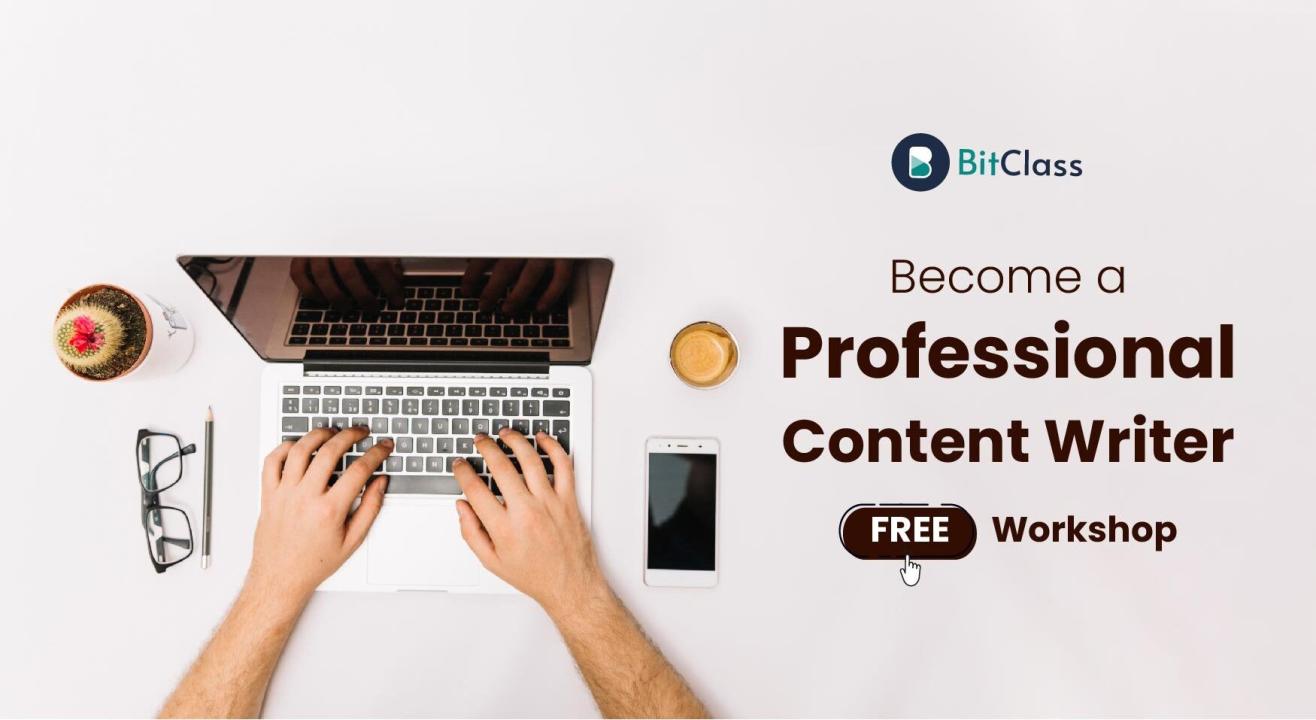 Become a Professional Content Writer | Pen down Effective & Powerful Words
August 13 | 12PM - August 15 | 1PM
Enjoy this event from your home
Event Guide
Masterclass
Learn from an expert
Invite your friends
and enjoy a shared experience
Become a Professional Content Writer | Pen down Effective & Powerful Words
August 13 | 12PM - August 15 | 1PM
Enjoy this event from your home
Event Guide
Masterclass
Learn from an expert
Invite your friends
and enjoy a shared experience
Event Guide
Masterclass
Learn from an expert
Invite your friends
and enjoy a shared experience
About this Course
Build a successful career by learning professional content writing! Would you like to learn how to write or to learn how to write well? How about creating epic content that people click on and actually read?
This FREE workshop is designed to awaken you today and offer actionable, practical guidance for tomorrow. If you are ready to take your writing up a notch, then it's time to get started!
Learn the craft of effective content writing from the ground up. An email, a web page, an article, a blog—every time you put words on paper (or screen), you're saying what's important to you and making it real. We will show you how to develop an idea that's easy to write and make your content stand out.
Convey the clarity of your ideas in writing.
Find and weave together different pieces of your idea into a cohesive whole.
Ensure that your ideas are presented in a way that makes an impact.
Don't know where to begin? Without guidance, it can become overwhelming and stagnant.
Make it meaningful and memorable. You'll find your voice and learn how to use it to communicate exactly what you mean.
Give it a twist that's uniquely yours. Walk away with content that actually sells—whether it's an article or a social media post!
What do you learn?
How to build a writing habit
Why do you need to write well?
How to write clearly
The basics of good communication
Writing with structure
Examples of effective communication
A peek into what really happens in the world of communication
Make writing a career.
Applying for jobs
Building a portfolio
How to build a good resume and cover letter
Who can join?
Writers, copywriters, and bloggers
Consultants
Freelancers, Students, Working Professionals, and Aspiring Writers
Content Creators, Digital Marketers, and Social Media Experts
Entrepreneurs
Those who want to work from home
Anyone interested in writing?
Why should you join?
This free session is designed keeping in mind the requirements of today's generation or business requirements.
You will learn all the essential core elements of how to develop content and write for your audience – how to write something that makes an impact.
It will offer an insight into the real world of writing.
You will be exposed to practical aspects of writing—more than just tips and theory.
Get everything you need to know as a writer to hit the ground running.
When you write, you're creating your own future.
By the end of the workshop, you'll have learned to understand why it is important to be great at writing and not mediocre. You'll gain insights into how to develop a strategic approach to writing that will advance your career.
Register Now for Free!
Become a Professional Content Writer | Pen down Effective & Powerful Words
August 13 | 12PM - August 15 | 1PM
Enjoy this event from your home
Event Guide
Masterclass
Learn from an expert
Invite your friends
and enjoy a shared experience