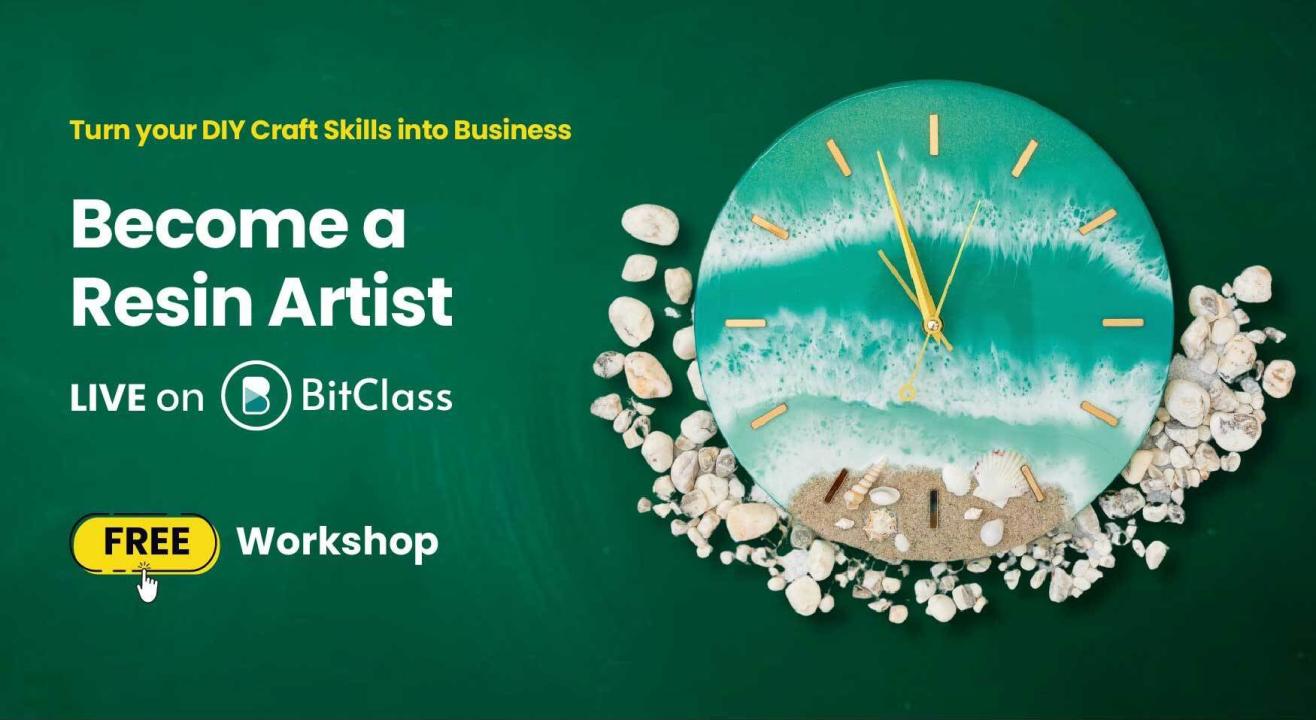 Become a Resin Artist | Turn your DIY Craft Skills into Business
Enjoy this event from your home
Event Guide
Masterclass
Learn from an expert
Invite your friends
and enjoy a shared experience
Become a Resin Artist | Turn your DIY Craft Skills into Business
Enjoy this event from your home
Event Guide
Masterclass
Learn from an expert
Invite your friends
and enjoy a shared experience
Event Guide
Masterclass
Learn from an expert
Invite your friends
and enjoy a shared experience
Are you an artist looking to learn resin art? Do you already have a small business and wish to add resin art as one of the many art forms you've mastered?
If you said yes, then you are in the right spot! Welcome to DIY Resin Art workshop where you can successfully start your hand-made business.
Resin art is a mesmerizing art where you try to create patterns that resemble natural things like beaches, seascapes, and flowers, the possibilities are truly endless. Now here's the catch: You don't need prior art knowledge or experience to get started with resin art!
This workshop is for absolute beginners in the world of resin art. In this course, you'll go through some really easy ways, to play with resin mediums to create a fun, interesting, and colorful art pieces.
What will you learn?
What is resin?
Types of resin and its uses.
Pot life, curing time, seasonal effects
Types of pigments
Types of substrates
Safety precautions to take while working with resin
Curing precautions & aftercare
Do's and don'ts of resin
Details of sourcing resin art supplies
Create a Resin beach pour
What are the materials?
Resin
Pigments
MDF base (any size preferably 4,6,8 inch)
Blow-torch
Cups
Ice cream sticks, stirrers.
Sand
Materials for islands/rocks
Gloves
Moss/artificial grass
Fevicol
Straw
Measuring cup/ beaker
What are the benefits?
Learn excellent resin techniques
Create your resin art piece
Become a resin artist
Start your small business successfully
By the end of this course, you will be able to create stunning art pieces and upskill your craft abilities. You will also have the creative skill to turn your passion into a fruitful business!
Let your creativity flow with the resin art form and REGISTER TODAY!
Become a Resin Artist | Turn your DIY Craft Skills into Business
Enjoy this event from your home
Event Guide
Masterclass
Learn from an expert
Invite your friends
and enjoy a shared experience