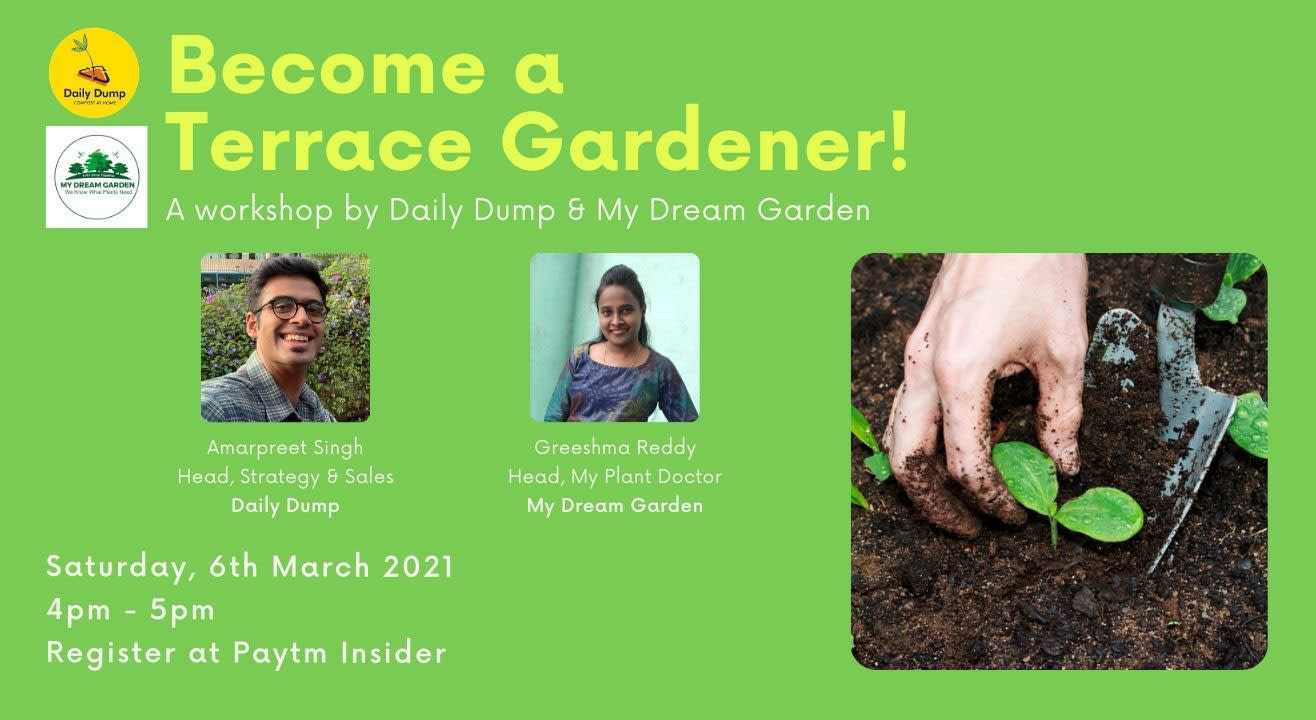 Become a Terrace Gardener
Enjoy this event from your home
Event Guide
For Age(s)
Family Friendly
Masterclass
Learn from an expert
Invite your friends
and enjoy a shared experience
Become a Terrace Gardener
Enjoy this event from your home
Event Guide
For Age(s)
Family Friendly
Masterclass
Learn from an expert
Invite your friends
and enjoy a shared experience
Event Guide
For Age(s)
Family Friendly
Masterclass
Learn from an expert
Invite your friends
and enjoy a shared experience
Do you want to beautify your terrace?
Do you want to know how to grow your own organic vegetables, herbs and fruits?
Ever wondered why someone else's plants looked greener?
You've come to the right place! Terrace Gardening, also known as 🏡 roof-top or Kitchen gardening is a great way to connect with your family and spend some quality time growing a variety of produce, while at the same time transforming the empty space into lush greenery bringing in some fresh air! 🌱
What better way to 💪 boost your gardening techniques than learning to make your own compost! By Composting your food waste, you not only get rich manure for your plants, but also help in keeping 60% of your waste away from being dumped into the landfill!
You can witness the circle of life in your home too!
We at DailyDump are partnering with MyDreamGarden, to teach you the basics of Terrace Gardening along with Home Composting, join us for a fun Saturday evening!
Key takeaways from this session:
Learn how to set up a terrace garden
Tips and tricks to maintain and grow your plants
Know the basics of why and how to compost
Become an inspiration for others to start ✨
About the organizers
Daily Dump and My Dream Garden are coming together to host this workshop on composting and terrace gardening.
Daily Dump is a pioneer in designing and building products and services for decentralized waste management in homes, communities, offices and public spaces. They are a design led company and use design to help imagine alternative scenarios that can help change behaviour. Their objective is to reduce waste, improve material recovery, enable better livelihoods and to do this through the voluntary collective action of urban citizens.
My Dream Garden is a leading urban farming company in india, which is exclusive in facilitating and guiding people to grow their own chemical free foods on the Terrace, Balcony & Empty land. They have been guiding more than 3 lakh garden enthusiasts through online consultation services to become successful and confident in growing plants. They help those who want a fresh environment with decorating balconies, front space, indoor and terrace to grow fresh organic vegetables on empty space.
Become a Terrace Gardener
Enjoy this event from your home
Event Guide
For Age(s)
Family Friendly
Masterclass
Learn from an expert
Invite your friends
and enjoy a shared experience