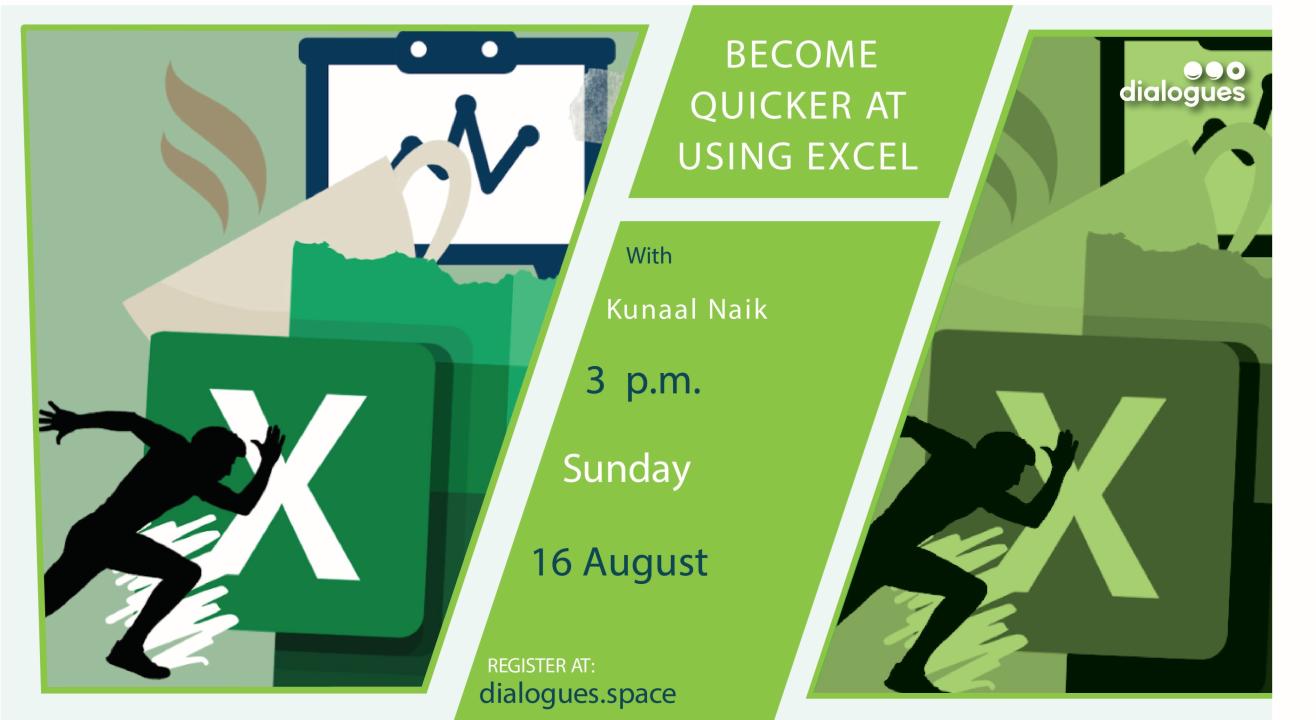 Become Quicker at using Excel
Invite your friends
and enjoy a shared experience
Invite your friends
and enjoy a shared experience
About the Event
If you ever created a report using Excel and felt the need to be quicker, then this class is for you.
In this session, we will cover topics that will help you do things on Excel much quicker and save time for other tasks. Join us in this session to gain mastery on using Lookup and reference, dealing with dates, basic Reporting and Automation without the use of VBA. These topics provide exposure to little tips and tricks which will help you improve your Excel skills.
Broad Topics:
Lookup and reference - VLOOKUP, Match, Index, Column, Row
Dealing with Dates - Date, Day, Month, Year, Weekday, Networkdays etc...
Reporting and Automation - Name Manager and Format as Tables
Summary Functions - Sumifs, Countifs etc...
Each topic will have multiple examples for you to solve. We will first teach the concept and ask you to solve a new situation. It will help you retain what you learned better. Should you have any doubts, or want to explore more, we can provide some resources to help you improve better.
During the session, you will need Excel and files to work and practice along. We will provide the data at the start of the session. For each example, you will have a separate sheet to maintain the focus. Please be seated in a conformable place as you will be doing a lot of work during the session. We will have a small break in between for you to grab a coffee or stretch yourself.
During the session, if you have any specific doubts that will help you become quicker at the current work where you use Excel, please let us know so that we can take examples of the same.
About the Host : Kunal Naik
I am into Data Science by profession, and Excel was the first tool I got introduced that fascinated me.
When I started to work, I had other tools as my disposal, but I stuck to choose Excel to get things done. It seemed natural at first, but when I started working on specific requests, I realized I took so much time on producing each report. Many people suggested I use other tools, but I had a hunch; there was more to Excel. I knew I had to do something smarter to get things done quicker. Since then, I have always found ways to do things smarter and faster with Excel and save time to do other things or drink a Coffee with all the time remaining. I mostly used YouTube back then. Today I have my channel teaching Data Science.
IMPORTANT:
- This is a LIVE session, not a pre-recorded tutorial
- Get instant feedback
- Limited seats only so everyone gets personal attention from the artist / trainer
- For best experience join the workshop from your laptop / desktop or watch on phone on landscape mode.
- Ensure your internet connectivity is strong.
- Do login 10 minutes prior to the workshop. This would help us work out any technical difficulties so we can start the session on time.
- If you are unable to attend the live session due to technical reasons, please call us (+91-6361358825)
- This is a closed event. Only registered email ids will be allowed to join the session.
Please note that you will receive the link of the session via Google Calendar Invite 1 hour prior to the session. If, for some reason, you fail to receive the email please get in touch with us on team@dialogues.space or call us on +916361358825 and we will send the invite to you again.