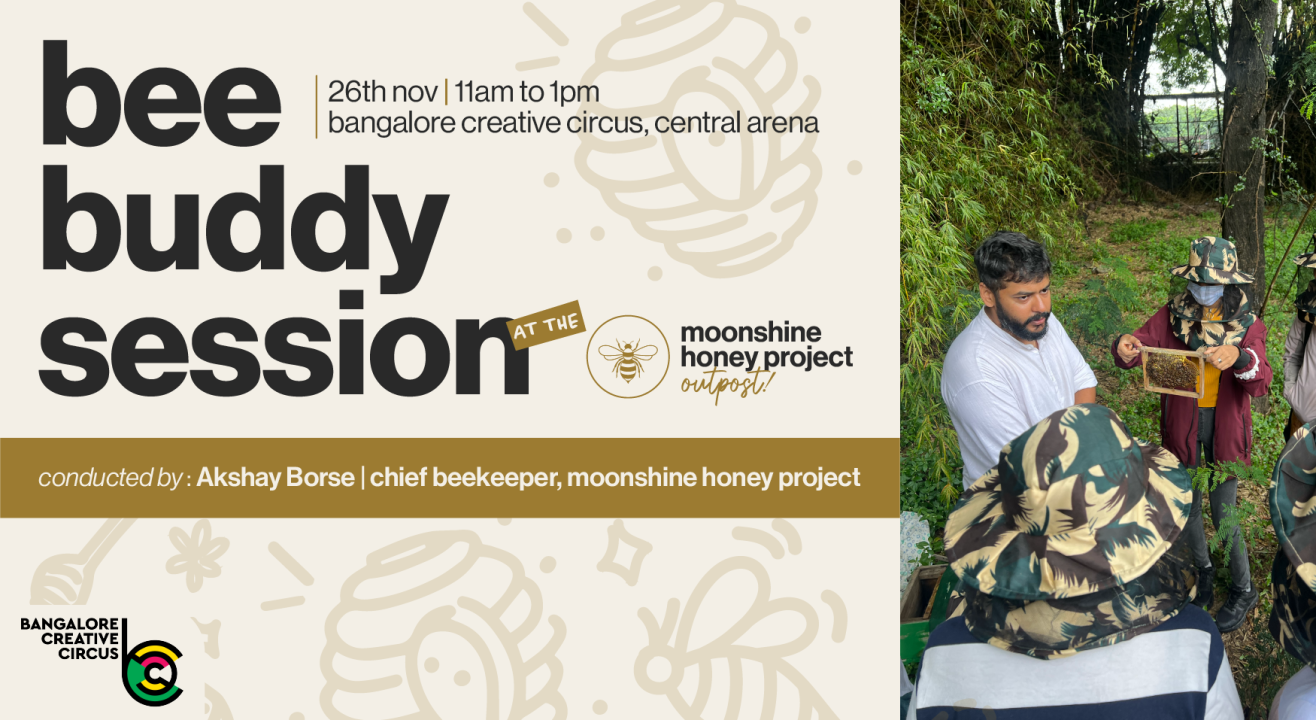 Bee Buddy Session - Bangalore 26th November
Bangalore Creative Circus, Bengaluru
Event Guide
Masterclass
Learn from an expert
Invite your friends
and enjoy a shared experience
Bee Buddy Session - Bangalore 26th November
Bangalore Creative Circus, Bengaluru
Event Guide
Masterclass
Learn from an expert
Invite your friends
and enjoy a shared experience
Event Guide
Masterclass
Learn from an expert
Invite your friends
and enjoy a shared experience
The Bee Buddy Session is a fun and interactive session that aims at spreading awareness about bees.
In this live hands-on session, we will be touching upon various aspects like the kinds of bees, the relationship between the ecosystem and bees, pollination, beekeeping, the role of the beekeeper, climate change & it's effect on our bees, and have a honey tasting.
We look forward to seeing you for this session. Let's take this step together to learn a little more about our little black and yellow pollinators who contribute greatly to life on this planet.
Please note, that for every 2 children (all ages up to 18) there has to be at least one adult accompanying them. For eg: If you have 3 children attending, please also make sure that they are chauffeured by 2 adults & so on. Furthermore, you will have to book tickets for adults & children separately.
By purchasing a ticket to the event, you acknowledge that this event involves interaction with live bees and there may be a possibility of bee stings. (In which case you'll be guided to the nearest hospital). And you agree to sign a consent form upon arrival at the venue.
Bangalore Creative Circus
12/2, Yeshwanthpur Industrial Suburb, Estate, Bengaluru, Karnataka 560086, India
GET DIRECTIONS
Bee Buddy Session - Bangalore 26th November
Bangalore Creative Circus, Bengaluru
Event Guide
Masterclass
Learn from an expert
Invite your friends
and enjoy a shared experience