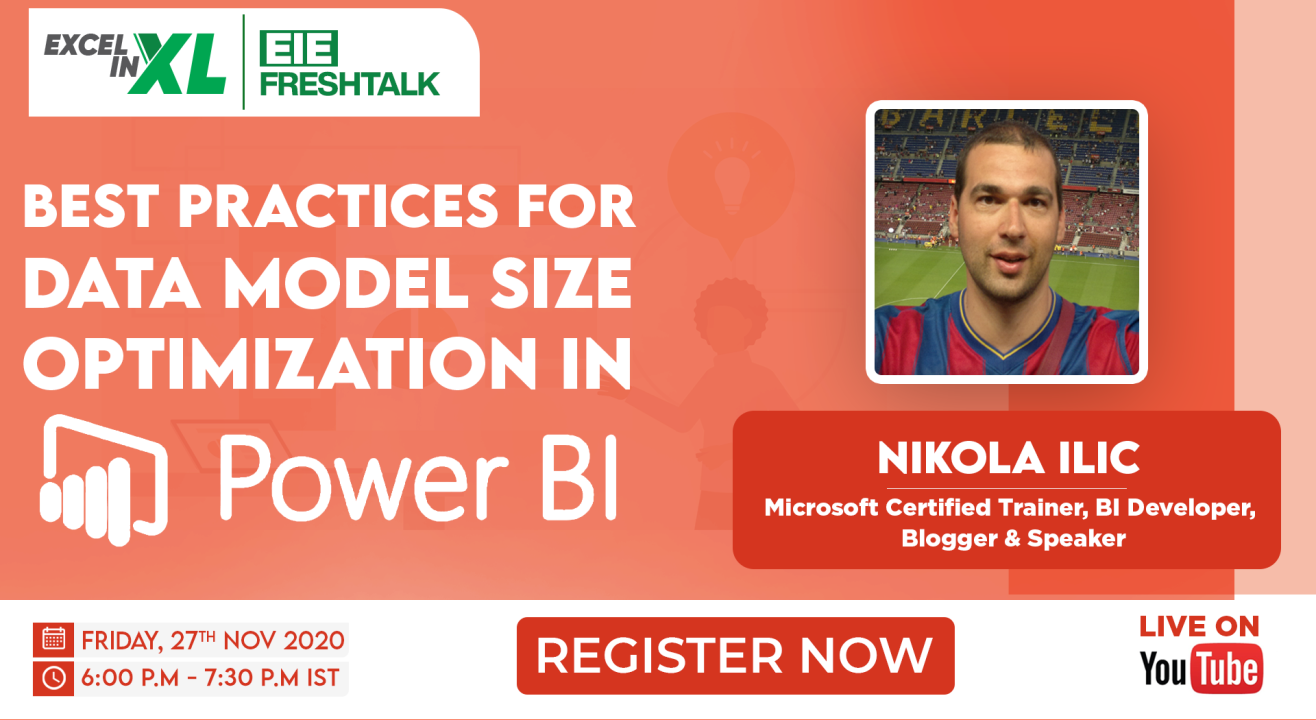 Best Practices for Data Model size optimization in Power BI by Nikola Ilic | #EiEFreshTalk by Excel in Excel
Enjoy this event from your home
Invite your friends
and enjoy a shared experience
Invite your friends
and enjoy a shared experience
About the Event
Speaker: Nikola Ilic
Microsoft Certified Trainer, BI Developer, Blogger & Speaker
Date: Friday, 27th Nov 2020
Time: 6:00 p.m to 7:30 p.m IST
Online | YouTube webinar
Key Takeaways:
1. Understand how Power BI works "under the hood"
2. Understand how Power BI compresses the data
3. Learn encoding types applied by the Tabular engine
4. Learn about rules which will help to get the optimal data model size
About Speaker:
Nikola Ilic is a BI Developer, Pluralsight Author, Microsoft Certified Trainer and MCSA Data Analyst from Salzburg, Austria. He is passionate about Data Analysis, Data Modeling, and extracting valuable information from raw data in the most effective manner. He has extensive experience in Banking Business and Online Gaming industry, combined with broad IT knowledge. Curious by nature, always motivated to learn the latest technologies and tools and work with talented people. He makes "music from the data". He is a Power BI and SQL Server addict, blogger, and speaker. He has multi-year experience working with predominantly Microsoft Data Platform (SQL Server, SSAS, SSIS, SSRS, and Power BI). He is also a football (soccer) enthusiast and a Barca fan.