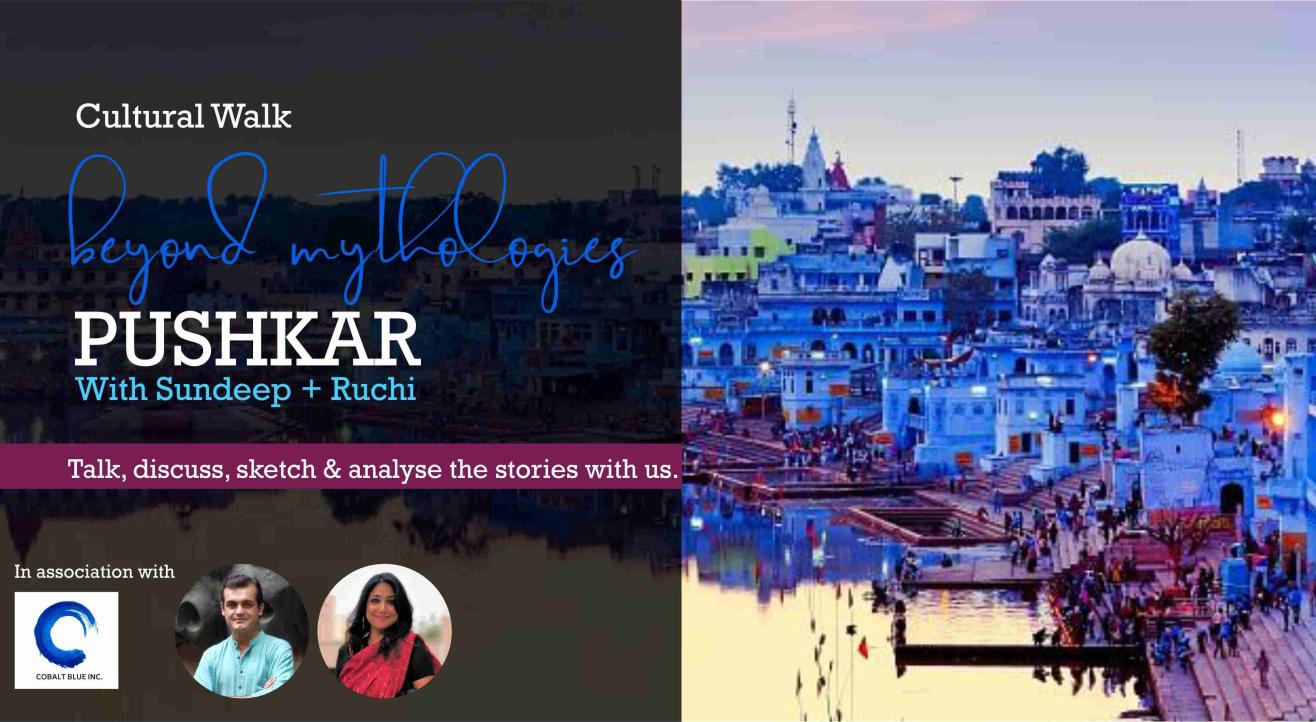 Guided Walks
Beyond Mythologies - The Legend of Brahma
September 16 | 10 AM - 6 PM
About
Cobalt Blue Inc, as a part of their Art of Seeing Series, presents "BEYOND MYTHOLOGIES - THE LEGEND OF BRAHMA." Join your hosts Sundeep & Ruchi for a storytelling walk though the mythological city of Pushkar. Discover the legend of Brahma & various mythologies associated with him. Know the legendary stories of Savitri, also known as Saraswati and Gayatri, the two wives of Brahma.

The walk will be interactive discussions followed by Q&A.

There will poetry, prose & sketching too.


Itinerary

16th Sept, Sunday, 2018. 10:00 AM - 06:00 PM

Reach Pushkar via bus, train or car

You can book a luxurious hotel or a backpacker's hostel using various booking sites/apps

Join in at the Brahma Temple for the commencement of the walk

Head to Savitri Temple on top of the mountain using a trolley train. Enjoy the immersive stories of Brahma sitting on the mountain watching the whole Pushkar town and the view of the holy lake. Return to Pushkar Market for lunch

After lunch, meet at the Ghat. You will be told narratives like mythologies from vedas & puranas of Brahma, creation of universe and history of the ghats. Write poetry, prose, sketch, photography or shoot a mini-film

The walk commences with the evening aarti at the ghat

Join in for tea/snacks for discussion and Q&A.
Sundeep & Ruchi invented Art of Seeing Walks around India covering various Art Galleries & Museums to generate more interest in art for people. Besides that Sundeep Verma conducts various workshops, talks and lectures on the Art of Storytelling. He has worked in advertising for 17 years. Ruchi is an artist and psychologist. She conducts workshops on art therapy.
International Business Times has identified Pushkar as one of the ten most religious places in the world and one of the five sacred pilgrimage places for the Hindus in India. It is one of the Panch-Sarovar of Hindu theology and the most holiest pilgrimage site of Hinduism.
The Hindu scriptures describe it as "Tirtha-Raj," the king of pilgrimage sites and relate it to the mythology of the creator-god Brahma, whose only prominent temple stands in Pushkar.
Ramayana and Mahabharata refer to Pushkar Lake as Adi Tirtha, or the "original sacred water-body."
It is dated back to 4th Century BC.
The 10th Sikh guru, Guru Govind Singh is said to have recited the Sikh sacred text Guru Granth Sahib on the banks of the lake.
During Mughal Rule, Emperor Akbar revived the lake for pilgrimage.
Pushkar is considered one of the most sacred places in India.