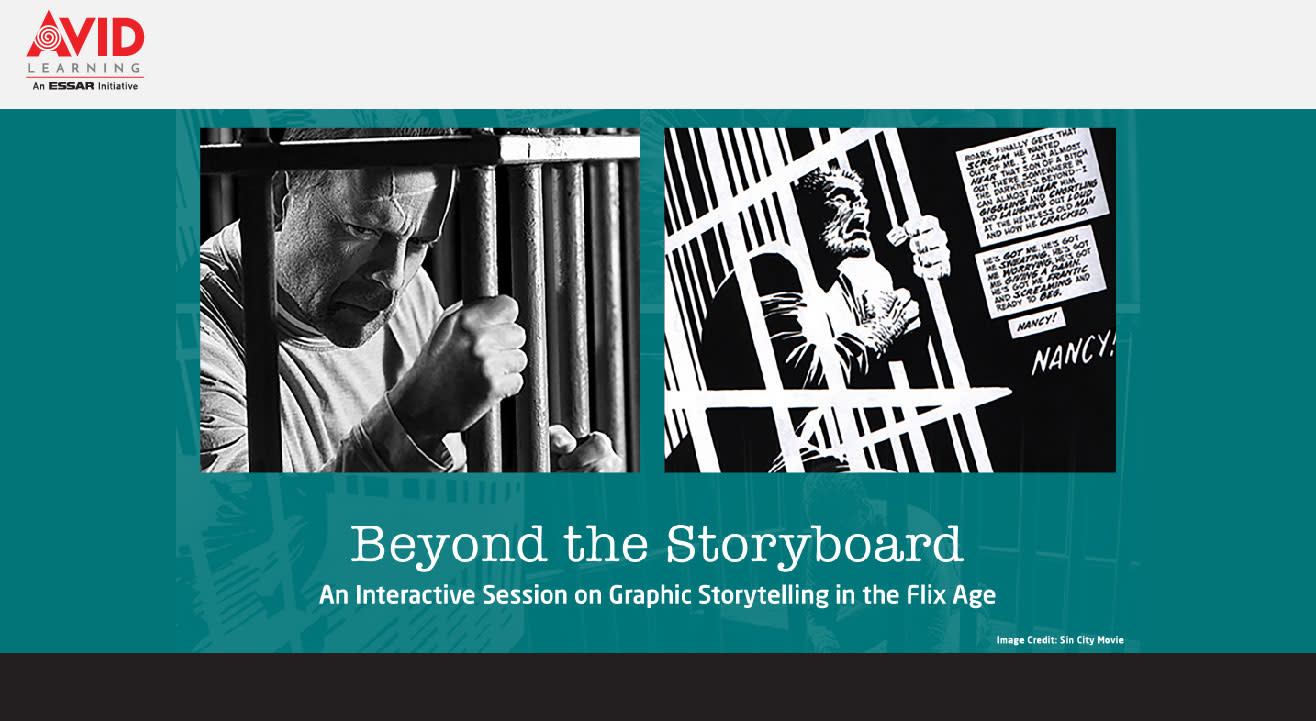 Learn
Beyond the Storyboard: An Interactive Session on Graphic Storytelling in the Flix Age
Essar House, Mahalaxmi, Mumbai
About
Join India's foremost classical Animator & Illustrator Chetan Sharma who will take the participants on a journey exploring various nuances of storyboarding as an art. With references to his body of work across advertising, animated films and illustrated books, he will delve into the process of articulating stories through static frames – from initial thoughts to stories and touch upon on imbibing technicalities like character development, background design and composition into a storyboard.
Chetan will be joined later in the day by special guest speaker Founder & Chief Storyteller, The Story Ink Sidharth Jain who will talk about the process of translating and adapting illustrated graphic content and novels for digital mediums like film and video. He will introduce the participants to the approach a graphic storyteller needs to take in order to visualize and adapt relevant content while retaining the originality of the characters, structure and visual aesthetics of the piece. He will also identify and highlight the various avenues and platforms available to artists and creators in today's increasingly digitally driven world.
Workshop Highlights include:
- Learning the nuances of the art of Storyboarding for digital and print mediums
- Understanding new technology available to artists
- Decoding the processes involved in transforming a graphic novel into a film
- Identifying visual content that is relevant to today's consumer's interest
Chetan Sharma is the founder of Animagic India, one of India's most reputed independent animation studios. He effortlessly dons many hats – filmmaker, animator, writer, storyteller, designer and voiceover artist. He has directed & produced 2 feature length animated features. He is the winner of the National Award for "Raju & I" in 2005. As well as being a pre-production designer artist for more than 2 decades for commercials and films- animated and live action, He has illustrated over a dozen children's books along the way and enjoys interacting with students- children & adults alike in his workshops and storytelling sessions.

A creative entrepreneur since 15 years, Sidharth Jain has worked extensively across Bollywood & Hollywood. He recently founded - The Story Ink - India's No.1 Book to Screen Adaptation Company, that curates Premium Story solutions for Film Studios, OTT Platforms & Producers. His last stint was at India's No.1 Streaming platform - Hotstar. Before Hotstar, he worked as a Producer at Reliance-Adlabs Films, at Hyperion Studios - Los Angeles & iRock Films. Before getting into media, he founded -Bollywood Auctions at Baazee/Ebay India. A MBA in Finance, Sidharth works as a part-time, consulting advisor to Ambit Capital where he shares his insights into listed Indian Media Companies with their Research team & Clients. He is a regular speaker at most Media Trade Forums such as FICCI-FRAMES, CII and Asia TV Forum.
Avid Learning, a public programming platform and cultural arm of the Essar Group, has conducted over 1000 programs and connected with more than 125,000 individuals since its inception in 2009. Driven by the belief that Learning Never Stops, AVID's multiple formats like Workshops, Panel Discussions, Gallery Walkthroughs, and Festival Platforms create a dynamic and interactive atmosphere that stimulates intellectual and creative growth across the fields of Culture & Heritage, Literature, Art and Innovation.

Facebook: www.facebook.com/Avidlearning; Twitter: www.twitter.com/Avidlearning; Instagram: @avidlearning
Buy a ticket & get ₹200 off. Use code: WORKSHOP200 (T&C apply)
Venue
Essar House, Mahalaxmi, Mumbai
Essar House, 11 K K Marg, Opp Race Course,, Mumbai, Maharashtra 400034