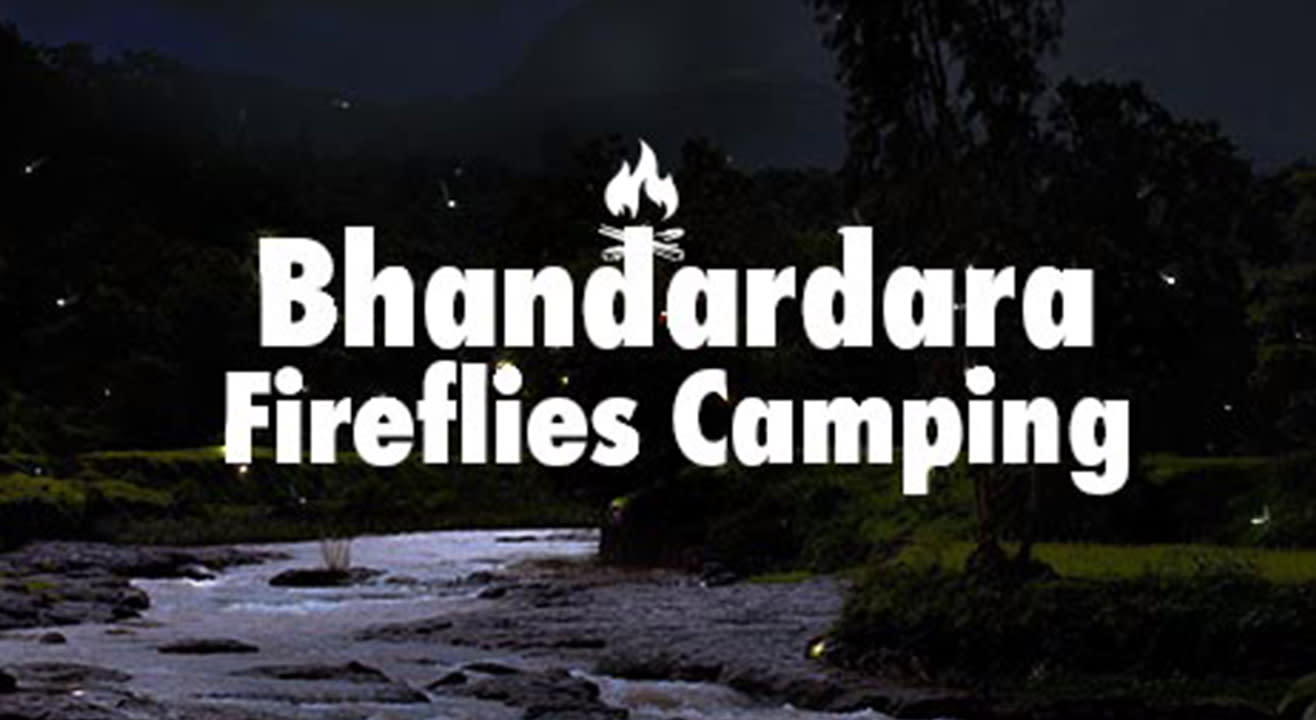 Camping
Bhandardara Fireflies Camping by Bhatakna
About
Lakeside Camping Under the Dark Sky. !!
About Bhandardara Camping :
Indulge yourself in an adventure of camping in Bhandardara and carry back memories of an exciting and unforgettable experience. The reservoir of Bhandaradara is located at an ideal and easy drive away from Mumbai, near Igatpuri.
The beauty of Igatpuri itself is legendary since it is full of the beauteous charms of hills, lakes and dense forests. The sparkling waters of Bhandardara that reflects the lush green mountains around also lives up to the repute!
Best suited for groups, solo campers, corporates, couples, families and pets.
We will be starting with the CST Kasara Local (Timetable given below)
People may board the same train from their convenient station and meet us directly at the Kasara station. (Get into second boggy from Cst side)

Day 1:-
Meeting point: Kasara stn Meet bhatakna team
(03:00 pm)
03:15 pm: will Board towards campsite will make a halt on the way to get Refresh.
05:30 pm : Reach Camping Site
Get fresh and put on the tents and free time to explore.
08:00 pm : BBQ
09:00 pm : Campfire,
10:00 pm : Dinner
Post dinner Leave the campsite and go for the jungle trails and see fireflies
Antakshri, Games, Ghost Stories, Dum Sheras and Lots of Masti.
End the day nearby a natural lake under the open sky & Enjoy sleeping in Tent.

Day 2:-
07:00 AM - Wake Up Call.
08:00 AM - Breakfast.
10:30 AM - Boating in Lake.
11:30 PM - Move towards Kasara
01:00 PM - Reach Kasara Station.
03:40 PM - Reach Mumbai (Tentative).
tent stay.
traveling from Kasara to Kasara.
Evening Snacks.
Dinner.
Breakfast.
Boating.
BBQ
Bonfire
Guide and expertise charges.
Extra meals cold drinks.
Water bottles
anything not mentioned above in inclusion
Confirmation only after full payment on first come first serve basis.
So please register at earliest and book your tents in advance!
Booking is Non-Refundable.
Note entry will be confirmed only after the full payment.
Identity Proof (must)
A good shoes, extra pair of socks.
Torch with extra battery (Must)
A bottle of water (atleast 1 Ltrs)
Some ready to eat food. Plum cakes, Biscuits etc.
Mats, Sleeping Bags, etc.
Medicine those u require usually.
Pleases do not carry sling bags or Jholas.
Please avoid wearing Gold and other ornaments.
SunscreenSunglasses.
Rules and Regulations - General
Camp leaders decision will be final and binding.
Participants or Members are responsible for his/her own safety and baggage.
Team reserves all the right to change / deviate / cancel the plans without prior notice.