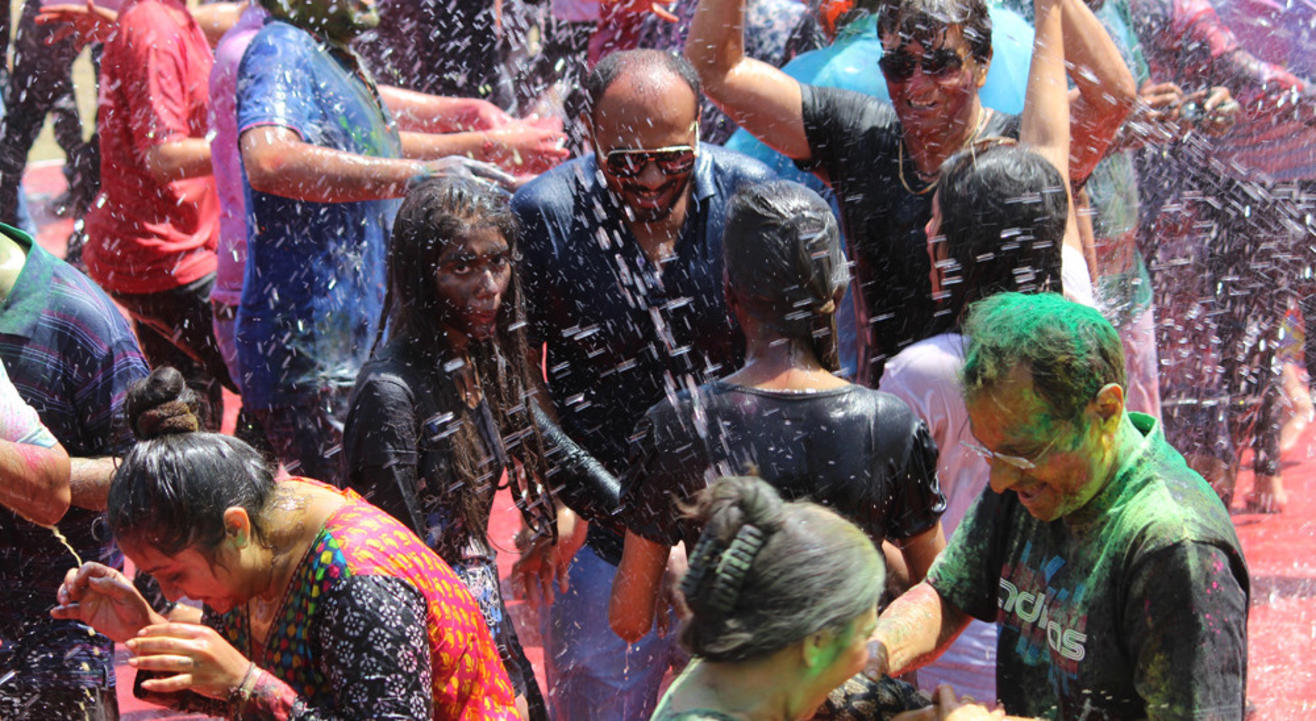 Holi Party
Bhandardara Holi Camping | Visionesta Events
About
Feel the magic and nostalgia all over again at Bhandardara Lakeside, Igatpuri, get a chance to fill your life with colour, Rain dance, DJ Music, Food and joy.
Celebrate Holi in wilderness. Join us for Holi party of 2019 on 20th March. We welcome all enthusiast for these 2 days of colourful festival.
Camping at Bhandardara is a unique camping experience which you may have never experienced till now. Surrounded by the Turquoise pristine water, it will be the best experience of camping you ever had. Bhandardara is one of the best weekend getaways from Mumbai, Pune & Nasik Bhandardara is always beautiful with its tranquil serenity and unspoiled nature. But during monsoon and post-monsoon period, it's natural beauty increases much folds with numerous small & medium seasonal waterfalls and glowing greenery. As the night approaches the weather becomes cooler and very pleasant. We will arrange bonfire and BBQ for you in the evening and also offer you unlimited Starters!!. It will surely be a memorable experience for you.
Cars will be provided to a min group of 5 people on request from Kasara to Bhandardarda to and fro.
You can also take Public Transport like S.T Bus and Sharing Car(Balero) which are available from Kasara Railway Station to reach our Campsite.
Length: 1 day and 1 night camping at Bhandardara.
Height: 2430 ft above sea level
Best season: Round the year
Accommodation timing: You have to reach Bhandardara by 4 - 5 PM in the evening. Its a 1 day and 1 night camping arrangement.
Highlights :-
Tea and Snacks

Bonfire

Unlimited Veg and Non Veg Starters

Unlimited Veg, Non Veg and Jain Dinner

Unlimited Veg, Non Veg and Jain Lunch

BBQ and Starters

Panoramic view Lakefront Campsite

Authentic Village Cuisine

Holika Dahan in Manner of Adivasi mythology.

Breakfast

Soft Drinks,Snacks

Organic Colors celebration

Live DJ

Rain Dance.

Boating

Many more memories.
Itinerary:-
Camp Check-in time: 5 PM (Day 1)
Camp Check out time: 4.00 PM (Day 2)
Day 01: Arrival at Bhandardara & camping
Arrive at Bhandardara Campsite by 4 -5 PM in the EVENING by own vehicle/other means. You can reach Igatpuri or Kasara and then take local transport (state transport bus or shared jeep) to reach Bhandardara. Igatpuri is preferable as distance from Kasara to campsite is more than Igatpuri. Our representive will be waiting for you at Bhandardara Gaon bus stoppage
Local Train-
- Ghatkopar: 12:10 pm,12.30 pm
- Kasara: 14:15 pm,14:30 pm
(Do not miss train as there is no alternative available afterward and your unable to join event)
Day-1 20th March 2019
- 17:00 pm Reach Campsite and tent allotment
- 17.30 pm Tea, Snacks and settle down
- 19:30 pm Onwards Bonfire, BBQ, Starters, Music,BYOB
- 21:00 pm Holika Dahan followed by Adivasi Mythology
- 22:00 pm Dinner(Veg/Non-Veg/Jain)
- Retire of Day
Day 2: Holi Celebration, Lunch and return journey to Mumbai
- Next Day Wakeup call by 7.00 am
- Quike fresh and have bf/tea from 8.00 am to 9.00 pm
- DJ Music,with colours and Rain Dance party will start from 9:00am till 1:00 pm
- Soft Drinks and Snacks will Follow
- Lunch(Veg/Non-Veg/Jain) from 1.30pm to 3.30 pm
- Check out from campsite by afternoon 4.00 pm
Note: Holi will not be celebrated at lakeside but at a private venue 10 minutes from lakeside.
Inclusion:
Night stay at Tents Placed at Lakeside.

1 evening snacks and Tea, Evening Unlimited Starters ( Veg and Non Veg Both) , 1 Dinner (Veg ,Non Veg and Jain),1 breakfast,1 Lunch (Veg Non Veg, Jain)

BBQ (Veg/Non-Veg)

Holika Dahan in Manner of Adivasi mythology.

Soft Drinks,Snacks

Organic Colors celebration

Live DJ

Rain Dance.

Boating
Amenities:
Security

Parking

Tent Stay

Mineral Water

Washroom (western and Indian)

Pick up/ drop facilities (Paid)

Expertise Fee

First Aid Kit
Exclusion:
Anything not included in inclusion

Bottled water, extra food, extra bed etc. and any other cost which is personal in nature

Medical & Travel insurance

Igatpuri/Kasara to Bhandardara gaon campsite transportation or any other transportation

Sightseeing charge to Murudeshwar, Kokan kada, Sandhan Valley etc. by hired/arranged car.
Cancellation Policy:
100% amount to be paid in advance to book the trip.

If the booking is canceled 10 days or before the event date then 50% of the booking amount will be refunded.

If the booking is canceled 6 days before the event date then no refunds will be given.

No show = No refund.
Disclaimer:
The tour is weather based and depends on the weather conditions. There may be last minute alterations if weather conditions deteriorate.
Things to Carry:
Valid Photo ID Proof (Aadhar Card/Driving License)

Comfortable Footwear

Water bottle (2 litres each person)

Mosquito Repellent Cream

Extra Set of Clothes

Sunscreen

Sunglasses

Waterproof Bag

Compulsory Torch with Extra batteries

Blankets or (Chaddar)

Electoral 1 pack

Medicine if required

Portable Mobile Charger

Bluetooth Speakers for group

Towel

Camera
Frequently Asked Questions:
How to reach Bhandardara:
To reach Bhandardara you need to reach either Kasara or igatpuri. Both railway stations are near to Bhandardara. Kasara to Bhandardara distance is 60 km and Igatpuri to Bhandardara distance is 45 km by road. You will get state transport buses from railway station. Or you can hire share jeeo and private car also. From kasara it will take around 2 hours to reach Bhandardara. Bhandardara camping takes place in Bhandardara gaon beside the lake.
If you are coming via your private transport then you can follow the below route to reach Bhandardara
Mumbai > Igatpuri > Ghoti (Turn right) > Pimpalgaon (Turn right) > Bhandardara Dam
Before you come please understand the following facts about Bhandardara weekend lakeside camping:
Useful Facts about Bhandardara lakeside camping
Good, Clean, Permanent Western & Indian washroom facilities are available (not attached to camps as camps are situated just beside the Waterbody). Permanent washrooms are available approx. 5 mins away from the camping place.

Temporary Portable tent will be placed for urgent Urinal

Ample parking facilities are available for vehicles

The place is safe & secure as camp organizers & caretakers are local and they will be available 24*7

It will be best if you bring your own car as from Igatpuri or Kasara to Bhandardara hired transportation is generally costly. Also, you will have convenience during sightseeing.

From Kasara it takes approx. 2 hours to reach Bhandardara. Private Cars available(We will arrange Transportation for you if you book our 'With Transportation" Package subject to a group of 5 pax.
Note:
- Only organic colors are allowed carried in, other colors Strictly prohibited.
- It's outdoor camping not leisure tour, prepare for the same.
- If anyone found disturbing others privacy He/She will be discarded from campsite immediately
Use code HOLIYAY to get a 25% OFF on all purchases up to INR 250 per transaction on purchase of 3 or more tickets
Extra INR 50 cashback if used on the Insider.in app, usable against movie bookings