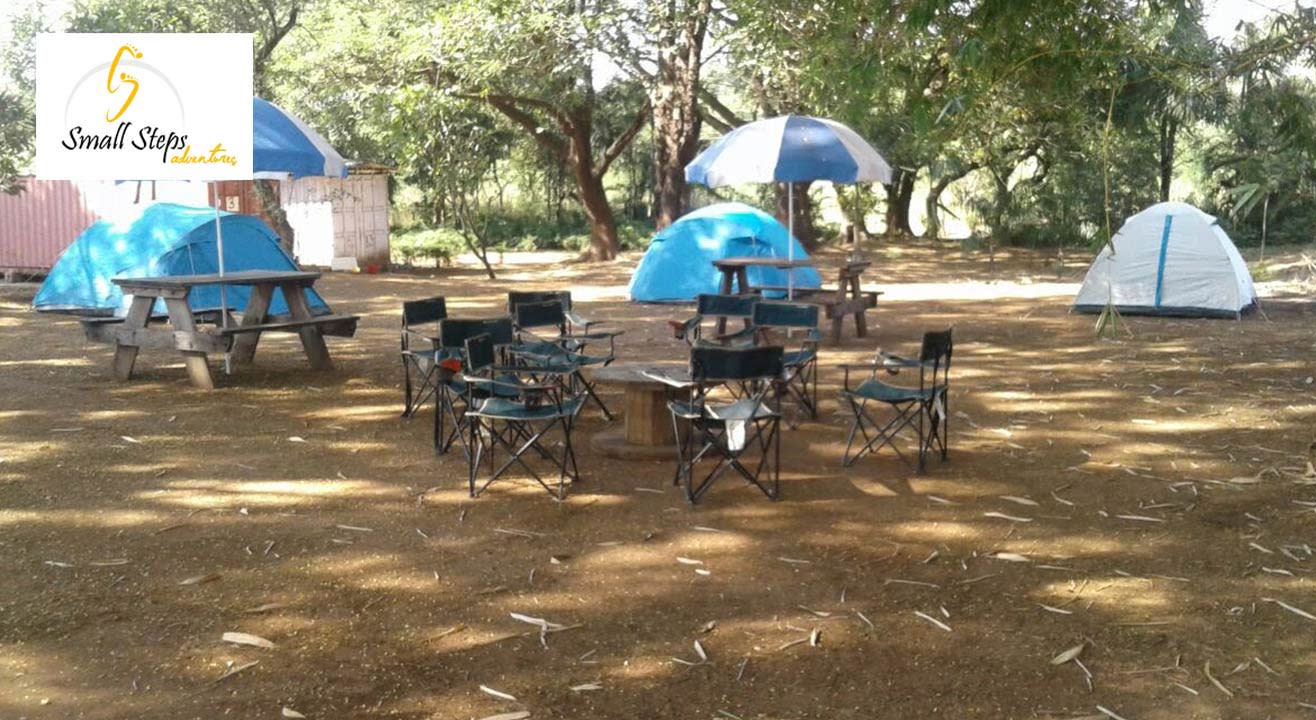 Camping
Bhatsa Riverside Camping by Small Steps Adventures
February - March | 5:30PM - 9:30AM
About
Beautiful campground beside river Bhatsa is all set to give you a chilling winter experience.


Various trees standing tall with the riverfront gives peace and calmness to your mind. There are various bird visitors and the campsite is also a favourite among bird lovers. Any camping plan near Mumbai has to be a perfect blend of outdoors but still safe for couple, kids and a big college group.


So join in and let yourself lose!
Day 1
05:30 PM: Reach campsite on your (bike/car)
06:00 PM: Evening snacks and hot tea will be served once you freshen up. One has to carry bags and belongings to the tents pitched at open riverside campground.
After the sunset, one can feel the cold breeze of Bhatsa River. And that's the best time for campfire & ghost stories.
09:00 PM: Delicious buffet dinner (veg/non-veg) will be ready at dining area.

Day 2:
06:30 AM: Hangover wakeup call
08:00 AM: Morning tea & hot breakfast will be waiting for you
09:30 AM: Bye bye with loads of pictures and memories.
Welcome tea & snacks
Dinner (veg/non-veg)
Next day breakfast
Dome tent stay with bedding, blanket and pillow
BBQ - 200 gms (DIY)
Music system for all groups
Fog bath
Travelling till campsite
Any other personal expenses
Carry woolen clothes or jacket, with muffler, shoes or warm cap for the night.
Those who are not used to cold nights, please carry personal extra blankets. (Small Steps Adventures will be providing bed, cushion & 1 blanket as part of the package).
Please carry ID proof eg. PAN card, driving license.
Cancellation and refund policy
If cancellation done prior to 15 days of outing 75% will be refunded.
If done prior to 10 days of outing 50% will be refunded.
After that no refund will be provided.
Do not carry valuables or items like jewellery, laptops or any other things.
Management & campsite is not responsible for any kind of loss or damage of your belongings.
Do not smoke or light any items inside the tent as it may cause fire in the tent.
Please remove your footwear outside the tent and keep tent neat & tidy.
Weapons or any inflammable things are not allowed in the premises or in the tent.
If any damages are caused to the campsite, tent or bedding, camper/guest will be responsible for the damage and will have to pay the charges for the same.
Strictly no use of drugs in any kind or any form or any other kind of intoxicants.
All guests must follow the camping rules.
Anything that is not included in packages is excluded.
You need to step out of your comfort zone to experience something truly extraordinary. And usually, all it takes is one small step. Small Step Adventures is all about the little thrills and they offer a wide range activities including trekking, camping, waterfall rappelling, river rafting, rock climbing and valley crossing.
Venue
Bhatsa River camping
Sarlambe Road, Near Liberty Oil Factory, Shahpur, Thane District, Kawadas, Maharashtra 421601