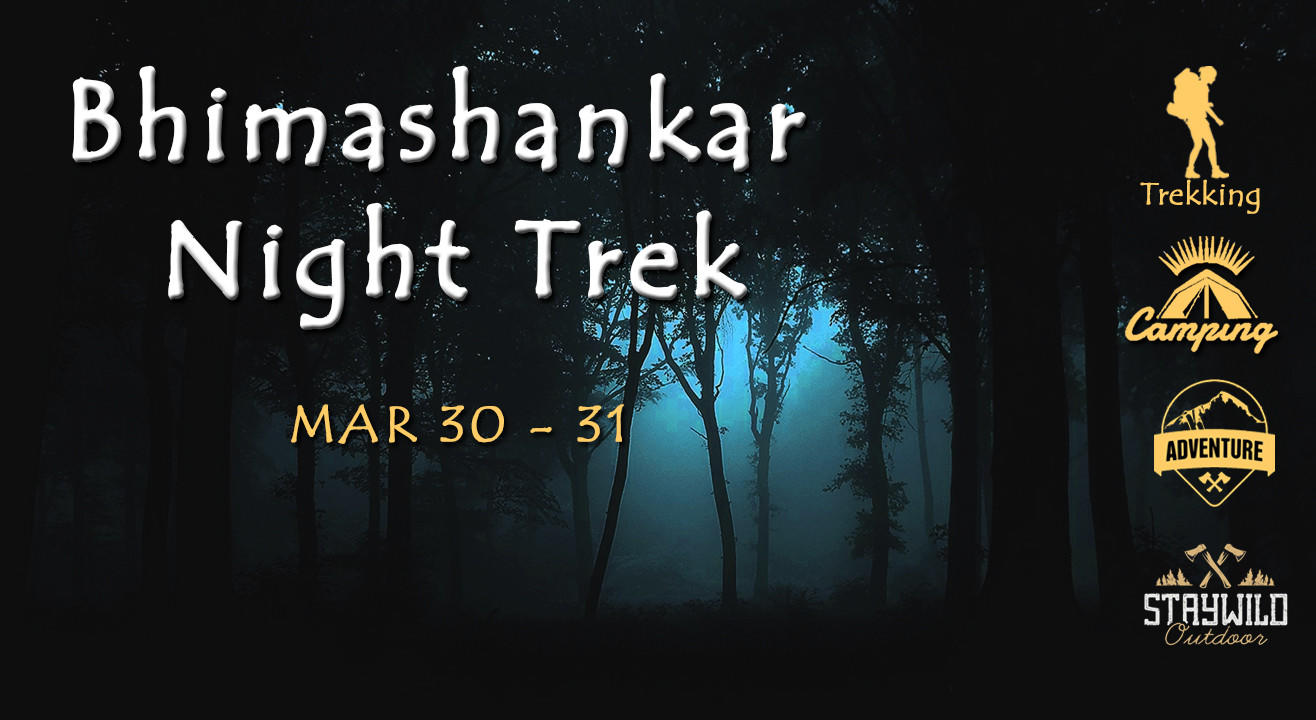 Trek
Bhimashankar Night trek by Rivers and Ridges
About
Observe the silence rising up to sounds of night in a Jungle. You may hear a few calls of a barking deer or there could be one right above us, a hooting owl. Unlike in the day the nocturnal species create a very different feel to an experience of hiking through a forest.
We invite you to join us on this adrenaline pumping hike that will begin from the Bhimashankar temple. The trail will pass through dense forest with a few climbs but mostly through a narrow path taken by villagers who visit the temple regularly. This trail will take us to an absolutely remote village where we will pitch our tents and end our day with stories around a bonfire.
On the following day we will explore the forest around the tribal village famous for collecting medicinal herbs from he forest
That's what you call as a perfect Jungle exploration trip!
Buy a ticket & get 15% stashback upto ₹500. Use code: TRAVEL15 (T&C apply)
March 30th Saturday:
Our private bus will do the pick-up in Pune between 3:30 – 4:00 pm.
Pick up point: Hotel Blue Nile near Poona Club
We request you to have lunch before departure.
7:30 pm - Stop for dinner at Blue Mormon Jungle Resort. This is for your convenience to use washrooms before commencing the trek.
9:00 pm Reach Bhimashankar temple
9:30 pm - Briefing, Jungle trek begins
12:30 am - Reach campsite - Bonfire, stories, stay in tents - End of day one.

March 31st Sunday:
Wake up call 7:00 am - Tea and snacks
Hike in the forest morning time would be apt for bird calls and sightings of the malabar giant squirrel.
Return by 9:00 am - Have breakfast and explore the denser forest, which stays shaded nearly 90% time of the year.
Return by 12:00 noon
12:30 Lunch
1:30 Departure from another route where the bus will be arranged to pick us up
2:30 leave for Pune
7:00 - 8:00 pm Reach Pune
Things to look forward to
Exploring the Bhimashankar forest at night and day
Spend valuable time away from the mundane city rush.
Camping in the forest.
Photography of the clear sky at night
Quality time with like minded folks and humble villagers.
Travel and toll: Pick up and drop off from our selected pick up points.
Dinner on day 1, breakfast and lunch on day 2.
Camping in comfortable tents on triple sharing basis (2-3 per-tent) or village homestay
Packaged drinking water.
Tour guides and camp leaders all along the trip.
Medical assistance if required.
Hi tea and snacks and Lunch on day 1 and dinner on day 2
Personal expenses (beverages and snacks)
Personal medication
Foods purchased along the road journey
Anything else not mentioned in the 'Trip facilities'.
Please wear non-bulky full body clothing like track pants, pullovers.
Dry fit clothes are the best
Good hiking or sports shoes
Extra pair of clothing
Towel
Munchies and personal snacks
Torch with extra set of batteries/ charger/ power banks compulsory
Personal medication
Camera (optional)
Binoculars (optional)
One water bottle compulsory
Please take care of all your belongings.
Notify us immediately in-case of any medical emergency.
We do not provide alcohol and do not encourage anyone to carry.
Any one found under the influence of drugs or narcotics will be requested to leave the trip immediately, without any refund.
This is an adventure trip, be prepared to leave your bedroom comforts behind.
Adventure camping and outdoor sports/ recreation is purely for nature lovers and not for party groups; we respect nature and do our best to spread the awareness about wilderness preservation. Kindly observe silence post 12 am at the campsite.
We like to keep the wildlife wild, please do not litter the forest and the campsite.
Please confirm your registration with amount Rs. 2310/- in cash or make an online transfer.