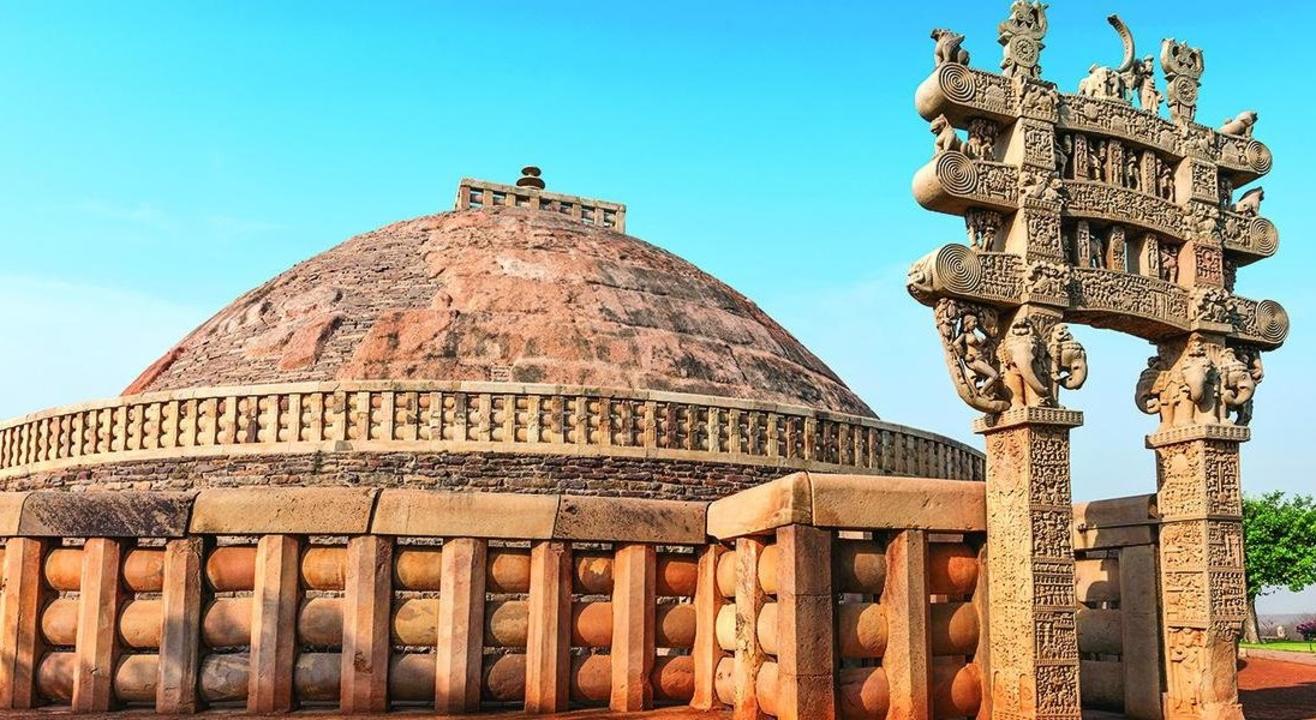 Tour
Bhimbetka Caves & Sanchi Stupa Heritage Tour
December 6 | 7:30PM - December 8 | 7:00PM
About
Overview
About offbeat Madhya Pradesh: Madhya Pradesh is truly a land full of diversity. You get everything in abundance like historical sites, temples, forests, waterfalls and Ghats.
Bhimbetka Caves and Rock Shelters (UNESCO World Heritage Site): This time we are taking you to the most awaited 500-700 Years Old Bhimbetka – Rock Shelters of Madhya Pradesh. This UNESCO World Heritage Site is true in its own way. The ancient rock paintings carved on it shows the impeccable power of the old age civilization. History lovers and photographers will have a gala time here.
Discovered in 1957, Bhimbetka has 700 Rock Shelters with 133 rock paintings. These paintings depict early farming and nomadic life of old age men. Once in Bhimbetka, the rich culture and scenic beauty around the area will leave you spellbound.
Sanchi Stupa (UNESCO World Heritage Site): Constructed on the orders of Maharaj Ashok, Stupa of Sanchi is beautiful and wondrous. It flaunts houses 4 gateways that showcase Buddha's life through intricate carvings. It is one of the oldest pilgrimage points in India.
Explore: Stupa, Ashoka pillar and Gupta temple here.
Udaygiri Caves: Explore this offbeat set of twenty rock-cut caves near Vidisha. These 18-15 caves look spectacular and have a lot of historic tales around it.
Bhojeshwar Shiva Temple: You must have heard valiant tales of Raja Bhoj. This incomplete huge Shiva Temple has a Huge Linga. Dedicated to Shiva, it houses a 7.5 feet high lingam in its sanctum. The temple's construction is believed to have started in the 11th century, during the reign of the Paramara King Bhoja.
Bhopal Lakes: Bhopal called as the city of Lakes with Upper and Chota lake. If time permits we can retire the evening and spend some quality time around the lake.
Batch 1 : 06th - 8th Dec 2019
Batch 1 : 22nd - 23rd Feb 2020
Above dates not possible?
Contact us & we promise to customize above itinerary as per your convenience.
Call now on 9820022466 or drop an email on info@traveltrikon.com
3 Nights 4 Days 06 Dec and 21 Feb Fort, Maharashtra
Itinerary
Itinerary
Day 1 : Friday
Meet Trikon buddies at 7:30 CSTM, Dadar and Kalyan to board your trains for Bhopal.
Overnight in train (13 Hrs in Train)
Day 2 : Saturday
We get down at Bhopal 9:30 am and check in. Freshen up and leave for Bhimbetka and Bhojeshwar Shivlinga. 1 Hr journey via comfortable Tempo Traveller will land you to Bhojeshwar Shiva Linga a temple of Shiva which was built in the ancient times. Post the temple visit we reach the most awaited Bhimbetka Rock Shelters and spend 2 Hrs for full exploration with Historical guide. He will explain about the different paintings and life of the ancient men. Have lunch enroute Bhopal and reach Bhopal by 4 pm to explore Gohar Mahal and relax by the Upper Lake at evening to witness the lighting. Have dinner at a local food joint and reach hotel to relax.
Day 3 : Sunday
Wake up at 6 am and get ready by 7 am. Have breakfast and leave for Sanchi Stupa. It is a short 1.5 hrs drive and once you reach there it will take another 1.5 hrs to explore this UNESCO World Heritage site. Though much has been written and spoken about this place, you can only know more about King Asoka on reaching here. Post Sanchi Stupa leave for Udaygiri Caves of Vidisha another marvelous creation apt for photography. Hidden from cliché tourists, Udaygiri is truly a treat to your eyes. Come back to Bhopal by 2 pm and have lunch. Reach hotel to check out and pick luggage to board train for Mumbai. Bid adieu to city of lakes Bhopal and leave for Mumbai.
Day 4 : Monday
Reach Mumbai by 6:20 - 7 am! Get ready for work and kick start the week!
Things to Carry
Water Bottles
A light-weighted Haversack or Backpack, and a smaller Day Sack
Good pair of trekking shoes, and a pair of flip-flops
Thermal Inners
Cap, sunglasses, scarf
Camera, Binoculars (Optional)
Toiletries – Sunscreen, Moisturizer, Light towel, Lip balm, Wet wipes, Toothbrush, Toothpaste, Hand Sanitizer
Any medicines that you consume normally, post consulting a doctor
Mosquito repellent
Snacks & Biscuits to munch on (Optional)
Enerzyl Powder or Glucon D powder